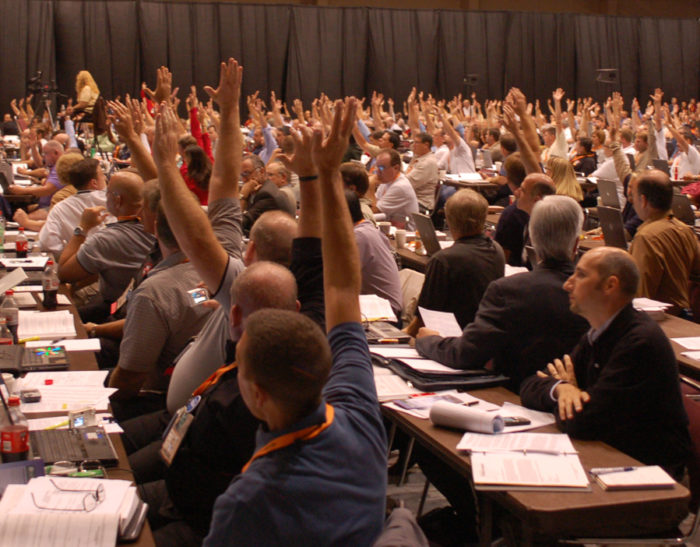 Proposed Code Changes Were Weakened After NAHB Lobbying
FAIRFAX, VA — Because of changes to the International Energy Conservation Code (IECC) approved at last September's ICC hearings in Minneapolis, houses built to the prescriptive requirements of the 2009 IECC will use 12.2% less energy on average than houses built to the 2006 IECC. The energy savings percentage was included in a recent report by a Fairfax, Virginia consulting firm, ICF International.
At the 2008 Minneapolis hearings, a more sweeping code change proposal — the so-called Thirty Percent Solution — was defeated after vigorous opposition from representatives from the National Association of Home Builders (NAHB), Icynene Incorporated, and Pilkington Glass. The Thirty Percent Solution was supported by a wide coalition of organizations, including the U.S. Department of Energy, the U.S. Conference of Mayors, the National Association of State Energy Officials and the Energy Efficient Codes Coalition.
Supporters of a more stringent energy code have been waiting patiently for the calculation of the energy-savings percentage attributable to the limited IECC code changes adopted after the Thirty Percent Solution was defeated. Most back-of-the-envelope calculations were higher than the 12.2% figure announced by ICF International, so many supporters of the Thirty Percent Solution were disappointed by the news.
"We need more insulation on and in walls in just about all climate zones," said Chris Mathis, an energy expert and president of Mathis Consulting. "I'm very happy we got some savings, but I think we ought to feel a little bit of 'shame on us.' What you see are the missed opportunities. We got part of the basket of goods, but we didn't end up making any of the hard decisions we needed to make. I think that we have missed a huge opportunity to make a dramatic statement about the changes needed in the way we build."
The approved prescriptive code changes responsible for the 12.2% reduction in energy use include the following:
The maximum U-factor for vertical windows was reduced from 0.75 to 0.65 in climate zone 2, from 0.65 to 0.50 in climate zone 3, and from 0.40 to 0.35 in climate zone 4.

The maximum solar heat gain coefficient for vertical windows was reduced from 0.40 to 0.30 in climate zones 1, 2, and 3.
The minimum wall insulation requirement in climate zones 5 and 6 was increased to R-20.
The minimum basement wall insulation requirement was increased to R-15/R-19 in climate zones 6-8, and increased to R-5/R-13 in climate zone 3.
The minimum floor insulation requirement increased in climate zones 7-8 to R-38.
A new code provision requires either a visual inspection of certain building envelope components or a blower-door test result showing a maximum of 7 air changes per hour @ 50 pascals.
A new code provision requires duct leakage testing when air handler and ducts are not located entirely within the conditioned envelope.
A new code provision requires that at least 50% of installed lighting fixtures must be at least as efficient as compact fluorescent lights.
Of course, the energy savings will apply only in areas where the 2009 IECC is both adopted — the easy part — and enforced. In most areas of the U.S. today, many requirements of existing energy codes are rarely enforced. To read the full ICF International report, visit thirtypercentsolution.org.
Weekly Newsletter
Get building science and energy efficiency advice, plus special offers, in your inbox.