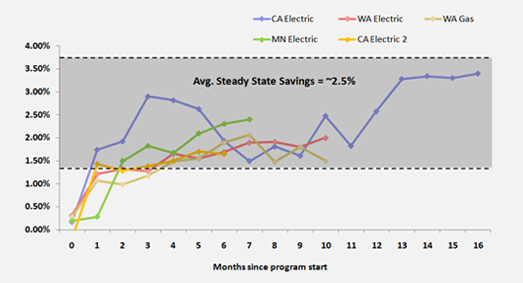 GBA has highlighted a few software and hardware monitoring systems that allow homeowners to monitor their energy usage, sometimes down to the smallest appliance and day part.
The energy-saving effectiveness of this type of tracking, however, is tied entirely to how conscientiously homeowners respond to the data, if they respond at all. More than a few analysts have noted that even the most timely and detailed usage information, when presented in isolation, doesn't prompt significant numbers of users to change their energy-usage behavior or switch out power-guzzling appliances for more-efficient ones.
This is where efficiency software company OPOWER comes in. Based in Arlington, Virginia, the firm has been attracting attention for its Home Energy Reporting System, which is designed to tell utility customers how their rates of energy use rank relative to those of other homeowners in their service area.
OPOWER says its system has been adopted by six of the country's ten largest utilities and now reaches about 1 million households. Certainly OPOWER could be used in conjunction with other usage-tracking systems, such as Google's PowerMeter, Microsoft Hohm, Greenbox, or other, similar products being developed for the energy efficiency market. But systems like OPOWER add a zesty ingredient – peer pressure – to what consumers might otherwise view as dry diagnostic data.
The motivator
Among the utility-customer groups that receive its reports, OPOWER says, energy savings have averaged from 1.5% to 3.5%. As noted in a recent Los Angeles Times story, the company's reports gain most of their traction from two concepts researched and described by former Arizona State University psychology professor, and current OPOWER chief scientist, Robert Cialdini: the tendency for people to conform to what most other people do and the desire for social approval.
Utilities using OPOWER's system now include Puget Sound Energy (in Washington state), Connexus Energy (serving northern Minnesota), Commonwealth Edison (in northern Illinois) and, in California, the Sacramento Municipal Utility District, San Diego Gas and Electric, Southern California Edison, and Southern California Gas.
The exciting thing about the Home Energy Reporting System, Todd Starnes, manager of residential energy efficiency for Puget Sound Energy, told climate news website SolveClimate.com, is that the utility saw a statistically significant reduction of use within 48 hours of customers receiving the reports for the first time.
Adds Bruce Sayler, manager of regulatory and governmental affairs for Connexus: the energy savings from the OPOWER report program, which costs $10 per customer, are second in cost-effectiveness only to the installation of CFLs.
For those customers who are behind their peers in energy savings, the Home Energy Reports offer customized specifics about how to boost efficiency. Each report also features a bar graph comparing the customer's usage to his or her neighbors' – with a smiley face or two if they're leading the energy efficiency pack in their service area.
Weekly Newsletter
Get building science and energy efficiency advice, plus special offers, in your inbox.