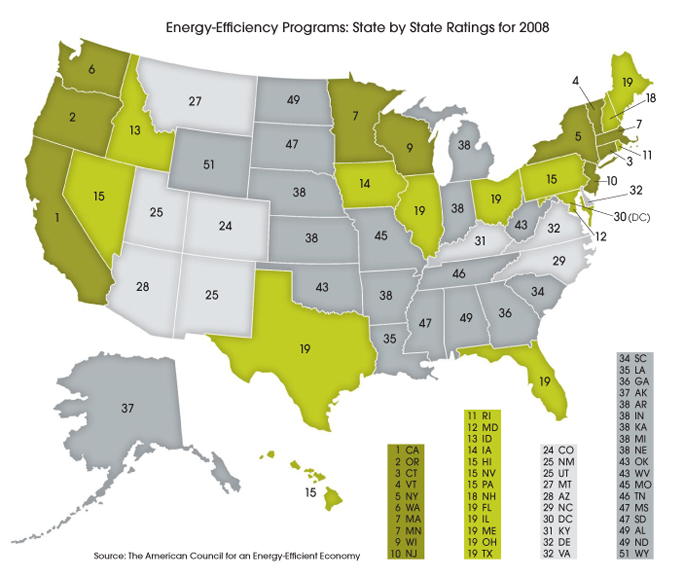 California is Best; Wyoming is Worst
West coast, Northeast, and Lakes states fill out the top 10
WASHINGTON, DC — The American Council for an Energy-Efficient Economy (ACEEE) has ranked all 50 states for the quality of their energy-efficiency programs and policies. California received the highest ranking; in descending order, the next best states are Oregon, Connecticut, Vermont, New York, Washington, Massachusetts, Minnesota, Wisconsin, and New Jersey.
Maggie Eldridge, an ACEEE research associate, noted, "The top-ranked states are demonstrating great leadership in promoting energy independence with cost-effective energy-efficiency investments." ACEEE scores states on the quality of their utility-sponsored and state-sponsored energy-efficiency programs, their building energy codes, their appliance efficiency standards, and the energy efficiency of public buildings, among other factors. At the bottom of the list, in descending order, are Arkansas, West Virginia, Oklahoma, Missouri, Tennesse, Mississippi, South Dakota, North Dakota, Alabama, and Wyoming. For more information, visit the ACEEE website.
Weekly Newsletter
Get building science and energy efficiency advice, plus special offers, in your inbox.