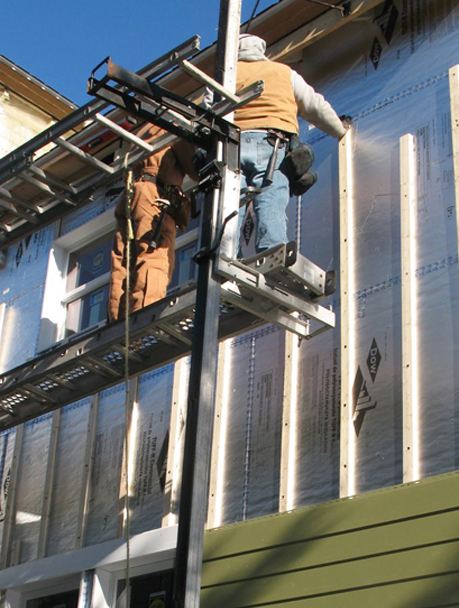 For our country to achieve the carbon emission reductions necessary to avoid a planetary catastrophe, many experts contend that almost every house in the country will need to have retrofit work that achieves deep cuts in energy use.
There's a major stumbling block, however: deep energy retrofits are frighteningly expensive —in the range of $80,000 to $250,000 per house. With costs so high, many homeowners are asking: how long is the payback period for a deep-energy retrofit?
A new high-R skin
A deep-energy retrofit is a remodeling project that aims to reduce a home's energy use by 50% to 75%. In cold climates, these retrofits specify R-40 walls, R-60 roofs, and triple-glazed windows. This usually requires the removal and demolition of the home's existing siding and roofing.
Once the walls and roof have been covered with a thick layer of rigid foam, new siding and roofing are installed, along with new triple-glazed windows.
Only the wealthiest Americans — or those with easy access to credit — can afford a deep-energy retrofit:
A deep-energy retrofit in Marlboro, Vermont cost $107,000.
Alex Cheimets estimates that the cost to complete a deep-energy retrofit of his duplex in Arlington, Mass. — including the value of donated materials — was about $140,000.
The deep-energy retrofit of Peter Yost's single-family home in Brattleboro, Vermont cost $85,000 — not including labor.
The cost of a partial deep-energy retrofit (not including the basement or attic) at the 3,000-square-foot Somerville, Mass. duplex owned by Cador Price Jones was $117,000.
The cost of the deep-energy retrofit of a single-family home in Boulder, Colo. was $675,000. (This amount included a 6-kW PV system and extensive remodeling work that was not directly related to energy efficiency.)
Is that much insulation cost effective?
When skeptics question the cost-effectiveness of these expensive retrofits, superinsulation advocates point to the flawed logic behind cost-effectiveness calculations based…
Weekly Newsletter
Get building science and energy efficiency advice, plus special offers, in your inbox.
This article is only available to GBA Prime Members
Sign up for a free trial and get instant access to this article as well as GBA's complete library of premium articles and construction details.
Start Free Trial
Already a member? Log in