More than 33 million U.S households—about 27% of the total—experience some form of energy insecurity. Data from the Energy Information Administration's latest Residential Energy Consumption Survey indicates that about 20% of households reduced or skipped food or medicine purchases to pay their energy bills. About 10% received a "disconnect" or "stop delivery" notice from a utility or fuel provider. And 10% kept their homes at unhealthy temperatures to reduce energy costs.
Energy insecurity disproportionately affects low-income households. One measure of this impact is energy burden, the percent of income spent on energy bills. The median energy burden for households below 200% of the Federal Poverty Level is 8.1%, while that of non-low-income households is 2.3%. The benefits of programs like the Federal Weatherization Assistance Program (WAP), which provides efficiency upgrades, and the Low Income Home Energy Assistance Program (LIHEAP), which provides bill assistance and emergency repairs, are often framed in terms of reductions in energy burden.
But, as a recent study shows, energy burden statistics don't capture the full picture. A team from Carnegie-Mellon University, the University of Maryland College Park, and the Salt River Project (a large utility in Arizona) analyzed smart meter data for 4577 Arizona households. Plotting daily average outdoor temperature against energy use, they calculated each household's "inflection temperature," the temperature at which they begin cooling. They found that, on average, low-income households wait until temperatures are significantly hotter to turn on their air conditioning. The authors use the term "energy equity gap" to describe the difference in inflection temperatures between the lowest and highest income groups. The energy equity gap varied over the four years of the study, from 4.7°F in 2016–2017 to 7.5°F in 2018–2019.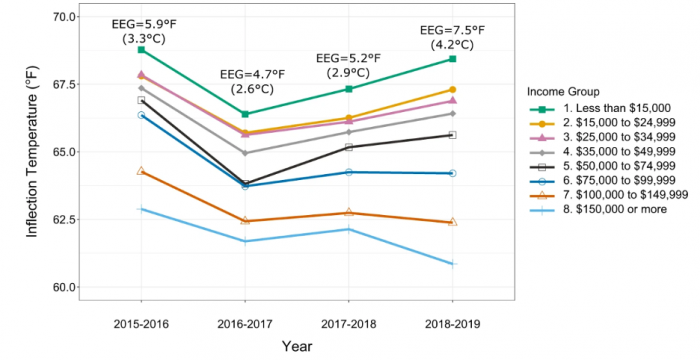 Energy assistance programs that target households based on energy burden…
Weekly Newsletter
Get building science and energy efficiency advice, plus special offers, in your inbox.
This article is only available to GBA Prime Members
Sign up for a free trial and get instant access to this article as well as GBA's complete library of premium articles and construction details.
Start Free Trial
Already a member? Log in