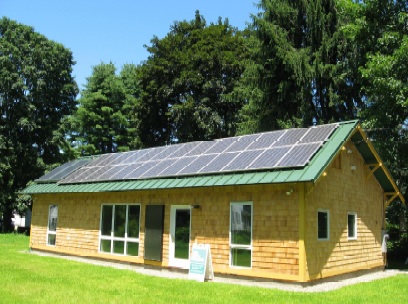 Achieving the net-zero-energy performance mark is rarely easy, but it is less often done in obscurity thanks to competitions such as the Solar Decathlon, the Connecticut Zero Energy Challenge, the Zero Energy Challenge in Massachusetts, and the Net Zero Energy Building Award contest, which is conducted by the Northeast Sustainable Energy Association (NESEA) and now soliciting entries for its 2011 edition.
The NZE Building Award competition will enter its third season in 2011. The winner in 2009 was a 2,800-sq.-ft. house in Charlotte, Vermont, whose owners, both architects, designed it to include a superinsulated shell, passive solar orientation, a 10-kW wind turbine, and a ground-source heat pump. The 2010 winner, a 1,152-sq.-ft. home called the Montague Urban Homestead, features a superinsulated envelope, a high degree of airtightness, a 4.94-kW photovoltaic system, and solar hot water. (Montague Urban Homestead also won the 2009 Massachusetts Zero Energy Challenge.)
NESEA says it will welcome entries, for any building type, through December 15, 2010, for the next NZE Building Award, which will be presented at the Building Energy 11 Conference + Trade Show scheduled for March 8-10 in Boston. Eligibility is limited to buildings in New England (Connecticut, Maine, Massachusetts, New Hampshire, Rhode Island, and Vermont) as well as those in New Jersey, New York, Pennsylvania, Delaware, and Maryland. The winner receives a $10,000 cash prize.
Key criteria
The contest is designed to highlight the design ingenuity, materials, mechanics, craftsmanship, and occupant behaviors that combine to bring a building's performance to net-zero energy. Eligible buildings must have been continuously occupied for at least a year, during which time their operation at net-zero energy must be documented.
Beyond performance, a three-judge panel of experts will also focus on the overall design of each project and its replicability, since one aim of the contest is to celebrate buildings that can be reproduced relatively easily.
One disqualifying factor, NESEA adds, would be idiosyncratic behavior by the building's occupants, which might include "acceptance of unduly low thermostat settings; dietary regimens that dispense with refrigerators; perpetual candlelight reading." In other words, sensible conservation measures are encouraged, but extreme occupant behavior is not.
NESEA also points out that projects that achieve net-zero-energy performance with smaller energy conversion systems tend to be favored over those that feature "brute force" deployments of large renewable-energy installations.
Click here for details about NZE Building Award submission requirements.
Weekly Newsletter
Get building science and energy efficiency advice, plus special offers, in your inbox.