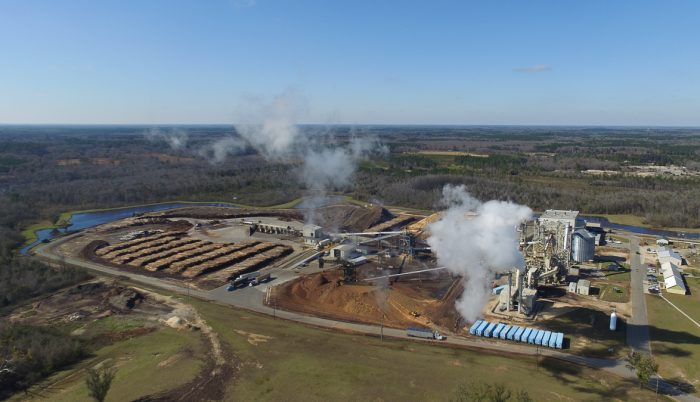 A committee of the European Parliament wants changes in renewable energy rules that have encouraged power plants to burn millions of tons wood pellets to produce electricity, a practice that critics say is harming forests in the Southeast U.S. and leading to greater greenhouse gas emissions.
The Parliament's Environment Committee voted on May 17 to approve several changes in biomass policy, recommending an end to subsidies for plants that burn trees to produce electricity and, with some exceptions, no longer allowing that energy to be counted toward renewable energy goals.
The package faces a lengthy approval process, including consideration by the full European Parliament later this summer and then votes by the various national governments.
Propelled by incentives in Europe, the production of wood pellets has turned into a major industry in the heavily forested Southeast U.S. Millions of tons of pellets are exported each year to European power plants with smaller amounts going to Japan and South Korea.
Burning pellets and other biomass to produce electricity is a key element of Europe's current renewable energy plans. The pellet industry and others call biomass essential. But critics here and abroad say logging to support the industry has damaged forestry ecosystems and worsened water quality, and they challenge industry claims that burning wood is essentially carbon neutral.
Cutting subsidies to plants that use "primary woody biomass" for fuel would be a major change in the equation that keeps these plants afloat, says Scot Quaranda, the communications director for the Dogwood Alliance, a regional forest and environmental advocacy group with headquarters in Asheville, N.C.
"My sense of it is that it's going to slow down or stop the further expansion of this industry," he said, "which is completely supported at this point by European subsidies. It's all about the subsidies. The reason that market exists is because of the subsidies."
According to the U.S. Industrial Wood Pellet Association, U.S. exports reached 7.52 million metric tons in 2021, most of which went to Europe. That's a 46% increase over total exports just five years earlier. In the U.S., wood pellets are more likely to be sold for home heating rather than for biomass power production.
Quaranda said that the gist of what the Environment Committee is recommending is that whole trees, tops, and limbs and branches (primary woody biomass) could no longer be used to produce pellets. "Ultimately," he said, "the only thing left to burn would be real waste, like sawdust from processing logs. Essentially, what they're saying is that you can't cut down a tree to burn it."
Heather Hillaker, staff attorney for the Southern Environmental Law Center, said in an email:
"The decision by the environmental committee of the EU Parliament to take a hard look at its misguided biomass energy policies is a step in the right direction. For the last 12 years, these policies have had far-reaching, negative impacts on forests and communities in the American Southeast and around the world. The fact is that biomass energy is not clean, and burning forests for power releases more climate-warming carbon than burning coal. The EU's subsidies prop up a dangerous and climate-polluting industry and should finally be scrapped."
While environmental and forestry advocates were applauding the committee's vote, the pellet association said biomass was important for Europe's energy security.
"Now more than ever, in an increasingly volatile energy market, sustainable bioenergy use can and must increase to protect European energy security and to meet ambitious climate targets," the association said in a written statement. "This sentiment continues to be reaffirmed by global experts in energy and forestry, and leading scientists who agree on the need for sustainably sourced bioenergy at a significant scale as an essential component in the fight against climate change."
Basic arguments well established
The biomass industry argues that electricity produced in wood-burning power plants should be considered renewable because new trees can be grown to replace the ones that are cut down. Carbon emitted when biomass is burned can be absorbed by forests that are growing—in effect making the process carbon neutral. This paper, posted at the association's website, summarizes what it says are the environmental and climate benefits of forest biomass energy.
Critics, however, argue that it takes decades for a newly planted tree to get big enough to absorb much carbon dioxide from the atmosphere, while burning wood and other biomass is an instantaneous release of its stored carbon. In addition, burning wood releases more carbon dioxide than burning coal to produce the same amount of energy.
In a statement released after the committee's vote, the Forest Defenders Alliance said about half the wood burned in the European Union is biomass taken directly from forests. The other half, secondary woody biomass, includes mill residues and post-consumer wood waste. Secondary woody biomass would still count toward renewable energy targets and be eligible for subsidies if the committee's action holds up.
While the redefinition of biomass would keep whole trees out of biomass plants, there are a variety of allowable exemptions, and that had some environmental advocates worried. For example, Nuno Forner, policy officer at Portugal-based Zero, said he was concerned about the "potentially major loophole" that would allow fire-damaged wood to be used.
"Here in Portugal," he said in a press release after the vote, "this scenario is somehow justification for the use of logs for electricity production as well as for the production of wood pellets, when this wood should be directed to industry for the production of value-added products that sequester carbon for several decades."
The Alliance also said that burning more biomass is not the best way to replace Russian fossil fuels, a pressing issue for much of Europe. "While forest biomass currently provides about 3% of the EU's total energy, providing this already requires burning about half the wood harvested from EU's forests," its statement said. "Replacing around 10% of Russian fossil fuels imported into the EU would require increasing wood-burning by about 60%."
---
Scott Gibson is a contributing writer at GBA and Fine Homebuilding magazine.
Weekly Newsletter
Get building science and energy efficiency advice, plus special offers, in your inbox.