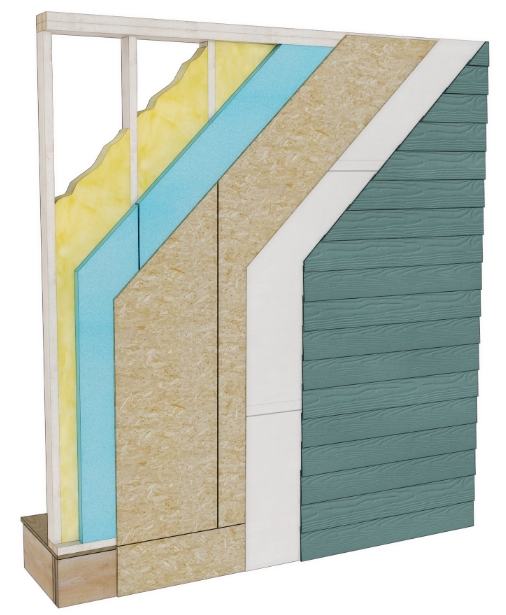 Production builders in the U.S. love 2×4 walls. They also love keeping the cost to build their homes as low as possible.
When energy codes ratcheted up in the 1980s and 1990s, cold-climate home builders eventually switched to 2×6 studs. But most production builders are still reluctant to install exterior rigid foam or furring strips.
In Climate Zones 6, 7, and 8, new codes are forcing builders to consider the implications of the "R-20 + R-5" requirements for walls. But many builders are unhappy with current options for building high-R walls.
Responding to builders' concerns, engineers at a research facility associated with the National Association of Home Builders (the Home Innovation Research Labs, formerly known as the NAHB Research Center) have developed a new wall system called the "extended plate and beam" system. The main developers of the system were Vladimir Kochkin and Joe Wiehagen. (Wiehagen recently left his job at the Home Innovation Research Labs). Kochkin and Wieghagen wanted to come up with a wall that performs better than a typical 2×6 wall, but that isn't expensive or scary enough to disturb production builders.
Cantilevered plates
At its most basic, here's the idea: builders should frame 2×4 walls on 2×6 plates. The 2×6 plates should be flush with the 2x4s on the interior, but should be proud of the studs on the exterior. The protruding plates leave room for 2 inches of rigid foam to be installed on the exterior side of the studs (see the close-up image below).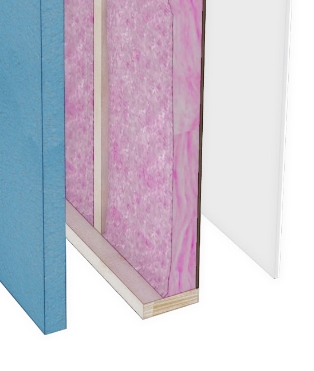 The OSB or plywood wall sheathing is installed on the exterior side of the rigid foam. In this respect, an "extended plate and beam" wall resembles a wall with Zip R sheathing. (For more information on Zip R sheathing, see "Nailbase Panels for Walls.")
In a recent phone…
Weekly Newsletter
Get building science and energy efficiency advice, plus special offers, in your inbox.
This article is only available to GBA Prime Members
Sign up for a free trial and get instant access to this article as well as GBA's complete library of premium articles and construction details.
Start Free Trial
Already a member? Log in