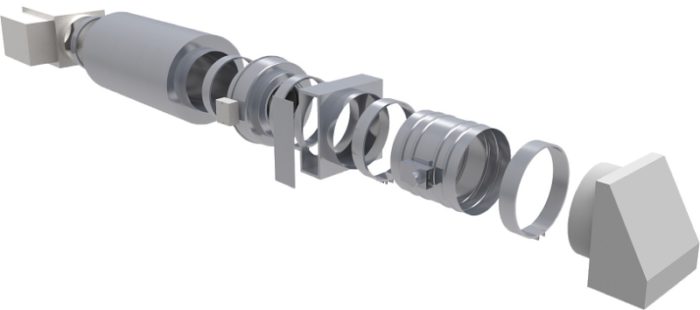 Powerful kitchen range hoods like the Wolf 66-inch Pro Island can vent 1,500 cubic feet of air per minute, quickly clearing the room of smoke and cooking odors. But exhaust fans like this also can draw makeup air from unwanted sources, like chimney flues, moldy crawl spaces, and vents for fuel-burning appliances — a dangerous condition called backdrafting.
In the past, providing makeup air for range hoods has often been a haphazard affair. Even companies that manufacture range hoods have not always offered much advice, or seemed unaware there was a problem, as GBA senior editor Martin Holladay described in a blog several years ago.
This is the backdrop for the launch of Fantech's Makeup Air System (MUAS), a through-the-wall duct kit that balances outgoing air with an equal amount of introduced outdoor air. Incoming air can be heated with an inline electric-resistance heating element, and the ducted system can be installed so it sends fresh air to whatever part of the house the homeowner wants, not necessarily the kitchen.
According to Fantech, a motorized damper opens and the unit's fan is triggered when the range hood is turned on. Fan speed is automatically synched with the exhaust system's fan, so the amount of makeup air matches the output of the range hood. The system also can be calibrated to provide a slightly negative or slightly positive air pressure inside the house.
(A similar makeup air system already is offered by a Minnesota company called Electro Industries. )
Three capacities and two heater options
Fantech makes three sizes, with maximum flow rates of 650, 1,600, and 2,000 cubic feet per minute. That would seem to cover most if not all residential range hoods on the market.
Both the MUAS 650 and the MUAS 1600 models are vented with 12-inch metal ducts; the MUAS 2000 uses a 14-inch duct. Kits include the fan, intake wall hood, motorized shut-off damper, filter cabinet with a pleated filter, and a duct silencer. A controller matches makeup air to exhausted air to maintain the building air pressure at the level set by the installer.
In winter, the outdoor air introduced by a makeup air unit can be uncomfortably cold. So Fantech offers three heater options to temper incoming air. All of them run on single-phase, 240-volt current. According to the company, the smallest of the three, the MUAH 10/10, draws a maximum of 10,000 watts of electricity and produces 34,140 Btu/h of heat per hour. The other two, for the higher-capacity exhaust fans, draw a maximum of 20 kW and produce 68,280 Btu/h.
At maximum output, the larger heaters draw 83 amps.
List prices for the fan assemblies ranged from $2,158 to $3,498. Heaters are priced at $1,068 to $1,751.
Weekly Newsletter
Get building science and energy efficiency advice, plus special offers, in your inbox.