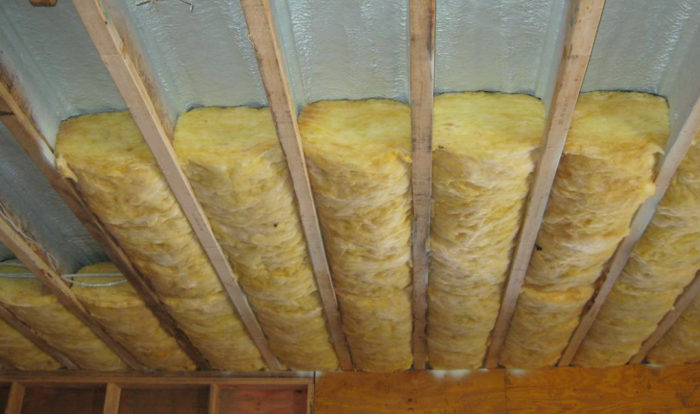 Closed-cell spray polyurethane foam insulation has several desirable characteristics. It's an excellent air barrier, an excellent vapor retarder, and it has a high insulating value per inch (about R-6). Unfortunately, it's also expensive.
Insulation contractors who want to obtain at least some of the desirable performance characteristics of closed-cell spray foam at a lower cost than a full spray-foam job sometimes promote the "flash-and-batt" approach. This involves spraying one or more inches of closed-cell foam against the interior side of the sheathing and filling the rest of the framing bay with a fiberglass batt.
A variation of this method is called "flash-and-fill" or "flash-and-blow"; these terms refer to an insulation job that combines closed-cell spray foam with a blown-in insulation material like cellulose or blown-in fiberglass.
The flash-and-batt approach can be used for walls, floors, or ceilings.
Some insulation contractors wonder whether they should compress fiberglass batts that are installed in flash-and-batt cavities. The answer is simple: Compressing fiberglass batts is a good thing to do, since (a) compressed batts have a higher R-value per inch than uncompressed batts, and (b) compressed batts are more likely to be in direct contact with the cured spray foam — and that type of direct contact is a code requirement for flash-and-batt roof assemblies.
A history of the flash-and-batt method
My first article on the flash-and-batt method was published in the November 2007 issue of Energy Design Update. At that time, the flash-and-batt method was still a little-used approach. I contacted a range of insulation manufacturers — both spray foam manufacturers and fiberglass insulation manufactures — and none of these manufacturers were willing to endorse the flash-and-batt approach.
Even though flash-and-batt wasn't widely known in 2007, a few spray foam contractors claimed to have been using the method for a long time. Matt Momper, president…
Weekly Newsletter
Get building science and energy efficiency advice, plus special offers, in your inbox.
This article is only available to GBA Prime Members
Sign up for a free trial and get instant access to this article as well as GBA's complete library of premium articles and construction details.
Start Free Trial
Already a member? Log in