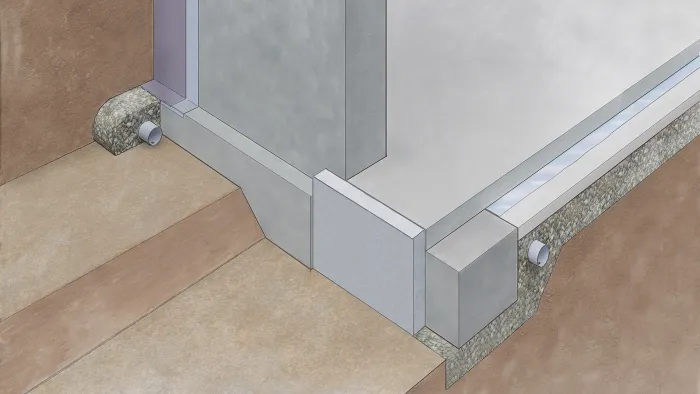 One of the most popular foundation systems used in my Minnesota market (climate zone 6), and one I've been using for more than a decade, is the frost-protected shallow foundation (FPSF). In part, that's because code requires footing depths of 5 ft.; and digging, constructing, and insulating footings and a foundation system that deep is time-consuming and expensive. A shallow-foundation system can be a substantial savings for a new build.
The International Residential Code (IRC) covers FPSFs in section R403.3. There is a lot of information specific to this type of foundation that differs from other systems. For instance, when using a FPSF, the average mean temperature of the building needs to be maintained at a minimum of 64°F (there are ways to design a frost-protected foundation for unheated and semi-heated building, but this article will concentrate on continually conditioned dwellings). There are also requirements for rigid insulation R-value derating and protection for buried insulation.
What is an FPSF?
A frost-protected shallow foundation system is typically a monolithic concrete pour, sometimes called a turned-down slab, where the footing and slab are constructed as one. Insulation is placed against the slab edge as well as a "wing" of insulation that extends out, away from the thickened edge, to prevent frost from driving under the slab during the winter months.
How much insulation is required at the slab edge and on the horizontal or wing, and the minimum footing depth is determined by the air-freezing index for your location. The map is backed up in the code with tables showing the air-freezing index for the individual counties in each state. The air-freezing index is defined as cumulative degree days below 32°F. It is used as a measure of the combined magnitude and duration of air temperatures below freezing. The index was computed…
Weekly Newsletter
Get building science and energy efficiency advice, plus special offers, in your inbox.
This article is only available to GBA Prime Members
Sign up for a free trial and get instant access to this article as well as GBA's complete library of premium articles and construction details.
Start Free Trial
Already a member? Log in