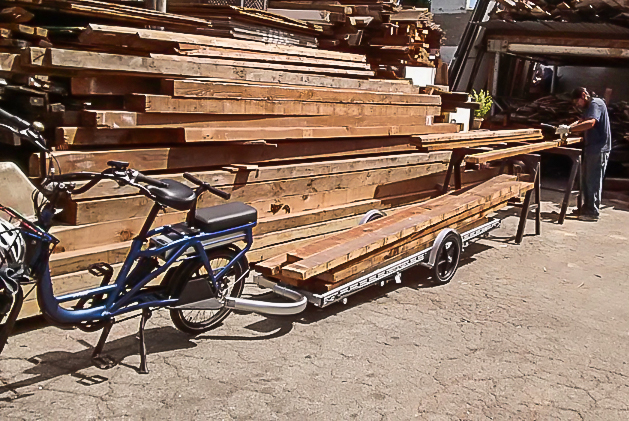 Editor's Note: This post is one of a series by Chris Stratton and Wen Lee, a husband-and-wife team living in the Los Angeles area who are turning their suburban house into an all-electric, zero-net energy home. They chronicle their attempts at a low-carbon, low-cost, and joyful lifestyle on their blog Frugal Happy. This post was written by Wen.
Our dream is to enjoy life without a car. Why? Three main reasons.
Pollution: We don't want to contribute to climate change.
Happiness and health: Driving makes us feel grumpy and lazy.
Money: Cars are expensive.
But can we do it here? This isn't San Francisco or New York City. This is Southern California, where pretty much every city was designed for the automobile. Things are spread far apart, the streets are huge, and public transit is lacking in most neighborhoods.
When I was growing up here, driving a car was seen as the only way to get around. The only people who walked, biked, or took public transit were young kids and poor people — and everyone pitied them. I remember as a teenager impatiently waiting until I was old enough to get my license. Driving was a status symbol.
Then I moved to other places in the country, and experienced different transportation systems. I learned that cars were, in fact, not the only option. For seven years, Chris and I lived car-free in northern California and Oregon. It's not only possible, it's awesome.
So here I am back in the San Gabriel Valley, trying to reinvent how I get around this place. It's definitely a challenge. We can't just do exactly what we used to do up north, which was walk, bike, and take public transit everywhere. Pretty much nothing here is within walking distance. Some places are within biking distance (most are not), but the roads are dominated by cars. Public transit in the LA area is improving and may be a viable option depending on your starting and ending points, but often it's too far away or too slow.
Meet the fleet
But we're determined to try, and we have some tricks up our sleeves. We're excited to introduce to you… our new fleet!
Fleet Vehicle #1: Bicycles — our old trusted friends. They've been with us through thick and thin, and we will always use them if we can (see Image #2 below). They are the cleanest vehicle option (100% human-powered) and provide the most exercise. Any trip within 5 miles that doesn't involve heavy or unwieldy objects or a time constraint should be accomplished with these bikes.
Fleet Vehicle #2: Electric bicycle. What if we need to go farther than 5 miles, though? (A common need in SoCal.) We have a ODK U500 by Juiced Bikes (see Image #3 below). It is advertised as "the ultimate car-replacement electric bicycle," and we'd have to agree. It can go 22 mph and up to 100 miles per charge. It can accommodate two passengers. It has a carrying capacity of 400 pounds. It can pull a trailer and haul even more stuff. Of our fleet, this vehicle has the largest hauling capacity. We love this thing, but it's pretty heavy (70 lb.) so that can be cumbersome. And while it's faster than a standard bike, it's still much slower than a car.
Fleet Vehicle #3: Electric scooter. All right, sometimes we need to go 15 or more miles. Or we really don't have 45 minutes to spare for travel time. Sometimes, we just need a fast vehicle. Enter the scooter (see Image #4 below)! This is the Govecs GO! S3.4. We bought it used on Craigslist. It can go up to 53 mph (so no highway riding) and has a range of around 60 miles per charge. The motor is quiet, yet powerful — this thing can really zip! California law treats scooters like motorcycles, so we had to get the scooter registered, buy insurance, and get our motorcycle licenses. That was a bit of a pain, but not terrible. We've found that the range varies depending on the weather (the scooter battery does NOT like cold), but overall this scooter has changed our life. Now we just need to make sure it doesn't make us lazy and stop biking.
That's our fleet. Pretty good team, I'd say.
But, just in case…
In full disclosure, I should mention that we do have a car. It's an old family sedan that sits in our garage. We are doing everything in our power to not use it. The point of the experiment is to see if we can get by without it. If yes, then we will sell it and do a happy dance. In the meantime, we've decided to keep it around and maintain a driving log, keeping track of when we do use it, why we use it, and for what purpose. So far, we've been using the car three or four times each month. That's more than we'd like, but still way less than the average person living here. We're working on getting this number down.
Our car-free experiment has been going for a few months now. What have we learned? Many things.
A new fleet costs money upfront. We spent about $3,500 on the e-bike and about $6,000 on the scooter (about 20% of that was shipping). This is a significant amount of money. However, it's still much cheaper than a car. We don't need to buy gas. Motorcycle insurance is $80 a year, way less than car insurance. So compared to buying and maintaining a car, we're still saving some serious cash.
Electric vehicles are not guaranteed green. Our main goal in going car-free is to avoid using fossil fuels and contributing to climate change. Going electric means we are no longer burning gasoline, but we still have to charge the vehicles. For the most part, unfortunately, electricity is generated by burning fossil fuels. So in order to accomplish our goal of having a zero-emission fleet, we have to use electricity produced from clean energy. Our solution was to install PV panels on our roof. Now, going solar was an adventure in itself, and we'll write a separate blog post all about it. In the meantime I will just say: Solar is amazing! Our vehicles are powered by the sun, and it feels good. So long, fossil fuels.
You might be wondering how we feel about electric cars. Given that we have solar panels, we hypothetically could drive an all-electric car and spew no carbon pollution. However, electric cars are quite pricey and we'd rather not buy one if we can help it. Also we'd then be subjected to the whims of LA traffic, which gives me nightmares.
Hauling the freight
You can carry a lot of stuff without a car. Between our cargo e-bike, Burley trailer, and Bikes At Work trailer, we've been able to haul an impressive amount of things (see Image #5 below). I have to give Chris most of the credit for this. He's definitely the most creative when it comes to how to load cargo on our non-cars. Since he's doing so much work on the house, he needs to haul awkward things like lumber, sawhorses, and miter saws.
We also like to buy our food in bulk to save money and minimize packaging (think 50-lb. bags of flour, cases of oranges, and 25 lb. of beans), so we often come home from the market with enormous quantities of food. We are quite the sight. Even the scooter has a respectable carrying capacity, as long as you're willing to get a little creative.
Going car-free involves a paradigm shift. Traveling by bike is a completely different experience than traveling by car. In a car, you are pretty much whizzing around in a comfy bubble, separated from your surroundings. Driving to one place feels about the same as driving to another. On a bike, you're not just using the streets, you are out in the open experiencing the streets. You are moving much, much slower. Sensing the weather, feeling every crack and bump in the road, noting the buildings and cars and trees and people as you pass them. Every ride is a new experience.
Going car-free also means adopting a new timescale. It might take 30 minutes to go 5 miles on a bike. It might take an hour to go 12 miles on public transit. And that's okay. One shouldn't compare it to car travel. It's a totally different thing.
Urban planning matters. Biking in the San Gabriel Valley is not like biking in Oakland. At all. Up north, streets are narrow and blocks are short, so cars drive slower. Here streets are huge and blocks are long, so cars go fast. In Oakland, I could bike in the street and feel more or less equal to the cars next to me. But here I feel puny, tiny, and slow. There aren't as many bike lanes or bike-friendly streets, and there is less awareness (among both drivers and bikers) about bicycle safety. It really can feel dangerous at times, which is why so few people bike here.
Chris and I both have years of urban biking experience, but we have developed completely new biking skills here, learning to navigate high-speed streets, gigantic multi-lane intersections, oceans of parking lots, and an overall dismissive attitude toward bicycles. It was kind of scary at first, but we've adapted. We feel it's important to be out there and increase the bike presence in this area. The more bikers are out there, the better things will get for us. We're with you, BikeSGV!
Possibilities of car-sharing
Sharing is a thing. Car-sharing and ride-sharing are getting increasingly popular around the country. This potentially could be the final piece to our car-free puzzle. For times when we absolutely do need a car (like the three or four times a month we've been logging thus far), we could use services like Zipcar or Lyft to get access to a car without owning one. The nearest Zipcars from our house are about 4 miles away, which is definitely bikeable. We haven't used them yet, but we may start.
We're turning heads. I mean, there aren't many vehicles around here that look like ours. We've gotten many surprised and/or amused looks, and lots of smiles (but also some glares). A few people have even cheered for us, yelling "niiiice!" or "woo!" with their fist up. My favorite is when we're at a red light and people roll down their window and say things like, "Is that electric? I should get one!" That makes us feel good.
I'm sure there is a lot more to learn, and many more questions that need to be answered. It will be interesting to see in six months' time if we are still so enthusiastic about going car-free, and whether we end up selling the car. I hope yes to both, but we'll see how it goes.
Weekly Newsletter
Get building science and energy efficiency advice, plus special offers, in your inbox.