GBA Prime subscribers have access to many articles that aren't accessible to non-subscribers, including Martin Holladay's weekly blog series, "Musings of an Energy Nerd." To whet the appetite of non-subscribers, we occasionally offer non-subscribers access to a "GBA Prime Sneak Peek" article like this one.
Everybody loves passive solar design. Back in the 1970s, "passive solar" was the essential first step for cold-climate builders. It was considered an approach with obvious advantages over complicated "active solar" schemes that required pumps, fans, and electronic controls.
While the definition of a "passive solar house" was well established by the 1980s, Wolfgang Feist muddied the waters in the 1990s when he decided to call his new superinsulation guidelines "the Passivhaus standard." Ever since that fateful day, journalists and owner/builders have confused passive solar design principles with Feist's superinsulation standard from Germany.
Rather than focusing on the confusion between passive solar design principles and the Passivhaus standard, however, I'd like to travel back in time to the 1970s, the heyday of the passive solar movement, to identify the original principles espoused by passive solar designers. Once these principles are identified, we'll examine how many of them have stood the test of time.
Here are the five bedrock principles of passive solar design for a cold climate:
Solar vs. superinsulation
In October 2009, the Passive House Institute U.S. invited me to give a presentation at the Fourth Annual North American Passive House Conference in Urbana, Illinois. In that presentation, "The History of Superinsulation in North America," I discussed the debate between "solar house" advocates and superinsulation advocates during the late 1970s and early 1980s. After Joe Lstiburek and John Straube saw my presentation online, I was invited to present it again at the 14th Annual Westford Symposium on Building Science (August 3, 2010).
Some of the information from that presentation was incorporated into a 2010 GBA article, Solar Versus Superinsulation: A 30-Year-Old Debate.
Here's a quick summary of the relevant history: during the late 1970s and early 1980s, advocates of superinsulation raised questions about the validity of passive solar design principles. A debate ensued, and superinsulation won.
Although I'm quite familiar with the historic debate, and I side with the superinsulation crowd, certain aspects of the passive solar approach — an emphasis on careful solar orientation, a concern for proper roof overhangs on the south side of a house, and a preference for south-facing windows over north-facing windows — seem embedded in my DNA.
Lately, however, I've begun to wonder whether there is any technical justification for these recommendations. Do these design principles result in energy savings? Or am I just dragging around the stubborn legacy of my hippie past?
Forget the thermal mass
Some passive solar principles — especially the old belief in the near-magical effects of thermal mass — never made much sense to me. Thermal mass is expensive. Thermal mass complicates remodeling. Thermal mass makes a home unresponsive to sudden changes in the weather. By keeping a home cold when the occupants want to warm it up, or by keeping a home hot when the occupants want to cool it off, thermal mass is as likely to interfere with occupant comfort as it is is to contribute to energy savings.
For most cold-climate builders, the disadvantages of extra interior thermal mass outweigh any advantages. Even radiant floor designers, many of whom sang the praises of thermal mass in decades past, have mostly accepted the new consensus: low-mass floors are easier to control, and result in higher levels of occupant comfort, than high-mass floors. (For more on this issue, see All About Thermal Mass.)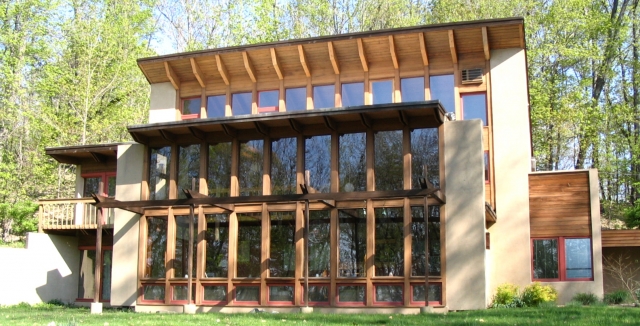 How much south-facing glazing?
My faith in another passive solar principle — adding plenty of south-facing glazing — was first shaken by Gary Proskiw's 2010 paper, "Identifying Affordable Net Zero Energy Housing Solutions." (For a discussion of the report's ramifications, see my GBA article, "Study Shows That Expensive Windows Yield Meager Energy Returns.")
Briefly, here's what Proskiw found:
South-facing windows are so expensive that the value of the heat gathered by the windows is too low to justify the cost of the windows.
Money that a builder might want to spend on extra south-facing windows would be better invested in other energy-saving measures.
The area of south-facing glazing "should be limited to that necessary to meet the functional and aesthetic needs of the building."
It turns out that every extra square foot of glazing beyond what is needed "to meet the functional and aesthetic needs of the building" is money down the drain.
In a way, this advice is liberating: it compels the designer, secure in the knowledge that no technical or functional issues are at play, to think about aesthetic issues — and that's almost always a good thing.
Proper orientation
What about orientation? According to conventional wisdom, the wise designer studies a site carefully, looking for a knoll with good southern exposure, and tries to align the long dimension of the house in an east-west direction.
Lately, building scientist Joe Lstiburek has delighted in puncturing this balloon. "I don't think orientation matters anymore," Lstiburek told me on the phone. "I see passive houses that are overheating in summer as well as winter — in Chicago! These houses need to reject the heat, not collect the heat."
So where did the passive solar design principles come from? What's changed since the 1970s?
Today's houses are better insulated and less leaky
For one thing, passive solar buildings never worked all that well. Even back in the 1970s, they were cold on winter mornings and hot on sunny afternoons. But most solar enthusiasts were so excited by the idea of "free heat" that we accepted uncomfortable conditions as a necessary part of the brave new solar future we were all busy creating.
Second, today's houses are better insulated and a lot more airtight than they used to be. That's good, because they require less energy to heat and cool than homes built in the 1970s. However, recent improvements in insulation and air-sealing standards make homes with lots of south-facing glazing more susceptible to overheating — so it's more important than ever to avoid excessive glazing area.
It's also essential that we make the right decision when choosing between high-solar-gain glazing and low-solar-gain glazing. That decision has gotten trickier lately, especially since Proskiw's calculations have called into question the entire idea that south-facing windows are heat-collecting devices. Some designers (including Joe Lstiburek) have abandoned the idea of orientation-specific glazing specifications and now advise that all windows should have a low SHGC.
Lstiburek says, "Don't do it"
In a 2014 article titled "Zeroing In," Lstiburek addressed passive solar design principles with his usual bluntness.
"Don't bother with the passive solar," Lstiburek wrote. "Your house will overheat in the winter. Yes, you heard that right. Even in Chicago. … You should go with very, very low SHGCs, around 0.2, in your glazing. If this sounds familiar to those of you who are as old as me, it should. We were here in the late 1970s when 'mass and glass' took on 'superinsulated.' Superinsulated won. And superinsulated won with lousy windows compared to what we have today. What are you folks thinking? Today's 'ultra-efficient' crushes the old 'superinsulated,' and you want to collect solar energy? Leave that to the PV."
Why passive solar doesn't work very well
Four salient facts undermine the old premises of passive solar design:
In a well-designed house, the energy required for space heating represents a smaller percentage of a home's energy budget than it did in the 1970s. In many low-energy homes, domestic hot water requires more energy than space heating. For more information on this concept, see It's Not About Space Heating.
While large expanses of south-facing glass help heat up a home on a sunny day, the solar heat gain doesn't come when heat is needed. Most of the time, a passive solar home has either too much or too little solar heat gain, so much of the solar heat gain is wasted.
At night and on cloudy days, large expanses of south-facing glass lose significantly more heat than an insulated wall.
These days, investing in a photovoltaic array yields more useful energy than an investing in a south-facing window.
A new look at the old principles
So what kind of advice would I give a young designer contemplating the five passive solar principles listed at the beginning of this article?
The long axis of the house should be oriented in an east-west direction. I still have a sentimental attachment to this principle, even though I know it won't save any energy. The reason I like to follow this principle — at least when the site allows it to be followed — is that it allows more rooms to get sun during the day. If you live in a cold climate, winter sun is cheerful. [P.S.: In Comment #6 below, Dana Dorsett makes an important point: While the passive solar principle favoring east-west orientation may be hard to defend from a space heating perspective, most new homes should, if possible, include a roof that is optimized for the installation of a PV array. An east-west orientation makes this possible.]
The rooms where people will spend most of their time should be located on the south side of the house, while utility rooms, bathrooms, closets, stairways, and hallways should be located on the north side of the house. It won't save any energy, but this is still a good principle, for the same reasons that it makes sense to orient the long axis of a house in an east-west direction. However, if you live in a mixed climate or a hot climate where the sun is oppressive and shade is your friend, this principle can be ignored.
There should be lots of extra glazing area on the south side of the house, and little or no glazing on the north side of the house. This principle is overstated. If your site has a wonderful view to the north, of course you want to include north-facing windows — and you may want your living room or dining room to face north. Moreover, there is no reason to include extra glazing on the south — only what's necessary (in Proskiw's words) "to meet the functional and aesthetic needs of the building."
That said, every house I have ever designed had more south glazing than north glazing — because sunshine is cheerful and I like sunny rooms. (Up to a point; watch out for glare. Many passive solar houses are so sunny on winter afternoons that the occupants all flee to the home's dark northern corners.)
The roof overhang on the south side of the house should be designed to shade the south windows during the summer solstice, but allow the sun to shine through the south windows on the winter solstice. Although there's nothing wrong with this idea, it's worth pointing out that it has always been impossible to design an overhang that will keep out the sun when it is unwanted and admit the sun when it is wanted. At best, the designer can come up with an overhang that kind-of, sort-of, almost works, but not quite. The sun is tricky. It follows the same path through the sky in March, when sun may be welcome, as it does in September, when it may be unwelcome. Moreover, at 10:00 a.m. and 2:00 p.m., it sneaks in sideways, at an angle, and stubbornly undermines the intent of the designer's overhang.
So it's OK to shrug your shoulders and accept imperfection in this department — especially if you take Lstiburek's advice and just jump on the low-SHGC bandwagon.
The house should include extra interior thermal mass to soak up some of the solar heat gain that comes through windows on a sunny day. I'm happy to throw this principle out the window. However, if you live in a hot climate with high air conditioning bills, you may want to build a house with a lot of interior thermal mass. Just remember that many of the benefits of thermal mass can be achieved at a lower cost by installing extra insulation.
GBA Prime subscribers can read a great many posted comments at the page where this article was originally published: Reassessing Passive Solar Design Principles. If you are a GBA Prime subscriber, that page remains the best place to post comments. Non-subscribers are invited to post comments below.
P.S.: Readers interested in reading a 1978 research paper on this topic may want to check out this report by Rob Dumont: Passive Solar Heating. Our thanks to Bronwyn Barry for sharing this document.
Weekly Newsletter
Get building science and energy efficiency advice, plus special offers, in your inbox.