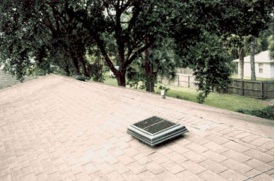 Attic ventilator fans have taken a whupping in the court of building science, played starring roles on useless-products lists, and gotten roughed up in the comments sections of blogs. Now they're gadget non grata in Georgia's supplement to the 2009 International Energy Conservation Code.
Actually, as energy consultant and Energy Vanguard blogger Allison Bailes points out, that particular part of Georgia's code supplement contains a loophole. In its list of mandatory "Systems" requirements, Georgia allows solar-powered attic ventilators, but attic ventilators designed to use grid power "shall not be connected to the electric grid." In other words, you can have one, as long as it's not plugged in.
Dealing with the heat
Despite the compromise, the rap on attic ventilators is now anchored in code. Promoters of these machines say the devices help cool attics by exhausting hot air to the outside. However, attic-fan critics say the fans often draw makeup air from a home's interior. During the summer, there's obviously a major energy penalty if your attic fan is pulling air-conditioned indoor air from the living space into the attic through leaks in the ceiling.
Frequently cited research results from a study conducted in 1993 and one conducted by the Florida Solar Energy Center show that attic exhaust fans also can depressurize the living area to the extent they create potentially hazardous backdrafting conditions, particularly in homes with atmospherically vented gas appliances.
Energy consultants like Bailes and building scientists from FSEC and the Building Science Corporation suggest that, for most homes, the most cost-effective and safe approach to address high heat in attics is to perform air-sealing work at the ceiling and to insulate deeply.
Weekly Newsletter
Get building science and energy efficiency advice, plus special offers, in your inbox.