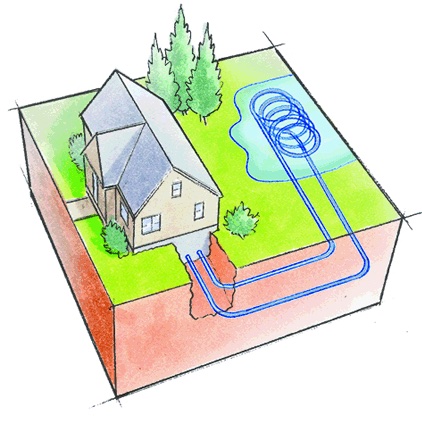 Geothermal heat pumps have a reputation for being efficient and "green"; is it deserved? In contrast, feedback from owner experience, and substantiated by discussion on industry boards and forums, paints a less flattering picture of the realities of geothermal. This article explores the reasons for the yawning gap between the common perception of geothermal as an efficient, clean, and renewable heat pump system and the realities of operation that quickly dispel those myths.
Defining geothermal
Geothermal, broadly, refers to capturing and utilizing energy that naturally exists below the surface of the earth, and it is often described as clean and renewable. That notion more aptly describes utility scale operations that make use of heat venting naturally at or near the surface, but geothermal is also used to describe a range of small-scale heat pump systems employed for residential and commercial heating and cooling. This analysis is restricted to the latter, which based on our research should not be considered clean or renewable, though its reputation seems to benefit from the misguided association with the former.
Geothermal heat pumps are designed to make use of underground temperatures that are more moderate compared with air temperatures above ground. While temperatures of undisturbed subsoils vary slightly by latitude, the U.S. Department of Energy claims that "below the frostline, about ten feet down, the earth maintains a nearly constant temperature of 54 degrees." That feature appears attractive compared with air-source heat pumps, which need to extract cooling from much warmer air in the summer, and heat from much colder air in the winter.
The untold realities, however, are how underground earth temperatures change with every geothermal exchange, and how slowly those temperatures return to ambient and optimal levels. The data in this paper demonstrate that underground temperatures are manipulated relatively rapidly and significantly by…
Weekly Newsletter
Get building science and energy efficiency advice, plus special offers, in your inbox.
This article is only available to GBA Prime Members
Sign up for a free trial and get instant access to this article as well as GBA's complete library of premium articles and construction details.
Start Free Trial
Already a member? Log in