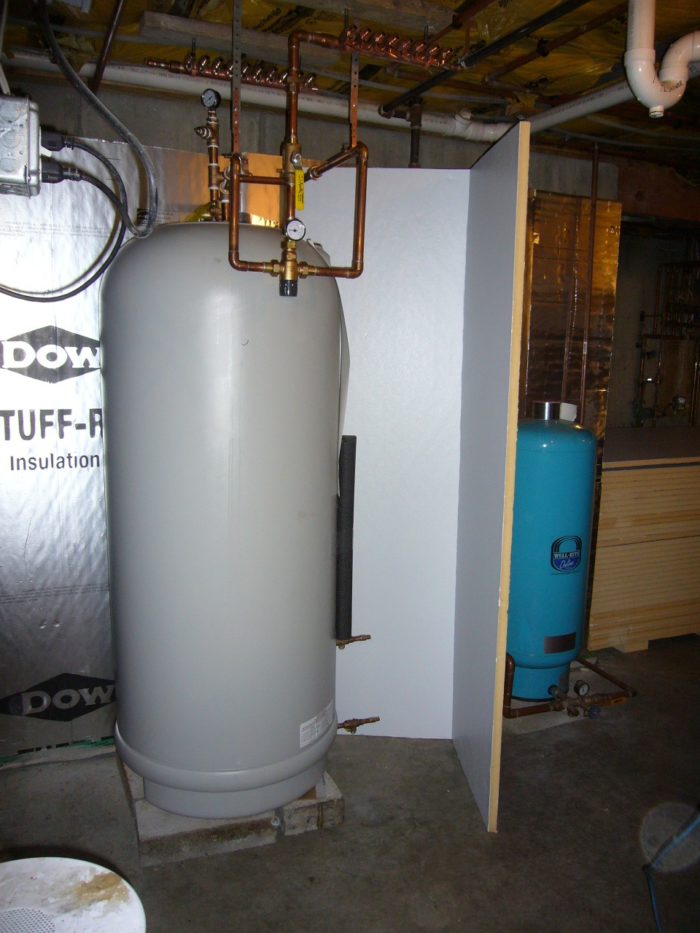 Dick and Tim Mavro, with the help of a large friend of Tim's named Justin, came and took our oil heating system away. I was glad to see the truck drive off with all that equipment on the trailer. Now I have to find a home for the Vermont Castings gas heater, and then we'll be fossil-fuel-free, at least as far as site energy is concerned.
Once we said goodbye to the Buderus boiler, we needed a solution to making our domestic hot water (DHW). I installed a 10-gallon electric water heater I had as a temporary solution. Jill and I needed to time our showers with other uses of DHW or we'd get chilly. We went along for a few weeks like this.
No fossil fuels, thank you
Once we eliminated fossil fuels as the fuel source for making DHW, our choices narrowed to using electricity or solar. In some cases, such as our former home in New Hampshire, biomass can be an option. We used a heat exchanger in our old pre-EPA Vermont Castings wood stove and a thermosyphon solar water heater with a back-up electric resistance element in that system.
But that solution today either requires using a dirty old stove, or possibly finding and importing a European wood stove that includes a hot-water coil while retaining a clean burn. As I wrote in a previous blog ("The Right Target, Part 2"), I didn't anticipate that we would be burning wood the whole heating season, but rather using wood where it makes the most sense — during the coldest portion of the year — and using the air-source heat pump in the swing seasons, when it is more efficient and keeping a stove going is challenging. The restricted time of use makes wood-fired DHW less compelling.
We want a big tank
I decided that whatever technology we would use to heat water would require a sizable, very well insulated tank, so I ordered an 85-gallon Marathon electric water heater. The Marathon has a polybutylene inner tank liner, which is durable enough for the manufacturer to offer a lifetime warranty. The insulation is continuous closed-cell foam, and the outer jacket is plastic, so no rust.
The Marathon heater doesn't come with an internal heat exchanger, unlike tanks designed to be heated with an external heat source such as a boiler, solar thermal collectors, or stand-alone heat pump, so I knew that whatever I did I would have to implement a heat exchanger as part of the solution (if I chose to do something other than use the Marathon as an electric-resistance water heater.)
We don't use much hot water
One aspect of the decision about what technology to choose to make DHW is how much hot water is needed.
I lived in two successive houses I had built, for thirty years, with passive solar hot water systems that were built into the design of the homes and used no pumps, power, controls, or antifreeze. These systems can't be easily retrofitted into a conventional home. This means that a solar thermal system will typically have some of the above-mentioned cost-and-complexity adding components, which raises the cost.
Professionally installed solar thermal DHW systems in New England seem to end up costing $6,000 to over $12,000, depending on size and difficulty of installation. Some of that cost is relatively fixed, regardless of system size, and therefore the economics of solar DHW is dependent on the DHW usage (and of course, the cost of energy — natural gas is much less costly per energy delivered than the fuels available on Martha's Vineyard, which are fuel oil, propane, and electricity).
Jill and I use an average of 13.3 gallons of DHW at 120°F per day. With an average annual incoming water temperature of 60°F (an estimate; the temperature may be somewhat lower over the year — I just have summer and early fall data), this is just about 2 kWh/day of DHW load. Add to that perhaps 1 1/2 kWh/day of heat loss off of the tank and piping near the tank (it's insulated — we'll get to this), for a total of 3 1/2 kWh/day.
This is close — we were using about 3 kWh/day with the much smaller and much worse insulated 10-gallon electric water heater we used for a few weeks. So 3 1/2 kWh/day is just under 1,300 kWh/year, at a cost on Martha's Vineyard of just under $250.
Solar collector sizing
This 1,300 kWh/year is the annual output of roughly 26 square feet of solar collector, and if we did have this small collector it wouldn't make all the DHW we need because it would make more than needed in the summer and less in the winter. But a single 26-square-foot collector is a very small system that still needs mounting racks, piping from the collector from the roof to the basement, pumps, controller, heat exchanger, pipe insulation, and installation labor — plumbing, wiring, solar installing — which don't scale with system size.
If we were a larger family and, instead of using a somewhat European amount of 6.6 gallons/person/day, we used 15-20 gallons/person/day, we'd be figuring on an 80-square-foot solar thermal system that might cost less than twice as much as the 26-square-foot system, and would deliver more than three times the usable energy — very different economics.
I looked at some interesting and innovative solar thermal systems in this process, and I'll write about them in the next post. I didn't initially choose solar DHW, in any case, so there's a bunch more to say.
Marc Rosenbaum is director of engineering at South Mountain Company on the island of Martha's Vineyard in Massachusetts. He writes a blog called Thriving on Low Carbon.
Weekly Newsletter
Get building science and energy efficiency advice, plus special offers, in your inbox.