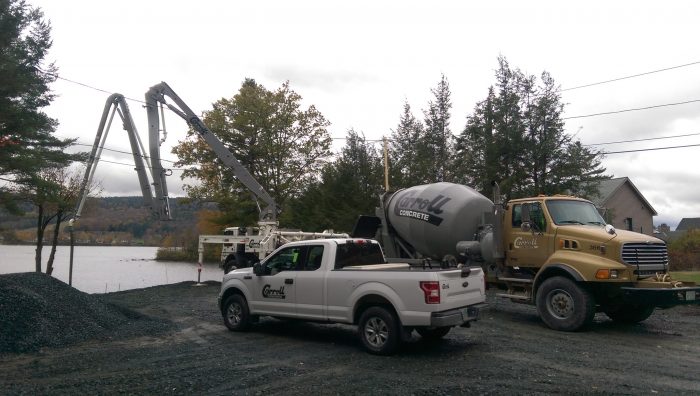 The absolute bad boy of CO2 emissions in the building industry is the approximately 17% dry weight of Portland cement in a standard ready-mix concrete. Somewhere between 5% and 8% of global CO2 emissions are the result of Portland cement production. It's not just that the Portland cement process is energy intensive, it's also the fuels used. Producing one ton of Portland cement generates nearly a ton of CO2!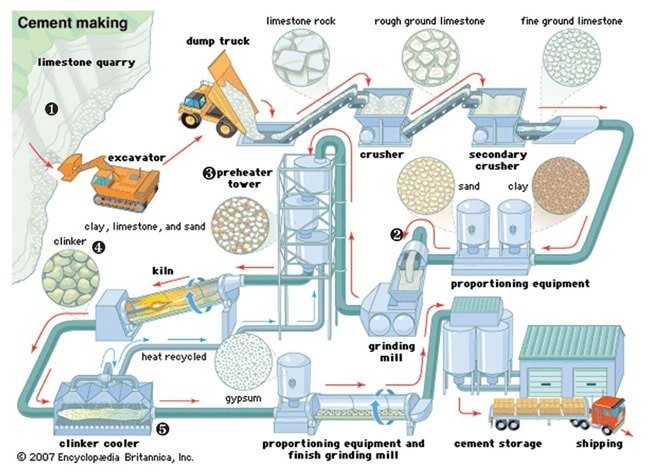 Can we reduce the amount of Portland cement used to make concrete?
Yes, we can. There are a number of supplementary cementitious materials (SCMs) that can be substituted for at least some portion of the Portland cement. They include:
Fly ash (from burning coal)
Blast furnace slag (from steel production)
Silica fume (byproduct from the manufacture of silicon or ferro-silicon metal)
Natural pozzolans (calcined shale, volcanic glass, rice husk ash, etc.)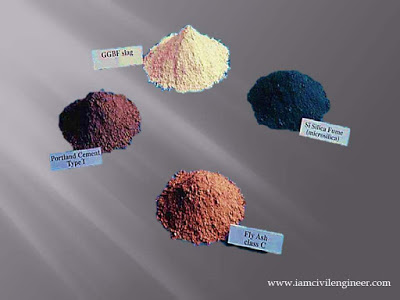 NOTE: For a quick and easy way to see the impact of SCMs, you can sign up for Climate Earth's Green Concrete Selector. Here are two screenshots for 3000 psi concrete, the first with no Portland cement substitution and the second with 40% SCM substitution of Portland cement.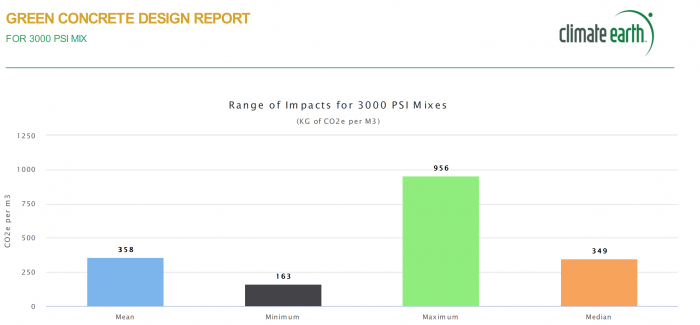 What about the other major ingredients in concrete and their contribution to CO2 emissions?
The other major concrete ingredients are sand (about 40% of dry weight), and aggregate (another 40%). The rest of the mix is various additives, and water, of course. While each of these are high mass, their CO2 contributions are dwarfed by the ingredient that hold it all together, the cement.

So, let's substitute!
It turns out that substituting for the Portland cement in ready-mix concrete is not easy for a number of reasons:
The SCMs require separate storage at the ready mix plant.
SCMs are not universally available.
They change the properties of the concrete.
They almost always increase set time.
What then, if anything, is driving the use of SCMs?
More than one green building rating program cites Environmental Product Declarations (EPDs). EPDs are like food nutrition labels for building materials. The USGBC LEEDV4 program and the Living Building Challenge use them, as does Elixir Environmental: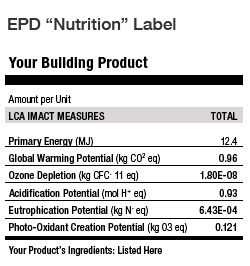 Not surprisingly, the big environmental impact of concrete means lots of scrutiny of Portland cement and concrete ready-mix EPDs that comply with green building rating programs.
I got quite a bit of help on the whole issue of EPDs and SCMs for concrete mixes from Central Concrete (Bay area, CA ) and Climate Earth. Chris Erickson, President and CEO of Climate Earth, explained how EPDs are used by specific companies like Central Concrete and by industry organizations, such as the National Ready Mix Concrete Association (NRMCA). He said:
"Essentially, you get partial credit in green building programs for using industry-average EPDs for concrete and full credit for product-specific EPD mixes. To use the NRMCA industry-average EPDs, you must be not only a member but also have participated in the data efforts to build the NRMCA industry-average EPDs. To use product-specific EPDs, individual ready-mix companies can spend $10,000 for the EPD/LCA work (that consulting companies like Climate Earth conduct) for a single EPD."
NOTE: For more information about the NRMCA industry average EPDs go here.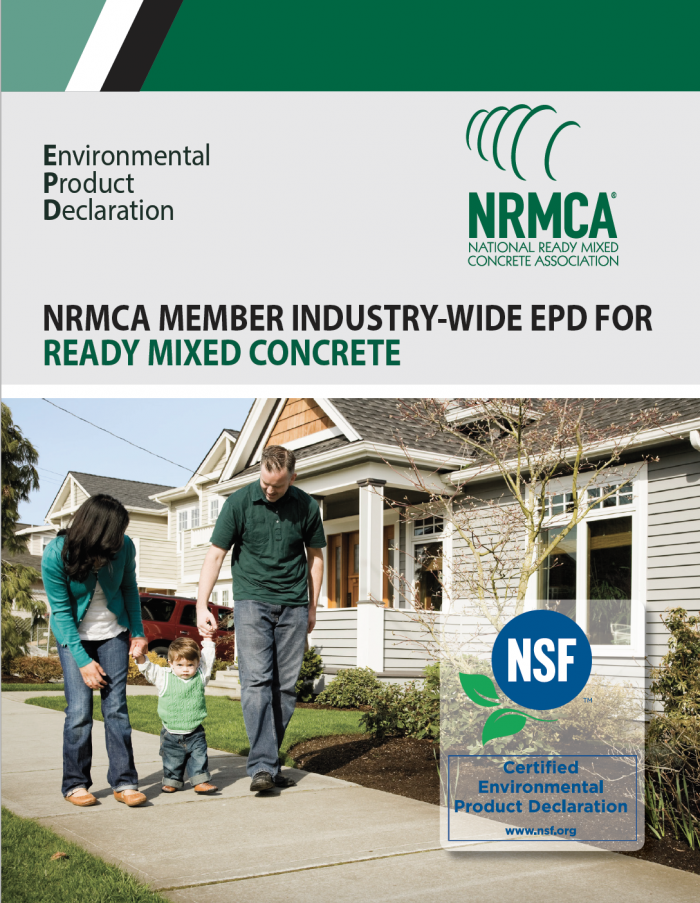 For more detailed information on EPDs:
Take a look at this EPD definition:
"An Environmental Product Declaration (EPD) is an independently verified and registered document that communicates transparent and comparable information about the life-cycle environmental impact of products. As a voluntary declaration of the life-cycle environmental impact, having an EPD for a product does not imply that the declared product is environmentally superior to alternatives."
Take a look at this Elixir Environmental video.
And this infographic from BuildingGreen.
Sounds as though this is all about big ready-mix operations, big buildings, big cities
This was my takeaway from all the information above. In urban areas with large-scale building projects, and areas where clients are requiring compliance with strict green building programs, there is the bandwidth within the building team—architect, builder, material suppliers—to absorb the cost, coordination, and time required to get the SCM and EPD right for the job. What do small-time homebuilders and remodelers do about SCMs?
For one thing, you use the Marin County "Draft Sample Residential Specification" to work with your local ready-mix concrete plant or company. Lots of credit is due to the efforts of industry leaders like Bruce King of Ecobuilding Network, Kate Simonen of Carbon Leadership Forum, and the climate-friendly building code program in Marin County California. They all worked on this Draft Sample Residential Specification. It's prescriptive to make it simpler for all involved to use, more appropriate for smaller jobs.
A quick case study: Carroll Concrete
We have pretty much just one ready-mix concrete operation in Brattleboro VT: Carroll Concrete. I gave them a call to learn just what level of SCM work they do in rural VT and NH. Jeff Stocker, the ready mix sales manager at Carroll Concrete was kind enough to take a late Friday afternoon phone call from me. Here's what he told me:
"Carroll Concrete has some SCM at every plant. We mostly use blast furnace slag but also some fly ash, although fly ash supply is a lot less reliable. Separate silo storage is a problem across the board, and if a mix requires more than one SCM, we are unlikely to have silo capacity for that.
Currently, our default mix just about always includes about a 30% SCM substitution for Portland cement, but NH DOT routinely specs 50% SCM and VTrans more like 30%. For larger commercial building projects, it's common for the project engineer to spec the SCM. But a lot depends on the ready mix application, freeze-thaw and salt conditions, just what and where the ready mix is headed in the building or on the site."
Jeff was headed out of town the following week, but he did take a quick look at the Marin County draft residential spec and responded:
"At first glance, there is not much in the way of targets for supplemental cementitious materials. I see the worksheet where you can show the amount of cement vs supplemental. I expected to see more in the way of requirements of % replacement. The minimum strengths are easy to hit without any restrictions on percent replacement as our standard mixes should meet these with relative ease. We use slag on a regular basis. Generally, the % replacement depends on the mix/application or specification from the project engineer.
If there was a target replacement value paired with a minimum strength requirement in a certain amount of days, we would have to run trial batches to produce test results. Our quality control manager has some test data on mixes batched at different percentages. Depending on what you are looking for, we could see if we have mixes you may be interested in. Otherwise testing would be required."
The bottom line
I think the really good news is that even for small jobs, small builders and rural areas, there is growing capacity for SCM and the Marin County residential sample specification is a good starting point to work with your local ready-mix company or plant. It will take work to make these changes but the impact on the CO2 emissions for your concrete work will be significant. Let's hear how you make out with your ready-mix concrete supplier.
-Peter Yost is GBA's technical director. He is also the founder of a consulting company in Brattleboro, Vermont, called Building-Wright. He routinely consults on the design and construction of both new homes and retrofit projects. He has been building, researching, teaching, writing, and consulting on high-performance homes for more than twenty years, and he's been recognized as NAHB Educator of the Year. Do you have a building science puzzle? Contact Pete here. Photos courtesy of the author.
Weekly Newsletter
Get building science and energy efficiency advice, plus special offers, in your inbox.