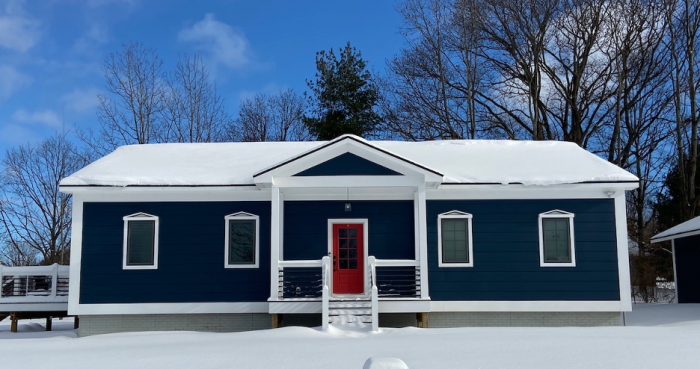 After spending countless hours researching information from Green Building Advisor (GBA), Building Science Corp, Energy Vanguard and more, I undertook a mostly DIY, all-electric new-build project in Northwest Lower Michigan (Climate zone 6A, Cold). I'll review overarching strategies and concepts and include real-world data, details, and general experiences gained over three full years since moving in.
When designing our home I drew much inspiration from the Pretty Good House, PassivHaus and Net-Zero Energy programs. These programs generally boil down to first minimizing the building energy loads, then meeting those loads as efficiently as possible. The former focuses on the building envelope, while the latter relates to systems: HVAC, water heating, and cooking.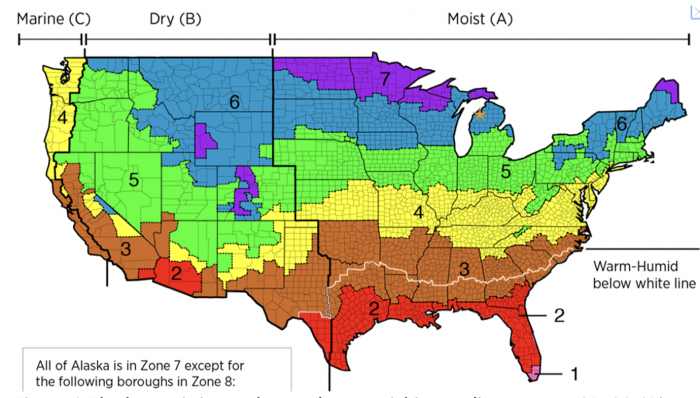 The building envelope
Thoughtful attention to the building envelope eliminates a portion of heating and cooling energy from ever needing to be used. It is often accomplished with continuous exterior rigid insulation, better performing windows, shading strategies, and improved airtightness when compared to code minimums. Simplifying massing by reducing ridgelines, corners, bump-outs and similar transitions greatly facilitates successful application of these strategies.
I designed the house with simplicity in mind; the character is found more in the finishes and less in the massing (a rectangle with a two ridge-line roof). Framing is 2×6 with a single top plate and floor/ceiling joists aligned with the studs. I installed 5 in. of exterior insulation over the wall sheathing—perhaps excessive, but there was a local source of factory-second polyiso.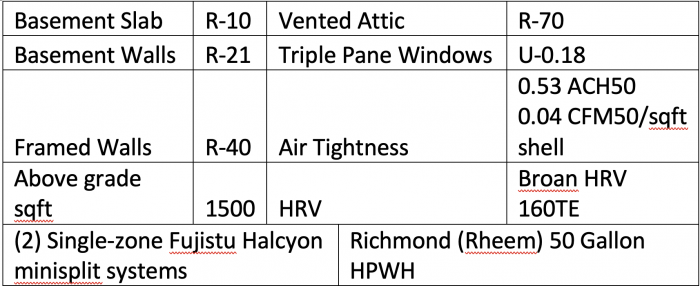 I framed the ceiling with I-joists and installed structural decking over top and sealed this (the attic floor) to the wall sheathing. This approach simplified air-sealing and provided a nice platform for installing the standard roof trusses, which sit on 20-in.-tall pony walls.
The I-joists provide a service cavity and eliminated about 60 building components including top plates, junction boxes, and myriad holes for Romex electrical cable that would have otherwise required careful air-sealing. There are two small penetrations for Romex servicing exterior lights and one large one for the plumbing vent; all are well-sealed. Access to the attic is through a gable end and there is nothing up there except loose-fill cellulose.
Airtightness
As homes get tighter and tighter, make-up air should be considered for clothes dryers (if not using a ventless dryer), kitchen range hoods, and even bath fans. Otherwise, make-up air will be pulled from unexpected sources and the fans or appliances likely will not be able to provide their rated CFM. We found this out the hard way, although it has been pointed out here and in Building Science Corp articles.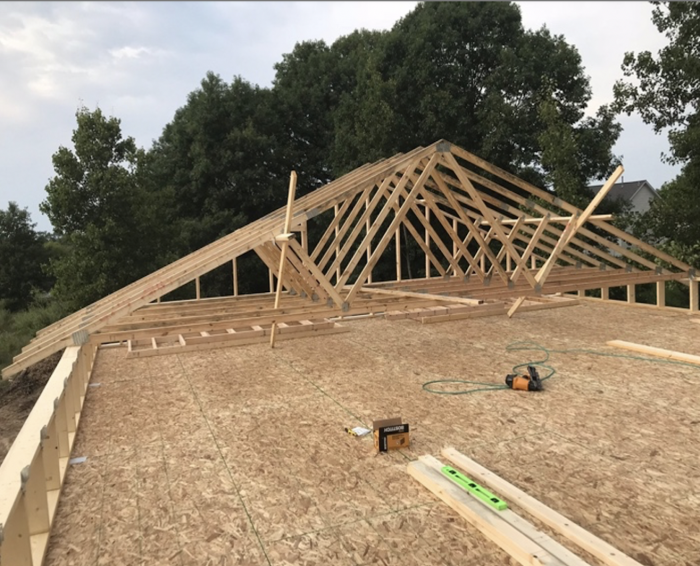 We have a sealed sump pit that's connected to the main plumbing vent. When the range hood or the dryer was running, that plumbing vent effectively became a stinky make-up air source. I sealed the sump lid and rubber gaskets around the PVC pipe with silicone to stop the back drafting of sewer gases.
Looking at the HERS report, the blower door was pulling only 212 CFM at 50Pa—this is a tight house. For reference, the kitchen range hood is rated at 399 CFM on max and likely 100-250 CFM at the intermediate settings. A dryer is rated around 200 CFM and although none are installed here, bath fans are rated around 50-150 CFM.
Without a makeup air source, these systems are likely unable to provide their rated CFM.
I installed a makeup air system consisting of a duct and motorized damper. The damper is controlled by a differential pressure sensor that monitors the difference between the indoor and outdoor pressure. When the indoor pressure drops, a sign that either the range hood or dryer is running, the damper opens to provide make up air.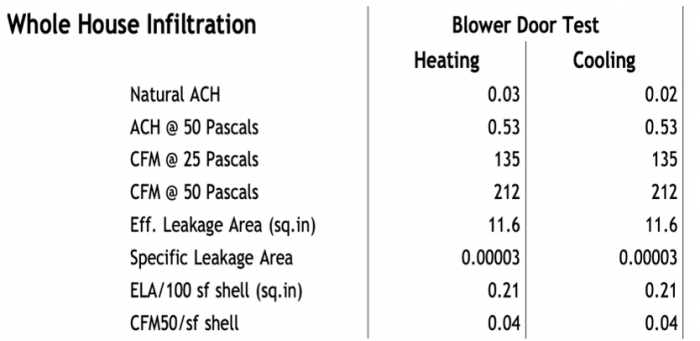 Heating and cooling
To meet the remaining heating and cooling loads I chose to use heat pumps, which can provide both heating and cooling from the same equipment. Many cold-climate systems can operate down to about -15ºF and some can continue operating at even lower temperatures (even very cold air contains heat that heat pumps are able to capture and pump inside). With thoughtful attention to the envelope, a small minisplit heat pump system can meet the bulk, if not all, of the heating needs in Climate Zone 6 and most in Climate Zone 7.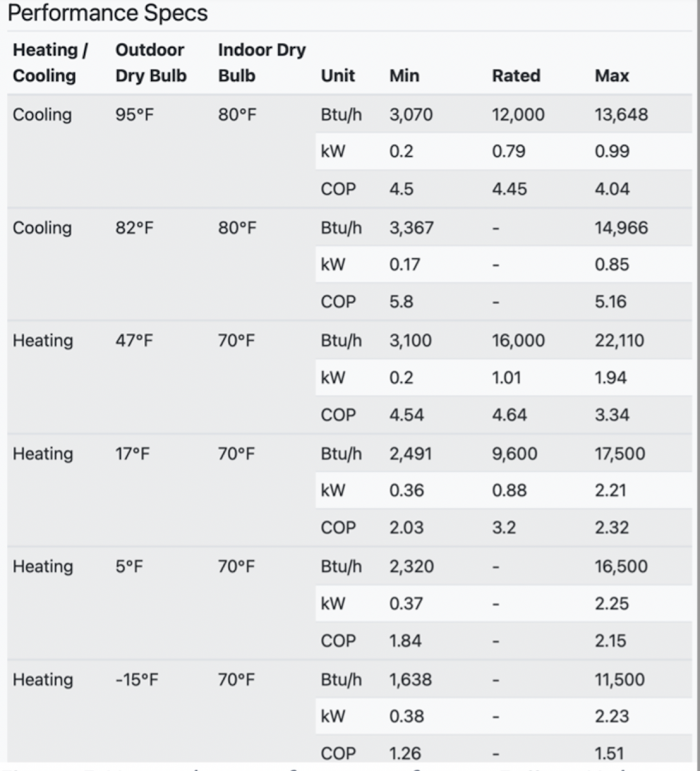 Furthermore, these systems can meet those loads very efficiently. Depending on the model, nameplate efficiencies (coefficient of performance or COP) over 300% at 17ºF and over 400% at 47ºF are possible, whereas electric resistance and fossil fuel heating appliances peak in the 90-100% range. While real-world efficiencies will vary, heat pumps can still average over 200% on a net annual basis even in very cold climates. This level of performance often provides lower heating bills compared to propane and heating oil and can sometimes compete with natural gas, especially in regions with low electricity rates.
Quick aside: I promise we are not breaking the laws of thermodynamics with efficiencies > 100%! Instead, this is a different definition of efficiency. The fundamental definition of efficiency is energy out divided by energy in. In this case, we are only interested in the input energy that we must pay for, i.e. the electricity, and we ignore the free energy harvested from the air. Another way of looking at it is: for every unit of energy paid for with the performance specs above, over three units of heating are provided at the 17ºF rated conditions.
My home is heated with two single-zone Fujitsu Halcyon cold climate mini-split heat pump systems (AOU12RLS3Y and AOU12RLS3H). Both indoor units are the ductless wall-hung types: the one in the living room serves the kitchen, dining, and entry area; the other in the hallway serves the three bedrooms and two bathrooms.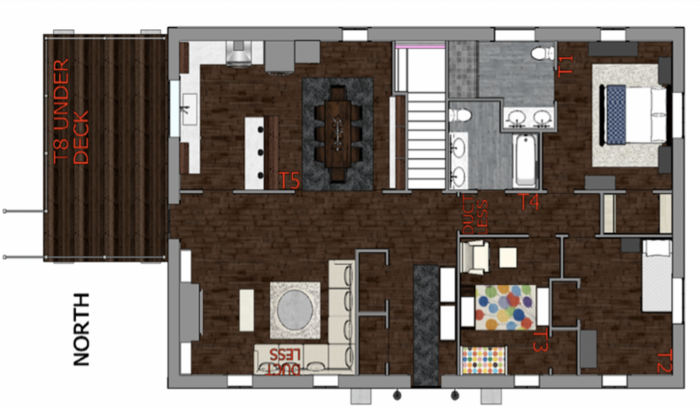 The wall unit works perfectly for the living area side of the home and maintains a consistent temperature. At the sleeping end of the home, there is a bit more variance, but within our tolerance. They kept the house warm all winter long, even when temps dipped into the negatives or lingered in the single digits.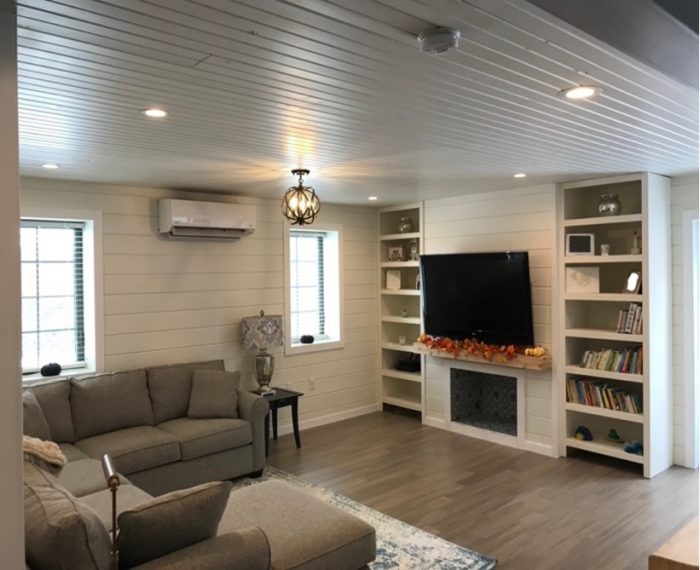 If the bedroom doors are closed, the temperatures can be a bit cooler than the hallway. For us, this is ok because we don't spend much time in the bedrooms besides sleeping and we leave our doors cracked at night. Plus, we like cooler temps for sleeping. The following graph helps quantify this experience.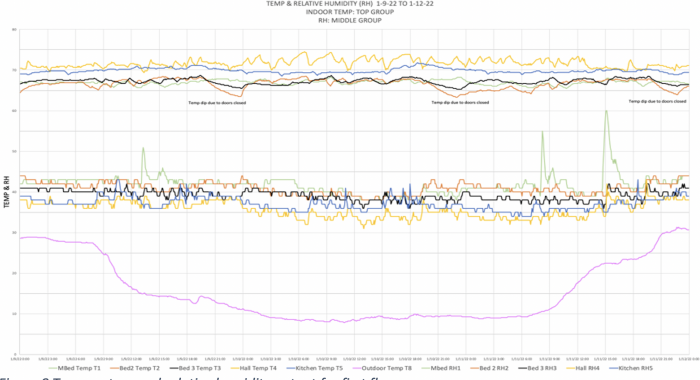 I installed a data logger on the living room minsiplit system to monitor its energy use. In the following charts we can see the daily and hourly energy use across a cold day (7º F avg), two moderate days where it's warming up or cooling down (16º F and 22º F avg), and a mild day (31º F avg). We can expect a reasonable correlation of energy use vs. average outdoor temperature, but other factors such as solar or internal gains come into play. On the mild day we used about 7 kWh while on the cold day we used about 14 kWh. Looking at the hourly chart, we can see the unit went into standby from 3-5pm on the mild day when temperatures were around 40º F.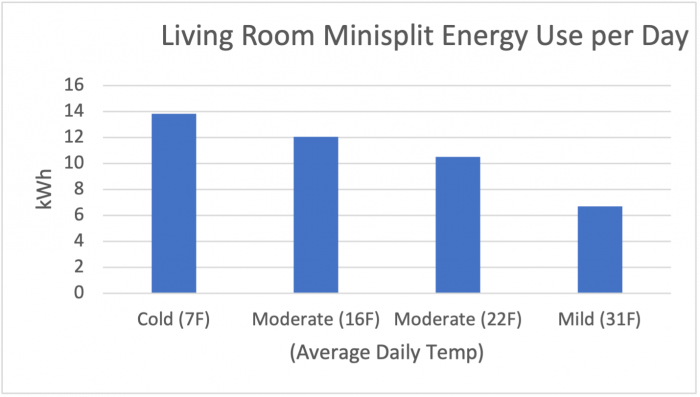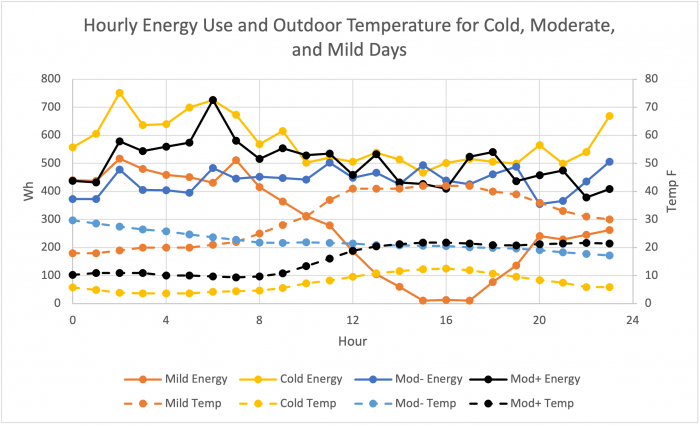 Ventilation
Adequate ventilation is often underappreciated, but it is essential for good indoor air quality and even more important when tightening up buildings, particularly in colder climates where windows are typically closed all winter. There are a few options for ventilation, but for a tight house in a cold climate a balanced system with heat/energy recovery is the optimal approach.
I installed a Broan 160TE HRV, supplying fresh air to the bedrooms, living spaces, and basement and exhausting from bathrooms, kitchen, and basement. There are boost switches in the bathrooms and no bath fans.
Additionally, the kitchen range hood needs to exhaust to the outdoors. I tried a recirculating range hood with a filter in a tight house once because I wanted to avoid that additional hole in the envelope. However, it lived up to its name and just recirculated the odors, smoke, and water vapor and it took a long time for them to dissipate. Another one of those things pointed out on GBA and by Building Science Corp.
Domestic hot water (DHW)
Heat pumps are the answer when it comes to hot water as well. There are two options for heat pump water heaters (HPWHs): split systems that have both an outdoor compressor and indoor storage tank, or unitary systems where the compressor is located on top of the storage tank. The unitary system is best placed indoors in cold climates since performance of the system is reduced with cooler temperatures. At around 40ºF, most systems will switch to pure electric-resistance mode, eliminating any energy efficiency benefits of the heat pump.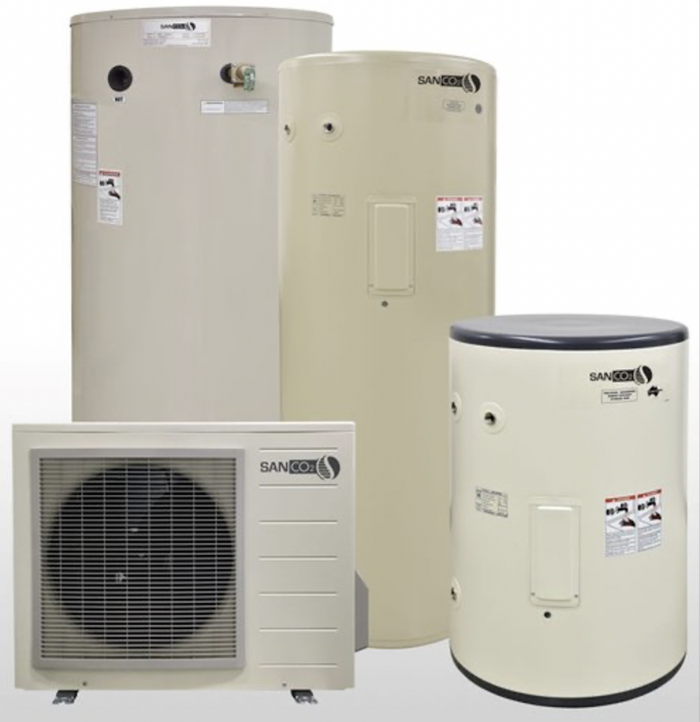 When placed indoors, HPWHs cool the space. The cooling effect is not ideal in the winter—okay, in the shoulder months—and usually not an issue in the summer. For this reason, the ideal location for a unitary HPWH is often a basement, large utility room, or insulated garage. Otherwise, locating it in any area that's conditioned by a heat pump can be a good solution since the heat pump can efficiently make up the lost heat captured by the HPWH. These units are louder than a standard electric-resistance unit, and sound attenuation may need to be considered depending on location.
In cold climates, the unitary heaters should not be fully or partially ducted to the exterior due to the performance penalty with colder temperatures. Exhaust-only ducting is not recommended as these systems have large CFM draws and long runtimes, resulting in a non-trivial energy penalty for reconditioning the make-up air.
Some of the systems allow for scheduling of operation and can be set to operate when away at work or sleeping if noise is an issue, for example. Coupling these control strategies with a higher setpoint and larger storage tank can potentially mitigate most noise or cooling issues. Alternatively, a split system avoids these concerns but costs more.
In my house, we started with a standard 50-gal. electric-resistance water heater. I installed a recirculation loop that is both occupancy and temperature controlled. Occupancy sensors are at each point of use and a temp sensor is located on the loop near the kitchen supply—the farthest point. Before switching to a 50-gal. HPWH (Richmond 10E50-HP4D), we were using about 11 kWh/day for hot water.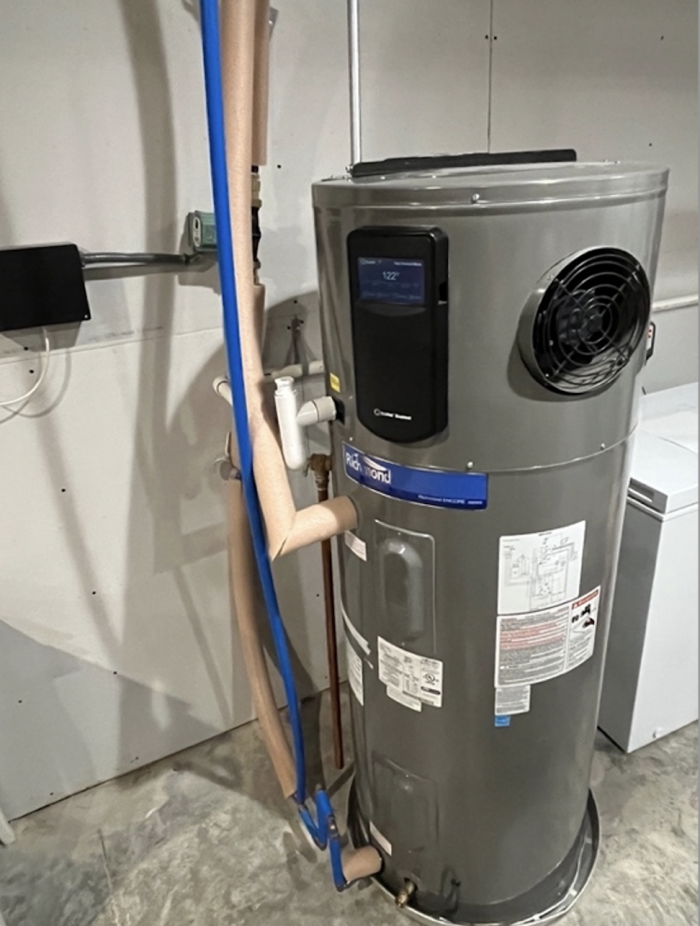 After installing the HPWH, we started out in energy-saver mode and averaged about 3.5 kWh/day in associated energy use. This lined up with the anticipated 2/3 reduction in energy use.
However, we were frequently running out of hot water. I observed the upper and lower tank temperatures drifting quite low before the unit would kick on. The recirculation loop was likely exacerbating the problem—the manual stated recirculation was not recommended when operating in energy-saver mode.
We switched to high-demand mode, which involves more frequent operation of electric-resistance elements. I expected energy use to at least double, but much to my surprise, it only increased by about 60% to 5.5 kWh/day, and we have yet to unexpectedly run out of hot water.
Using a free app on my phone I measured the sound level during compressor operation at around 60 dba from 3 ft. away—it sounds like a window air conditioner. The unit is in the unfinished side of the basement that serves as a storage and utility area, so the noise really isn't an issue. We only hear it running when we are in the room, but if it was near a bedroom or other living space, I would certainly implement sound mitigation strategies.
Cooking
When shifting from gas to electric for cooking, the two cooktop options are standard electric or magnetic induction (the only electric oven option is standard electric resistance). Induction systems use an electric coil below the stovetop surface to create a magnetic field. The magnetic field induces a small current within the highly resistive pan causing it to heat up. This process ends up being more efficient, responsive, and safer than its standard counterpart. Most of the energy is transferred directly to the pan, the magnetic field is highly controllable and rapidly responsive, and there is no direct heating of the stove surface—it will only get as hot as the pan.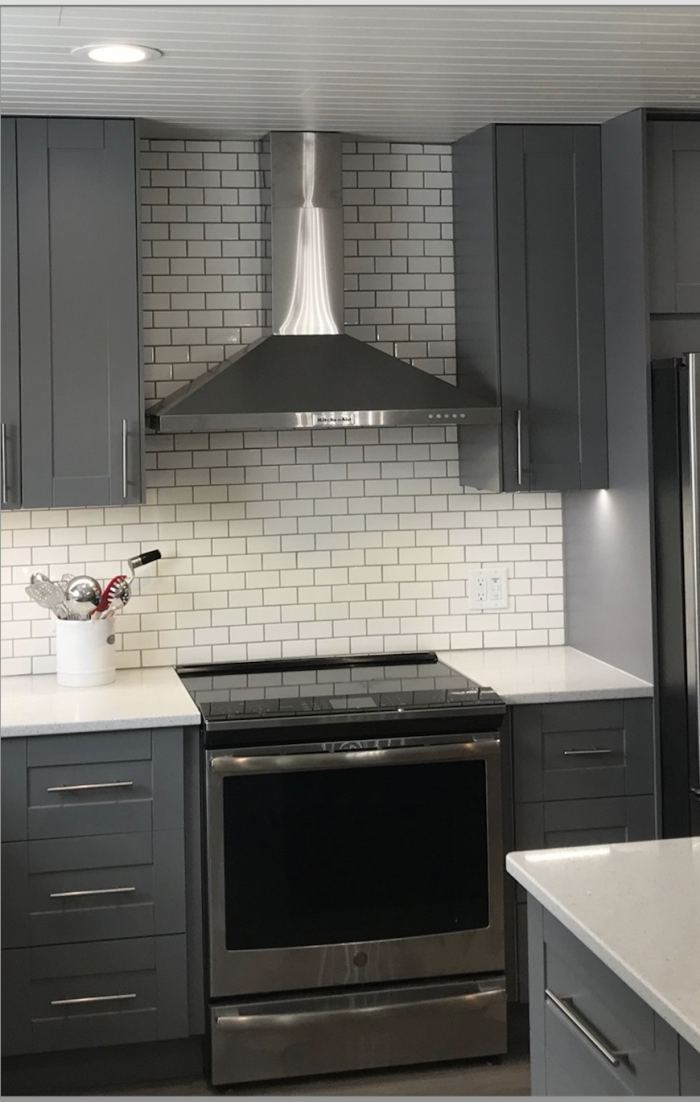 My wife and I enjoy cooking and we were dreading the shift from gas to induction, but it ended up not being that big of a deal. We installed a GE PHS930SLSS induction range. We burned our first few meals but quickly figured things out. Some things we like:
There's a high degree of temperature control, 19 settings, and rapid response.
Controls are easy to use on this model. Touch on/off, then either touch the control at the appropriate level or use the +/- buttons.
Water boils very quickly.
The stovetop doesn't get that hot, which keeps the stovetop cleaner and young chefs safer.
We can't tell the difference between gas-cooked or induction-cooked food.
Some considerations:
We had to sacrifice some of our pots and pans since they were not compatible with induction.
There can be some buzzing and clicking, which we notice more with lighter weight pans or hybrid type pans (non-metallic with an induction compatible base).
A few of those types of pans aren't always detected, even though they are induction compatible. The control flashes when it can't detect a pan.
Pans larger than the 'burner' will have cool spot in areas not directly over it.
All in all, we are quite happy with the induction cooktop.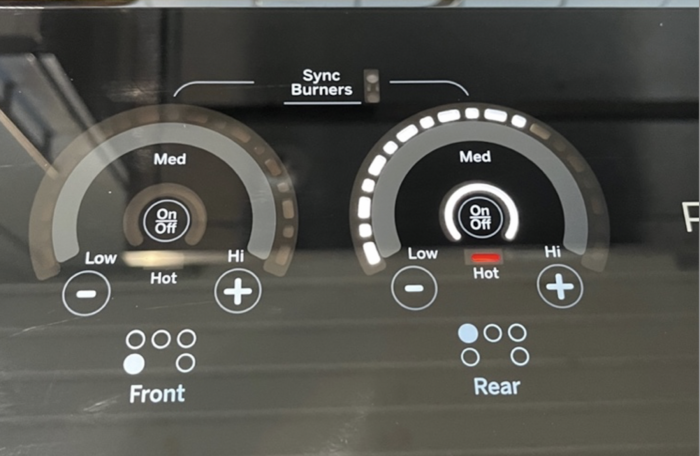 Overall energy use
For the 2021 calendar year, we used 12,330 kWh of electricity. A ballpark analysis breaks this down further as 20% (2.3k kWh) for heating and cooling, 15% (2k kWh) for hot water, and 65% (8k kWh) for everything else.
The Energy Information Administration (EIA) data on homes built between 2010 and 2015 in the Midwest showed a breakdown of about 50% (11.3 kWh) for heating and cooling, 18% (4.2 kWh) for hot water, and 32% (7.1 kWh) for everything else—a total use of 22,600 kWh. Compared to that data, our newer high-performance home uses 45% less energy overall: 80% less heating and cooling, 45% less hot water, and 13% more plug loads.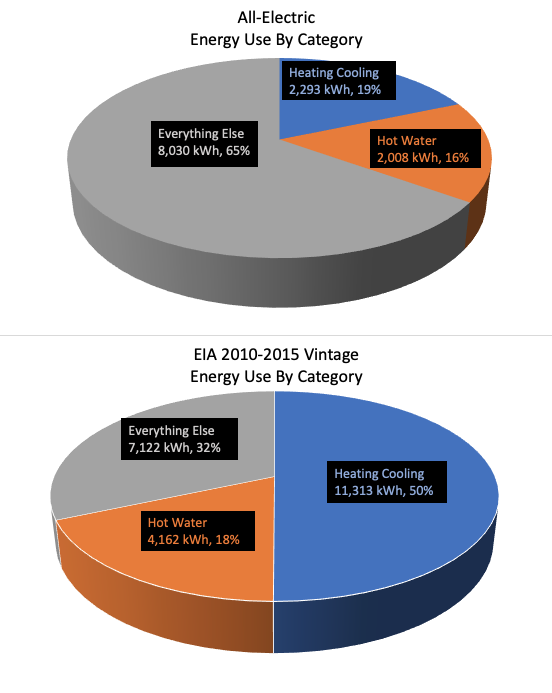 These EIA numbers do not control for building size or number of occupants which are more influential than building vintage when it comes to hot water use and the everything else category. However, as imperfect as the comparison is, it illustrates how the energy use of a building changes as one enters the high-performance realm.
Final thoughts
We are entering our fourth year in an all-electric home, and we don't feel like we are missing out on anything without gas-fired equipment—the house is warm, the water is hot, and the food tastes great. Our energy use and utility costs have been low, even though we are using what is often the most expensive energy option. It's made possible through the high-performance approach to design: First, substantially reduce the loads through a thoughtful envelope design, then meet those loads as efficiently as possible with heat pumps.
At a grander scale, our design choices have prepared the house for a clean energy future. We can progress along with the grid or maybe leap ahead with a PV system; our utility offers a community solar panel purchase option as well. Ultimately, I can confidently say all-electric homes can work in cold climates.
_________________________________________________________________________
Nathan Russell is an Energy Engineer Manager at Beyond Efficiency. He looks to draw upon his first-hand construction experience and technical background to facilitate the adoption of high-performance buildings and practices. Images courtesy of author, except where noted.

Weekly Newsletter
Get building science and energy efficiency advice, plus special offers, in your inbox.