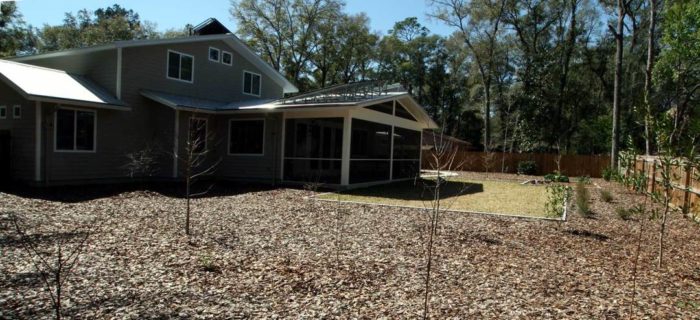 A Florida couple originally planned an extensive remodel, but ended up committing to green deconstruction, design, and rebuilding
No matter how much the downturn rattles the housing market, location is still king, and it is such a potent factor for some homebuyers that it can make up for a host of unforeseen issues in a listing.
That turned out to be the case for Claire Sever and Jeff Bunkin, who bought a house in a Gainesville, Florida, neighborhood that is close to the center of town. They originally planned an extensive remodel, but financial realities and an interest in green took them down a different path.
It became apparent, for starters, that the cost of remodeling the 1,600-sq.-ft. home was comparable to the cost of building a new house. Claire and Jeff chose to do the latter. They took a decisive turn by careful deconstruction and salvaging, followed by sustainable design and building.
A patient approach
The couple's green-build odyssey, described in a recent article published by The Gainesville Sun, included the use of Bearded Brothers Solutions, a specialist in deconstruction and resale of used building materials, and a design plan that included not only energy-efficient strategies but a ranch-style exterior that meshes well with those of other homes in the neighborhood.
Working with a local builder, Ivan Solbach, Clair and Jeff thought through how each room in the two-story 2,400-sq.-ft. house would be used, even after their two daughters depart for college years from now.
Steel-and-Styrofoam SIPs support the building's reflective metal roof, and the shell's 2×4 framing is insulated with spray foam. Solbach says many clients still opt to spend money on fancy finishes, such as granite countertops, over energy-efficient extras, but the opposite was true for Clair and Jeff, who equipped their home with a solar hot-water system, a 4.69-kW photovoltaic sytstem, low-e windows, and a 1,500-gal. underground cistern that collects water for irrigating the property's drought-tolerant indigenous plants.
There's evidence all this commitment to green will yield significant long-term benefits: As the Sun notes, the house earned a HERS index rating of 37 and has already been certified as "Florida Friendly" by FloridaYards.org, a joint program of the Florida Department of Environmental Protection, the University of Florida's Institute of Food and Agricultural Sciences Extension Program, and other state agencies.
Weekly Newsletter
Get building science and energy efficiency advice, plus special offers, in your inbox.