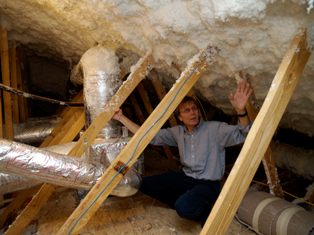 Little distance separates the ultimate goals of smart-grid applications, building-retrofit studies, and renewable-energy development, even though the three areas often harness and refine disparate technologies. Their principal aims, after all, are to boost energy efficiency and reduce our carbon footprint.
That point was affirmed in recent days in separate announcements by the Department of Energy and Oak Ridge National Laboratory, and in a campus news feature about an energy-storage project headed by a professor of materials chemistry at MIT.
The DOE's chief, Secretary of Energy Steven Chu, last week announced that $620 million in stimulus funding, plus another $1 billion in private-sector funding, will be used to develop 32 smart-grid demonstration projects, including those utilizing large-scale energy storage, smart meters, advanced monitoring systems for the distribution and transmission of electricity, and other grid technologies.
Half the projects – receiving $435 million of the federal allotment – will showcase communications technologies that allow grid components to "talk" to each other in real time and help operators optimize electrical flow to avoid outages. These projects also will include home-based systems that allow customers to economically monitor and store electricity.
The remaining 16 projects – funded with $185 million – will focus on electricity storage projects.
"This funding will be used to show how smart-grid technologies can be applied to whole systems to promote energy savings for consumers, increase energy efficiency, and foster the growth of renewable energy sources like wind and solar power," Chu said in a press release, which cited potential savings of $20.4 billion on a 4% reduction in energy use by 2030 in the 21 states where the projects will be developed.
Professor Sadoway's liquid battery
Speaking of energy storage technology (and its critical role in advancing the use of renewable energy), one solution attracting DOE investment and private equity is the storage-battery system being developed by MIT Professor Donald Sadoway, who has veered away from portable-battery technology to focus on a large-scale stationary battery system that uses two liquid-metal alloys separated by a liquid salt. The different densities of the three components, which Sadoway's research team says are low-cost and abundant, keep them separated in the battery housing, which is maintained at a high temperature (700 degrees Celsius) to keep the components in liquid form and allow the battery to operate efficiently.
Because a patent is being sought for the system, which is developed for utility-size applications, details about materials and design haven't been released. But an MIT News story on the Sadoway team's work notes that this month, when the DOE's newly developed Advanced Research Projects Agency, Energy announced its first 37 energy-research grants out of a pool of 3,600 applications, the project received one of the largest sums — almost $7 million over five years – and was the first project cited on the ARPA-E press release about the funding.
In addition, the MIT News story points out, French oil company Total announced a $4 million, five-year joint venture with MIT to develop a smaller-scale version of the same technology that would be suitable for use in homes or other buildings.
Going deep on retrofits
ORNL's research project, announced last week, will apply newly developed retrofit techniques and materials to 10 soon-to-be-selected homes in the Tennessee Valley region, using $1.4 million from the DOE's Building America program.
The lab is targeting homes anywhere from 15 to 35 years old, "homes that are ready for new windows, heating and cooling units, appliances and maybe even solar panels to push their homes closer to near-zero energy consumption. Then we want to monitor these homes, analyze their energy consumption and celebrate the progressive vision of this region," ORNL's head researcher on the project, Jeff Christian, said in a press release about the program. The retrofits are expected to boost the energy efficiency of each home by 30% to 50%.
Although ORNL is paying for the program development and follow-up audits of each participating household, the homeowners will pay most of the labor and materials costs, which are expected to run about $10 per square foot of interior space. If the retrofits deliver as planned, Christian says, participating homeowners should recover their costs in as little as 10 years.
"This project connects our research to the surrounding community," Christian said. "We're hoping that this demonstration stimulates enough interest among members of the public that it will become self-sustaining—growing the number of houses with deep retrofits."
Weekly Newsletter
Get building science and energy efficiency advice, plus special offers, in your inbox.