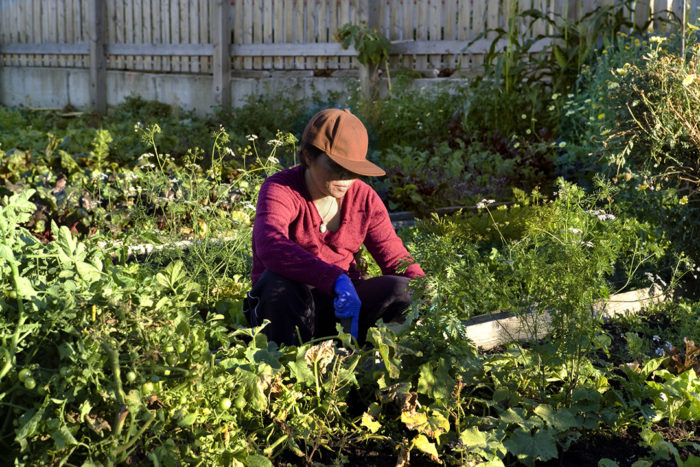 Guest blogger: Emily Mitchell, Enterprise Green Communities
With the arrival of spring, planning and planting for this year's harvest is well underway at farms and community gardens around the country. More and more, cities, towns and community organizations are creating innovative models and even offering incentives to facilitate local food production, indicating that a healthy food environment is a critical component of community development and public health. In fact, research shows that better access to local food options typically results in greater fresh fruit and vegetable consumption.
Everyone benefits from fresh food
In affordable housing developments, access to fresh, local food is an important consideration when selecting a project location and planning for on-site amenities. Residents and building staff benefit from nutritious food options nearby or even on-site. Community gardens and urban farms can also create opportunities for environmental and health education, spur economic development and reclaim vacant and abandoned property.
Three options for local produce
The 2011 Enterprise Green Communities Criteria (2.12 Access to Fresh, Local Foods) were designed to include optional points for projects that offer this amenity. Available for all project and construction types, this updated Criteria measure awards project teams up to six optional points for compliance with one of the following options:
1. Neighborhood farms and gardens – dedicated space within the project boundaries or a .5-mile walk distance for food production either by residents or a local farming organization.
2. Community-supported agriculture (CSA) – designated location within the project boundaries for delivery of CSA program shares; supplying farm must be within 150 miles of the project site.
3. Proximity to farmers market – location within a .5-mile walk distance of an existing or planned farmers market that will operate at least once a week for a minimum of five months of the year.
Here are a couple of great examples of this work:
We're interested in hearing what approaches you've taken to providing residents and staff with access to fresh, local foods. Comment here with your best practices, so we can share them with others in the field. In the meantime, happy planting!
Weekly Newsletter
Get building science and energy efficiency advice, plus special offers, in your inbox.