ABOUT EXHAUST VENTILATION
Choose a quiet fan that's not too powerful
Exhaust fans are rated for both the volume of air they move per unit of time (measured in cubic feet per minute or cfm) and the amount of noise they make (measured in sones, where the lower the value the quieter the fan).
An exhaust ventilation system does not need a powerful fan. According to the requirements of ASHRAE Standard 62.2, a 2,000-square-foot house with three occupants requires only 42.5 cfm of mechanical ventilation.
Oversized fans waste electrical energy and space heat. If they are very powerful, they can cause enough depressurization to make a gas water heater backdraft. Choose a right-sized fan. The lower the sone rating, the quieter the fan.
In most cases, a home equipped with an HRV or ERV does not require separate bath exhaust fans. The HRV's exhaust air stream is drawn from bathrooms and laundry rooms.
Fans for kitchens and baths
One example of a single-port fan is the common point-of-source exhaust fan found in bathrooms to remove humidity. They are relatively inexpensive, although quieter fans cost more than noisy ones.
Unvented bathrooms that trap moisture are an invitation for mold and, in extreme cases, even structural decay. Opening a window while the shower is running is a good start, but will not reliably remove enough moisture to adequately address potential problems.
Bath and kitchen exhaust fans must be sized right. Problems can occur when a fan is too weak or too powerful.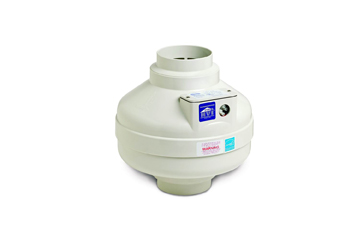 A multi-port exhaust fan is a better option for venting large bathrooms or bathrooms with toilet or shower enclosures. This type of fan can be an inline fan mounted in the attic with a Y in the ductwork to draw from two locations or a multi-port…
This article is only available to GBA Prime Members
Sign up for a free trial and get instant access to this article as well as GBA's complete library of premium articles and construction details.
Start Free Trial
Already a member? Log in