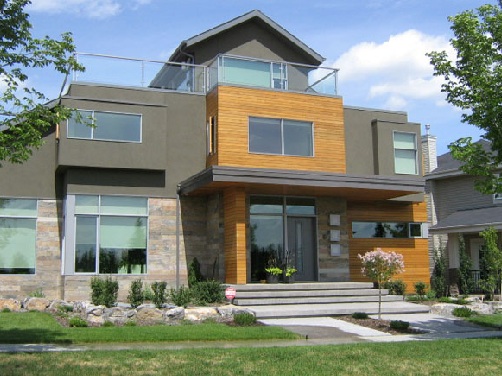 We've mentioned in previous posts the Canada-based Now House Project, which specializes in retrofitting older homes into net-zero energy dwellings and recently was among 12 winning entries in the Canada Mortgage and Housing Corporation's EQuilibrium Sustainable Housing Demonstration Initiative, which is designed to generate interest in eco-friendly design among builders, developers, and the public.
Now House is back in the news for winning another award, this one from the Net-Zero Energy Home Coalition, a group of homebuilders and developers in Canada that was founded in 2004 to promote energy-efficient construction and retrofits.
At a ceremony held June 8 in Montreal, the NZEH Coalition presented its inaugural Net-Zero Energy Home Awards in four categories, including the "closest to net-zero energy" custom retrofitter of the year award, which went to Now House.
In the second category, honoring the "custom homebuilder of the year," the award went to Edmonton-based Habitat Studio and Workshop, which says it avoids stock blueprints in favor of unique designs and markets its construction standards as being well into green, particularly for wall, basement, and attic insulation.
EcoCité Developments took the coalition's "production homebuilder of the year award" for an in-fill project called Abondance le Soleil, a triplex in downtown Montreal that also won praise from the Canada Mortgage and Housing Corporation for its "wide range of energy-efficient techniques and technologies," including an 84-panel PV system.
The award in the fourth category, the NZEH "champion of the year," went to Derek Satnick, co-founder of Mindscape Innovations Group, a green-building consultancy and home-technology specialist based in Kitchener, Ontario.
Weekly Newsletter
Get building science and energy efficiency advice, plus special offers, in your inbox.