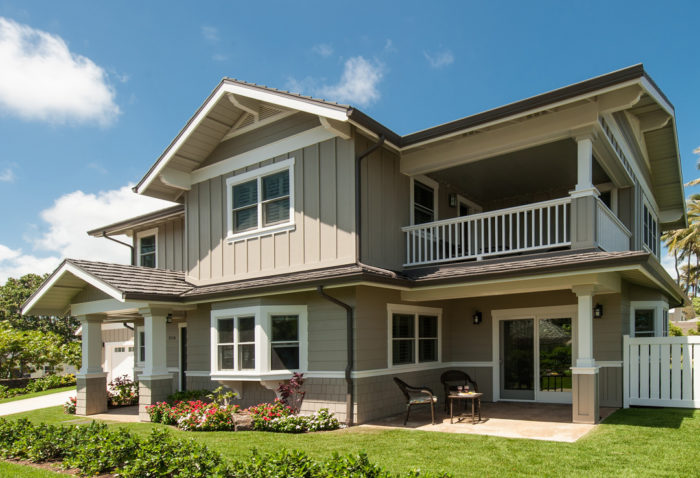 The U.S. Green Building Council has selected a 3,400-square-foot house in Kailua, Hawaii, as its outstanding single-family LEED home of the year.
The LEED Gold house is the first in the state to be certified under the latest version of the LEED for Homes program, and one of the earliest certified houses in the country, according to its builder, Mokulua High Performance Builder. It's also one of the first in the state to be certified under Energy Star version 3, Mokulua founder Michael Fairall said.
An important construction detail is a top-to-bottom radiant barrier, the company said, including the use of DuPont's Tyvek ThermaWrap LE on exterior walls and TechShield radiant barrier sheathing, manufactured by Louisiana Pacific, on the roof.
"The house was conventionally wood-framed with R-13 fiberglass batt at the walls and R-30 fiberglass [batts] in the ceilings," Fairall said in an email. The exterior of the two-story house is a mix of fiber cement products, including board-and-batten panels and shakes.
"In all of our homes we implement a natural/passive ventilation strategy, which consists of solar attic fans, continuous running (low sone) exhaust fans (in garage and guest bath) as well as humidistat controlled exhaust fans," Fairall added.
Domestic hot water is supplied by a solar thermal system, and the house also has a 4.5-kW photovoltaic array. Although small for the size house it is powering, Fairall said the PV system should be enough to meet the home's energy requirements on an annual basis.
UV is an important consideration
The construction company said intense sunlight is "one of the most prevalent risks associated with home durability" in Hawaii, hence its use of radiant barriers on all surfaces exposed to UV radiation.
Radiant barriers, typically consisting of a thin metallic layer over another material such as plywood or polyethylene, slow the transfer of radiant heat — providing they are installed with the shiny, metallic surface facing an air space.
Radiant-barrier sheathing can help lower attic temperatures because its low-emissivity surface blocks radiant energy from the sun. Oak Ridge National Laboratory researchers estimate that in a house with a poorly insulated attic (one with R-19 attic insulation), installing a radiant barrier can result in a 2% to 10% reduction in the cooling portion of the owner's summer electric bill. In houses with code-minimum levels of insulation, however, savings would be lower.
Radiant barriers must be installed correctly in order to be effective. Without an air gap, a radiant barrier won't work. In the wall assembly described by Fairall, structural sheathing is installed over wood framing, followed by 3/4-inch-thick battens, then the ThermaWrap, and siding. In the roof, the radiant-barrier sheathing is applied on top of the trusses with the batt insulation installed at ceiling level.
The house meets insulation requirements of the 2012 International Energy Conservation Code for Climate Zone 1 (R-13 in the walls and R-30 in the attic), but is by no means heavily insulated.
"Since Hawaii is a temperate climate, we don't have to worry about heating and rarely require cooling on a large scale (central air)," Fairall said by email. "More typically, we use passive cooling through a mix of natural cooling and exhausting with whole house fans / solar attic fans.
"UV radiation causes heat build-up and can contribute to material degradation, especially with certain composite products, hence the reason composite roof shingles, vinyl siding and other similar products shouldn't be (and for the most part are not) used in Hawaii," he continued. "As such we use products and coatings that not only can stand up to the harsh climate but can also reflect or prevent radiant heat transfer."
The 3,460-square-foot house, with four bedrooms and 3 1/2 baths, was completed in 2014 at a cost of $795,000. The house was built on the site of an existing home, but the designer on the project, Archipeligo Hawaii, said a number of parts and pieces, such as old window glass and some flooring, were reused in the new one.
Building in Hawaii isn't easy
Hawaii is separated from the mainland by 2,300 miles of ocean, and that, too, complicates construction.
"We have to coordinate ordering and delivery of product in a timely manner," explained Archipelago vice president Roseanne Freitas in an email. "Lead times for cabinetry vary from 6-10 weeks, appliances are 6-12 weeks, tile is 4-6 weeks, plumbing 4-6 weeks as well as all other products. The goal is to have the products arrive on island and delivered directly to the home.
"With square footage costs so high we have relatively small office/workshop spaces and the cost of storage is high," she continued. "If the product arrives and is damaged, now we have bigger challenges. The factory has to remake and ship to the Islands… and of course shipping takes longer. Many of our vendors have minimal stock or none at all, so everything is brought to the island. Any dock strikes impact all items to the islands, which can result in delays."
Those factors, plus high shipping costs, makes building in Hawaii expensive. The project also was affected by a long permitting process.
Other LEED winners
The Hawaii house represented only one category in the USGBC competition.
Here are the other winners:
Gerding Edlen, a real estate investment and development firm in Portland, Oregon, was recognized for its outstanding commitment to LEED. The firm has developed 65 LEED projects.
NeighborWorks Umpqua, in Roseburg, Oregon, was named outstanding affordable developer. The non-profit group promotes affordable housing in Douglas County, Oregon.
The Sares Regis Group of Northern California was recognized for an outstanding multifamily project, the first mid-rise luxury apartment building of its size to be certified as LEED Platinum.
Dinnerstein Companies of Houston was named outstanding multifamily builder.
Jonathan Rose Companies of Philadelphia won the Project of the Year award for a mixed-use, mixed income LEED Platinum development of 120 rental units and community space. The project includes landscaped terraces and green roofs.
Star Apartments's 102-unit housing project for disabled men and women in Los Angeles was named the outstanding affordable project. It includes an onsite medical clinic, a health center, and the new headquarters of an L.A. County Health Services division.
Weekly Newsletter
Get building science and energy efficiency advice, plus special offers, in your inbox.