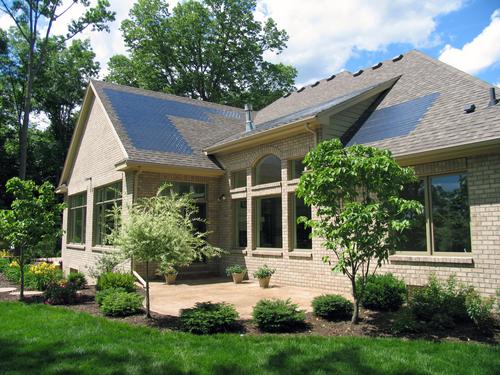 The last several weeks I've written about common myths of green building: that it has to cost more to build green, that green building is mostly about materials, that green products don't work as well as conventional products, and that it's hard to find green products. This week I'll cover the myth that adding solar panels is the best way to green a home.
Without question, solar-electric (photovoltaic, PV) or solar water heating panels are the most visible green feature of many environmentally responsible homes. Either roof-mounted or installed on separate racks, those solar panels are in full view, they're unusual enough to be noteworthy, and they convey–almost shout–a commitment to the environment. And rest assured, I'm a huge fan of both photovoltaics and solar water heating. (My first two real jobs–in New Mexico and then Vermont back in the late '70s and early '80s–were for organizations advancing solar energy, and solar is still dear to my heart.)
But I strenuously resist the temptation of builders, remodelers, homeowners, and commercial building owners to green their buildings simply by slapping solar panels on the roof. Solar should be the icing on the cake–added after doing all the really important work of improving the energy performance of the building envelope and upgrading heating and cooling systems, appliances, and lighting with top-efficiency products.
These measures aren't as visible, but they usually yield far greater energy savings, financial return, and environmental benefit than a comparable investment in solar. Homeowners wanting to green their existing homes should start by getting a comprehensive energy audit to identify–and prioritize–energy saving measures. Likely measures will include adding insulation, upgrading windows (perhaps with new, low-e storms), air-tightening, replacing incandescent light bulbs with compact-fluorescent lamps (CFLs), replacing older heating or cooling systems, and switching to more efficient appliances. To reduce water heating costs, start by reducing your use of hot water by installing water-conserving showerheads, clothes washers, and dishwashers. After these investments, if your budget permits, by all means add a solar water heating or solar-electric system.
Anyone thinking of building a new home should hire an architect or designer familiar with ultra-low-energy building practices, including passive solar design (a less noticeable but usually more cost-effective application of solar energy). If you do a really good job with all this and get your heating, cooling, and electrical loads low enough, you then might be able to satisfy all of those needs with solar–creating a "net-zero-energy" house.
The temptation to start with solar is strong, especially with the very attractive 30% federal tax credits that exist for solar systems (see "Tax Credits for Solar Energy Systems"). Such generous solar tax credits, I fear, will result in a whole lot of money going into solar systems that yield considerably less energy savings than would have been realized by putting that money into energy conservation. When solar systems–especially PV systems–are installed on inefficient houses, the percent savings and return on investment can be very low; if you're spending that much money (and the rest of us tax payers are helping out by subsidizing the tax credit) you might as well get some boasting rights!
Yes, you should install solar water heating and solar-electric systems, but before you do that you should invest in the low-hanging fruit of energy conservation.
I invite you to share your comments on this blog.
To keep up with my latest articles and musings, you can sign up for my Twitter feeds
Weekly Newsletter
Get building science and energy efficiency advice, plus special offers, in your inbox.