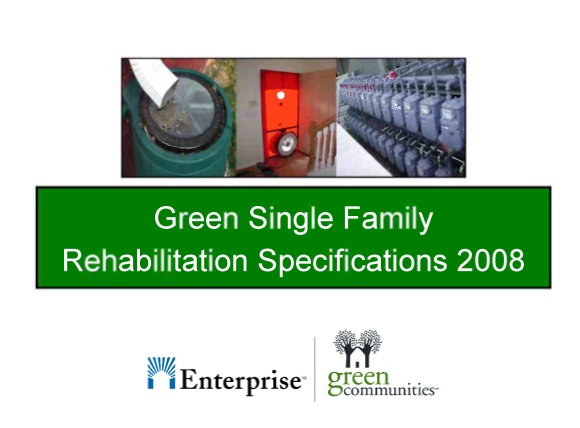 Once you have selected your green building products, it would be great if you could simply tell everyone, "Here—use these." But it is rarely that simple. Everyone has project documentation that serves three purposes: getting everyone on the same page (literally), delivering information for bidding, and establishing binding trade contracts.
How do selections, scopes of work, and specifications fit together?
Previous blogs have covered green product selections and high performance scopes of work. Before we tackle what green specifications might look like, let's make sure that we understand what these last two project elements are and whether your project needs them.
Every building project can best be described by a combination of images and words, or drawings and specifications. The more complex the project, the more exacting both the drawings and the specifications are likely to be. Sometimes the specifications are brief enough that they are right on the drawings; other times they fill up a bulky three-ring binder.
According to the Construction Specifications Institute (CSI) Manual of Practice, "Specifications define the qualitative requirements for products, materials, and workmanship upon which the contract is based." Most full-blown specifications have three parts: General, Products, and Execution. The key is that the drawings and specifications are for everyone involved and cover the whole project.
Scopes of work, on the other hand, pull the project apart to deliver binding contracts for each individual trade bidding and then working on the building project. If your project has both full-blown specifications and scopes of work, then it is critical that they align, particularly that the Execution section of the specifications aligns with each Scope of Work.
Affordable housing specialist Armand Magnelli of Livable Housing Inc. thinks of project documentation this way: "If an architect is part of a building project, a full set of plans and specifications according to CSI divisions are in order. But most affordable rehab projects don't involve an architect, the only plans may be a reconfigured kitchen layout, and the scopes of work for the general contractor and the trades are built from a library of action-item type specs." So, in affordable housing rehab work, the terms specifications and scopes of work are used in a different way than in the world of commercial building.
Lots of folks involved in the construction business, particularly general and trade contractors, are not particularly fond of being told how to do their business or with what materials and methods. And yet that is exactly what both specifications and scopes or work are about, particularly the latter. The complexity of your projects, the nature of your working relationships with your contractors, and legal dictates coming from your clients or your funding sources will likely determine what your specifications and scopes of work look like.
Greening specifications
When you green your specs, by introducing resource- or energy-efficient methods or materials, here are the two questions you are most likely to have:
Should the new green stuff be called out and emphasized to make sure that bidders take particular notice, or, should it be quietly woven in so that folks don't make a bigger (and more expensive) deal out of the changes than they reasonably should?
Do I place all the new green stuff throughout the body of the specs, or, do I gather it all into one place where everyone is sure to see it and it is easy to update over time?
You won't be surprised to hear that there are plenty of opinions and merit to go around for each of the answers to the above (For a great overview of issues related to green specifications, read the EBN feature article, "Getting from Design to Construction: Writing Specifications for Green Projects". But for affordable gut rehab projects, here is what we think is likely to work best:
Weave your green specs into your conventional ones. Neither hide nor call them out as "special" and couple with number 2.
Establish the importance and purpose of going green in your general, overarching, or introductory specs. For some guidance on these early sections of your specs, see the GreenSpec "Introduction to Guideline Specifications".
Whenever you introduce new methods or materials, green or otherwise, bank on two actions:

a. Do mock-ups so that everyone involved can see how things are supposed to look and work.

b. Provide training, lessening the learning curve for bidders, supervisors, and field staff. A great website to learn more about training opportunities is the Neighborhood Stabilization Program Resource Exchange.

Use a program of high performance scopes of work that knits together various trade contractors work with pre- and post-work checklists and performance-based verifications.
Dealing with substitutions
It's not hard to find specs rather glibly spattered with the phrases "or approved equal" and "or equivalent." It's even more important in green specifications to:
use this phrase only as you really need to, and,
be very clear upon which attributes the determination of equivalency is based.
There are a lot of green attributes that could be important in a green product specification—recycled-content, durability, reusability, emissions, biodegradability, etc. It will not be fair to you, the trade contractor, or the owner/occupants if it's not clear from the get-go what will constitute a fair substitution. For an interesting cut on the issue of product substitutions from a legal perspective, see "Design and Performance Specifications and the 'Approved Equal'".
Green specification resources
There are resources tailored specifically for the way in which affordable rehab projects are specced, bid, and built.
"Green Single Family Rehabilitation Specifications 2008" from Enterprise Green Communities – This document has 40 different green specifications ranging from waste management to ventilation. Don't leave home without these.
Housing Developer Pro (HDP) from Community Development Software – HDP is a software product that automates several tasks for rehab specialists, including specification writing and generation of scopes of work. The ECP Green Rehab specs mentioned above are woven into HDP's library of specifications.
And if you just happen to be on a project with an architect and a full set of house plans, take a look at the Master Short Form Specifications (MSFS) and their approach to green specifications.
Weekly Newsletter
Get building science and energy efficiency advice, plus special offers, in your inbox.