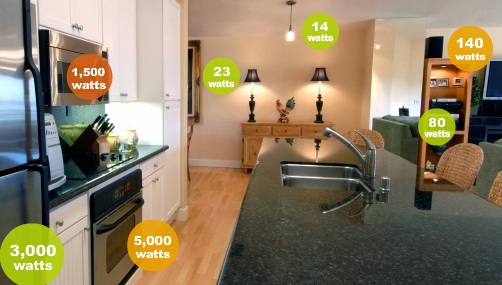 Shopping for a home-energy management tool could get increasingly challenging as the months roll by.
A beta version of Microsoft Hohm, a free online service designed to work with or without smart-home monitoring gadgets, is now available for consumer use. And Google's PowerMeter, on online tool that does require some smart-home gear, is available to a very small group of users but is expected to roll out further later this year.
Other, similar products – all designed to help consumers analyze energy usage in their home so they can find ways to reduce it – are in the offing, including services from big telcos such as Verizon Communications, network specialist Cisco Systems, and a company called Greenbox Technology, which has been arranging utility and smart-meter partnerships for a consumer-oriented version of its online monitoring tool.
The launch date and pricing for the Greenbox Energy Management Ecosystem haven't been determined, a spokeswoman for the company, Christina Dyrness Williams, told GBA, but this week the firm, based in San Bruno, California, announced that the software system is being tested in, among other locations, the net-zero-energy home of Marc Porat, known in the building community as the board chairman of Serious Energy, CalStar Products, and prefab specialist ZETA Communities.
Fine tuning net zero
Porat's home, located in Palo Alto, just down the road from San Bruno, actually is of a drafty but historically important 1936 vintage. But the building recently emerged from a two-year retrofit with net-zero-energy efficiency, a new name – the Palo Alto Net Zero Energy House – and a Greenbox system that will be used to track, in minute detail and in real time, every performance deficiency and improvement.
"Even though the home is an R&D platform for net-zero energy," Porat says in a press release on the project, "our goal is to use materials and methods that any homeowner can use. The Palo Alto Net Zero Energy House is a look at what will be the 'new normal' for homes in the near future."
California is indeed moving faster than most states toward a requirement for net-zero-energy performance for new-home construction, although existing homes (many as inefficient as Porat's house was before the retrofit) are where tools such as Hohm, PowerMeter, and Greenbox might be most helpful.
Greenbox is designed to show consumers how much energy they are consuming in their home, how much it costs, what their carbon footprint is, and how it compares to other users in their community.
As noted in an earlier GBA post, though, some analysts who follow the market for such services are concerned people will fail to act on the diagnostics. But Greenbox says that if the information is specific enough, consumers are likely to respond positively.
"When consumers can link their actions to usage, such as turning up the air conditioner or running a second refrigerator," the company says, "they will make meaningful changes to reduce their energy consumption.
Weekly Newsletter
Get building science and energy efficiency advice, plus special offers, in your inbox.