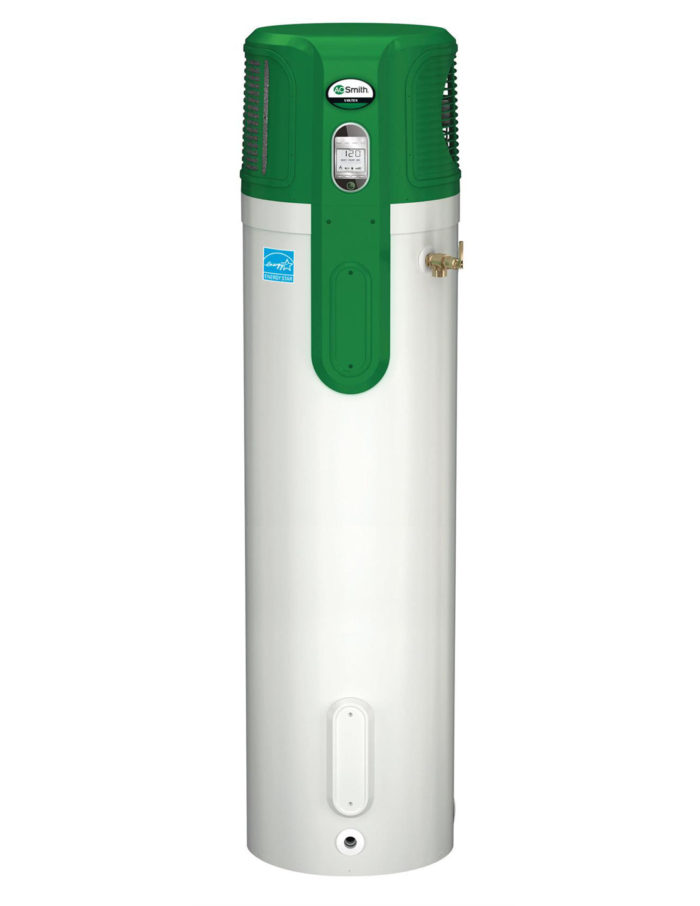 UPDATED on October 26, 2018
The least expensive way to heat domestic hot water is with natural gas. Homes without access to natural gas usually choose an electric water heater, since electricity is generally cheaper than propane.
Although most electric water heaters use electric resistance elements to heat water, a more efficient method uses a heat pump — in other words, a device that heats the water using a compressor like the one found in a refrigerator or air conditioner. While a refrigerator transfers heat from the interior of the refrigerator to the room where the refrigerator is located — in effect, heating the room — a heat-pump water heater transfers heat from the room to a tank of water — in effect, cooling the room.
Heat-pump water heaters need backup elements
Compared to an electric-resistance water heater, the main benefit of a heat-pump water heater is energy efficiency. While the efficiency of electric resistance elements is 100% — all of the electrical energy sent to a resistance element is converted into heat — the efficiency of an air-source heat pump can be as high as 250%. The heat-pump isn't making heat — it's transferring heat from the air to the water. A heat pump is capable of transferring more energy than the energy required to run it.
The type of heat pump used for heat-pump water heaters can't heat water as quickly as electric resistance elements, however. While the electric-resistance elements in a typical water heater can heat 20 gallons per hour, a heat pump can only manage about 8 gallons per hour (or even less, if the ambient air temperature is below 68°F).
To make up for this basic deficiency in heat-pump performance, heat-pump water heaters are equipped with electric resistance elements that are energized whenever the heat pump can't keep up with the demand for hot water.…
Weekly Newsletter
Get building science and energy efficiency advice, plus special offers, in your inbox.
This article is only available to GBA Prime Members
Sign up for a free trial and get instant access to this article as well as GBA's complete library of premium articles and construction details.
Start Free Trial
Already a member? Log in