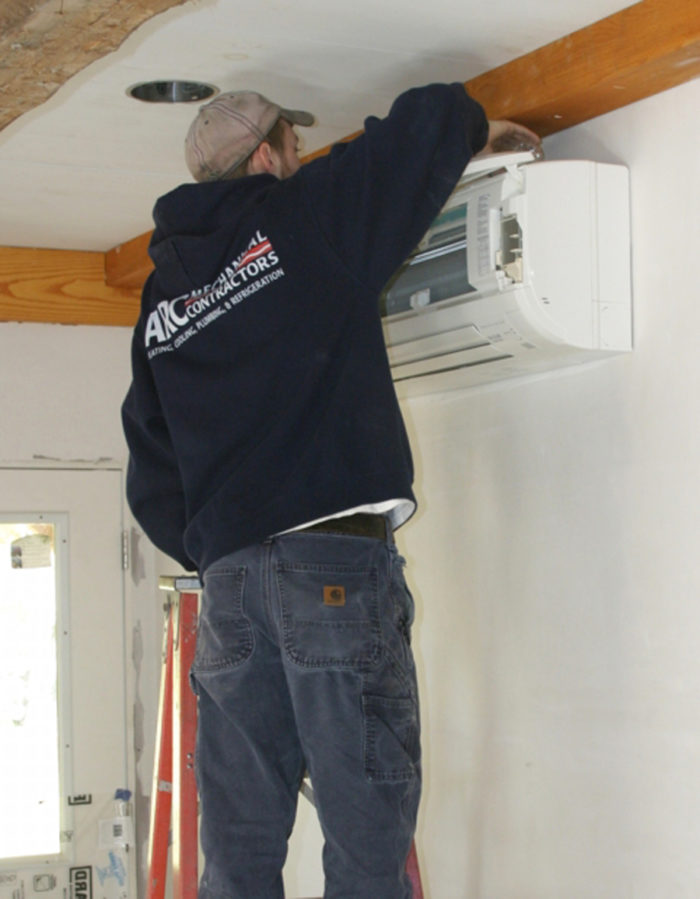 More Vermonters will be installing high-efficiency heat pumps in their homes thanks to a bill signed into law by Gov. Peter Shumlin on June 11.
The legislation allows Efficiency Vermont, an agency that collects money from utility ratepayers to fund programs that lower energy consumption, to use some of its $40 million annual budget to subsidize the purchase of high-efficiency heat pumps.
"We have been given the mandate now to do something with regard to heat pumps, which is something that Efficiency Vermont never had before because our mandate was to reduce electric usage," Public Affairs Manager Kelly Lucci said. "In this case, we have a technology that increases electric usage but does it very efficiently and displaces much dirtier fossil fuels."
Just like utilities that distribute or generate power, Efficiency Vermont is a regulated utility. Details about the new heat pump program, and how much money will be committed to it, are still to be worked out with state utility regulators.
But one approach that's well along in the planning stages is an "upstream efficiency program" in which subsidies are used to buy down the cost of high-efficiency air-source heat pumps with vendors and dealers. When a homeowner purchases a heat pump, the most efficient models will cost the same or less than less efficient models. Lucci said that part of the program could be up and running by the end of the year.
At a later date, the program might also include ground-source heat pumps, but Lucci said that technology would be subject to cost-effectiveness tests before it could be covered by any subsidies.
"This is venturing into new territory for us," she said. "We're excited about it. It means we're able to think about ways to meet the needs of folks who are very excited about this technology and see it as a way to save money and reduce their carbon impact."
Heat pumps could save consumers a lot of money
Vermont is a cold weather state, all of it in Climate Zone 6, but the most efficient air-source heat pumps work in temperatures well below zero, and converting a conventional heating system to one incorporating a high-efficiency heat pump would offer hefty savings.
According to a fact sheet at Efficiency Vermont, a homeowner would save $1,842 a year by shifting 80% of the heating load away from electric resistance heat to a cold-weather heat pump. Propane users would save $1,268 a year, and those with oil heat would save $865 a year.
(Efficiency Vermont says those estimates are based on the average annual heating load in Vermont of 77 million Btu, and an assumed heat pump Coefficient of Performance of 2.5. Fuel cost estimates are averages from the state's Department of Public Service.)
Only homeowners using pellets or cordwood to heat their homes would pay more with a high-efficiency heat pump, the agency said. It would be $68 a year cheaper to heat with wood pellets and $325 a year cheaper to heat with wood.
Vermont utility launched heat pump rentals a year ago
The legislation is brand new, but almost a year ago, Green Mountain Power announced a heat-pump rental program centered in the Rutland area. Green Mountain, which serves about 250,000 customers, said the pilot program was the first of its kind in the U.S.
The utility initially announced last July that it would pay to install heat pumps in as many as 200 homes and small businesses and rent them to the property owners for between $44 and $53 a month.
But a week later, the company said the response from consumers "has been flabbergasting," with more than 500 customers expressing interest in getting their hands on a no-money-down heat pump. As a result, the utility said it would expand the program to include everyone who had responded at that point but would close the pilot to any additional customers.
As it turned out, not all of those people had houses suitable for heat pumps; they didn't have open floor plans, for example, or the wood stoves they had were already doing a good job of heating. By this March, roughly 150 heat pumps had been rented under the program, a Green Mountain spokeswoman said. The company is planning on expanding the program this year to include a few hundred new customers.
"We believe air-source heat pumps can dramatically change the way Vermonters heat their homes, and reduce economic costs and environmental impacts of burning foreign oil," Green Mountain President and CEO Mary Powell said at the time the rental program was announced. "This program will help demonstrate that value, while creating jobs for installers and freeing up customers' cash for other purposes."
State aims to drive down the cost of providing electricity
Overall, Vermont has done a lot to trim energy consumption. In a statement issued by the governor's office on June 11, Shumlin said Vermonters used 13% less electricity in 2013 than they would have without all of the efficiency investments made since 2000.
Energy efficiency programs, along with distributed renewable electricity generation, has helped to defer nearly $400 million in infrastructure costs, Efficiency Vermont Director Jim Merriam said in a statement.
The heat pump subsidies dovetail with more consumer interest in the technology. Merriam said that in the last year, 2,400 cold-climate heat pumps had been purchased in the state.
The legisation, he said, "calls for Efficiency Vermont to help Vermont families and businesses understand what their best energy choices are from a cost and a carbon perspective, and then act on that information. That might mean that in some cases we actually encourage the use of more electricity, but less oil or propane."
Weekly Newsletter
Get building science and energy efficiency advice, plus special offers, in your inbox.