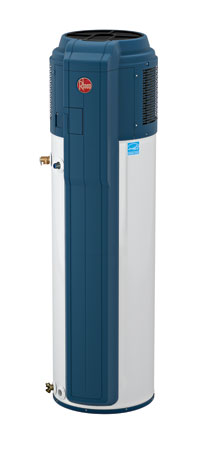 –From BuildingGreen's 2009 Top-10 Products list
The Rheem HP-50 is an Energy Star-listed, heat-pump water heater with an integral 50-gallon tank. Intended for residential use, the HP-50 operates in three modes: Energy Saver mode uses the heat pump only (energy factor 2.0); Normal mode, for higher demands, uses the heat pump and one of two electric-resistance elements (energy factor 1.5); and Electric Heat Only mode relies solely on the electric elements, functioning like a conventional water heater for particularly high demands. These 75.5″-high, 21″-diameter units have an operating range between 40°F and 120°F and come with automatic freeze/overheat protection. The HP-50 comes with a 10-year limited warranty and is available through plumbing wholesalers. The Rheem HP-50 is not the highest-efficiency heat-pump water heater on the market, but it is the first relatively affordable, integral-storage, heat-pump water heater from a large national company to enter the North American market. It is also the quietest product on the market, rated at 49 dB, and has the longest warranty.
More information:
Rheem Manufacturing Company
101 Bell Rd.
Montgomery, AL 36117
Phone: 334-260-1500
Toll-free: 800-432-8373
---
Weekly Newsletter
Get building science and energy efficiency advice, plus special offers, in your inbox.