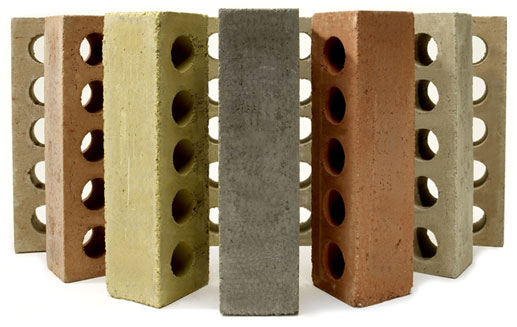 New construction products, especially those manufactured with new or previously ignored waste materials, no doubt make product testers' lives interesting. Case in point is the fly ash brick developed by California-based CalStar Products.
The ecological marketing hooks for CalStar's brick are that it is made with a material otherwise destined for a landfill – fly ash is a byproduct of coal burned in power plants – and it is produced using far less energy than that required for brick made from clay or shale. In contrast to the sustained high heat used to produce clay or shale bricks – which bake in kilns at about 2,000 degrees F for about 24 hours – far lower temperatures, near the boiling point of water, are required to make fly ash bricks, whose manufacture takes about eight hours and relies more on chemical processes than high heat.
CalStar brick will soon go into production at the company's newly launched factory in Caledonia, Wisconsin, which will recycle fly ash from a nearby power plant operated by Wisconsin Energy Corp. Annual production is expected to be about 40 million bricks. To further reduce the factory-to-user carbon footprint, bricks from that plant will be shipped only to locations in the southeast Wisconsin region.
The standards question
The company says it has designed the bricks to meet performance standards set by ASTM International for brick strength, water absorption, and durability. An official ASTM evaluation of fly ash brick could take awhile, though. As Richard Klingner, a civil engineering professor at the University of Texas at Austin who sits on the ASTM's panel for brick standards, told The Wall Street Journal recently, there is no specific ASTM standard yet for fly ash brick.
CalStar – whose founder, Marc Porat, also is known in the green building industry as a principal in Serious Energy and prefab specialist ZETA Communities – has gotten pushback from the Brick Industry Association, whose president, Dick Jennison, noted in the Journal story that "no one knows how the fly-ash unit will really perform."
Other stories and accompanying reader feedback about the fly ash bricks have prompted similar comments from BIA, and CalStar responds that while standards do indeed need to be established specifically for fly ash brick, the company had little choice but to target existing standards – those for traditional brick – as it developed its product.
Other criticisms of fly ash brick have focused on potentially hazardous materials in fly ash, although the Environmental Protection Agency told the Journal that fly ash is not hazardous, and has touted the environmental and materials-performance benefits of its use in concrete and asphalt.
As its factory in Wisconsin begins production, CalStar has demonstration projects lined up to put the brick through further field tests. If it meets or surpasses performance expectations (fly ash and clay brick are comparably priced at 53 and 55 cents apiece, respectively), the big, remaining challenge of course will be to manufacture and market it more widely to spread the green-brick benefit around.
Weekly Newsletter
Get building science and energy efficiency advice, plus special offers, in your inbox.