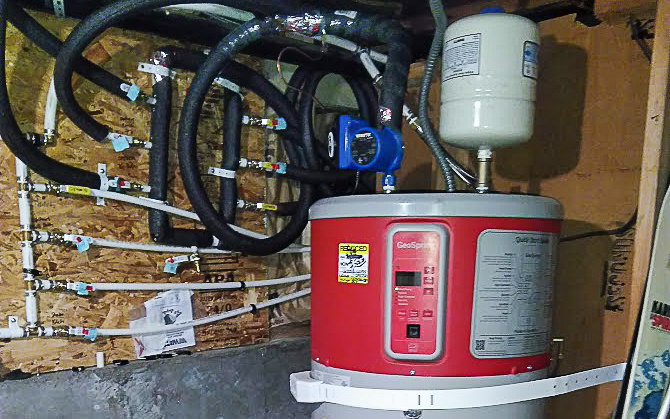 Pat Beurskens has been happy with his heat-pump water heater, but he fears the time is coming when it won't be able to keep up with demand.
He foresees the day when his young daughter will be using more hot water, and Beurskens is finishing out the basement of his Seattle home to be used as a rental. That, too, will increase hot water use.
Against this backdrop, Beurskens's GE Geospring, a model that has been discontinued, is showing signs of fatigue. "Lately," he writes in a post at the Q&A forum, "the water heater has been maxing out after two showers. I'll be retrofitting a 1.5 [gallon per minute] adapter, which will help, but I'm still nervous about having a tenant and running out of hot water."
In order to squeeze more capacity out of his system, Beurskens is considering a solar water heater and an electric tankless water heater.
He'd prefer using the heat-pump water heater most of the time because of its high efficiency. He doesn't want to replace it with a larger model because of the expense and because he's not eligible for another rebate.
He asks, "My main question is: Would it work to put the tankless electric heater in a series in front of the heat pump tank so that the tankless kicks on only when the tank starts dropping in temp?"
That's the question for this Q&A Spotlight.
Avoid electric tankless heaters
The best option would be to avoid an electric tankless water heater altogether, argues Dana Dorsett.
"An electric tankless isn't as sensitive to incoming water temps as fossil burners," he writes, "but they are really abusive to the grid infrastructure, and one of the least green options there is."
…
Weekly Newsletter
Get building science and energy efficiency advice, plus special offers, in your inbox.
This article is only available to GBA Prime Members
Sign up for a free trial and get instant access to this article as well as GBA's complete library of premium articles and construction details.
Start Free Trial
Already a member? Log in