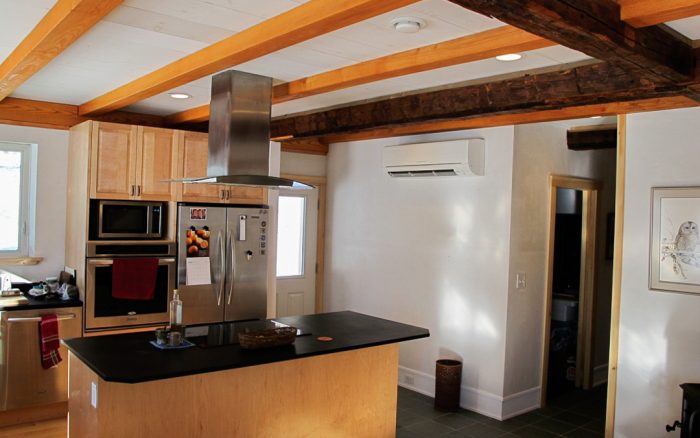 Ductless minisplits have become the standard for heating and cooling in many high-performance houses. These air-source heat pumps have many advantages over more conventional HVAC equipment, and also what some homeowners consider a glaring flaw: the indoor fan units that are typically hung on an interior wall are not especially attractive.
Such is the case with CarsonB, who recently posted his plans for concealing a ductless minisplit head in the Q&A forum.
"Here's my idea to hide a minisplit head," he writes. "Please critique and tell me why this won't work. Keep in mind that the ducted install was a lot more expensive and the floor units are large and just don't look good IMHO."
CarsonB outlines his approach with these three steps:
Mount the Mitsubishi head just 18 inches off the floor, a tip that CarsonB found at BuildingGreen in an article posted in 2013.
Inset the head into the wall as far as possible.
Build what he calls a "console table" one with no face or back to block the flow of air, over the head to keep it out of sight.
An HVAC contractor is concerned about air from the head bouncing off the floor and interfering with the system, but CarsonB still finds the idea attractive.
"Sounds ideal for hiding it," he says. "I don't think anyone would ever notice it." Or, is the idea crazy? That's the topic for this Q&A Spotlight.
Don't mess up the flow of air
Yupster cautions CarsonB not to disrupt the flow of air that  engineers envisioned when they designed the head. "These are carefully calibrated units," Yupster writes. "Mess up the airflow, you mess up the unit. You also need access for maintenance, both for the inevitable mechanical breakdown and the…
Weekly Newsletter
Get building science and energy efficiency advice, plus special offers, in your inbox.
This article is only available to GBA Prime Members
Sign up for a free trial and get instant access to this article as well as GBA's complete library of premium articles and construction details.
Start Free Trial
Already a member? Log in