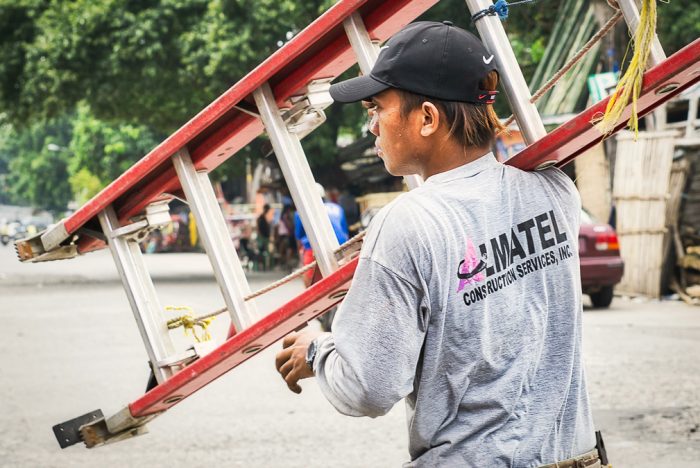 Workplace injuries go up significantly as temperatures rise, causing an average of 20,000 injuries a year in California alone and taking a particular toll on low-income workers, according to new research.
In a study published this month, researchers looked at records from California's worker's compensation system—the nation's largest—between 2001 and 2018, and found a connection between higher temperatures and injury for both indoor and outdoor jobs. Young male workers at the lower end of the income range seemed especially affected.
Understanding the consequences of "temperature shocks" on workers takes on added importance as climate change pushes the mercury higher, the researchers note. The number of days above 90°F in the South has doubled since 1980, for example, with at least 50 more days that hot every year expected by mid-century.
Both indoor and outdoor jobs affected 
A greater risk of injury might be expected for outdoor industries such as agriculture and construction, the report notes, but the connection holds for both indoor and outdoor workers and for many types of injuries not directly related to heat. A day that peaks at between 85°F and 90°F leads to a 5% to 7% increase in injury that day when compared to a day in the 60s. When the temperature tops 100°F, there's a 10% to 15% increase in injuries.
Injuries include those not typically coded as heat related, including falling from heights, being struck by a vehicle, and accidents involving  dangerous machinery.
"All told, we estimate hotter temperature to have caused approximately 360,000 additional injuries in California over the period 2001–2018, or roughly 20,000 per year relative to a hypothetical benchmark in which all workers experience only optimal temperatures," the report says. "For perspective, this is roughly 11 times the number of workplace concussions, and at least 19 times the annual number of workplace injuries the worker compensation microdata records as caused by extreme temperature."
The report notes that 78% of the country's 105 million workers who do not have a bachelor's college degree are routinely exposed to extreme heat, poor air quality, and other environmental conditions.
Workers who earn lower wages tend to have more injuries, researchers said. "Due to the fact that lower wage workers are more likely to work in dangerous occupations, more likely to live and work in places with greater heat exposure, and experience larger marginal increases in risk on hotter days, the net effect on injuries is far greater for low income groups," the study says.

For someone in the bottom 20% of the wage scale, the annual effect is some five times greater than for someone in the top 20%.
On the plus side, researchers said they found evidence that workers and their employers can adapt to higher temperatures with a greater emphasis on safety and changes in production technology, such as the California Heat Illness Prevention Standard.
The body can only take so much
Rising temperatures can be a health threat to anyone. In a recent article published in The New Yorker, environmentalist and activist William McKibben notes that the human body can only tolerate so much heat before injury and even death occur.
In California, a hiker keeled over and died on a day where the mercury hit 100°F, McKibben wrote. A study of pregnant women found that higher temperatures in the weeks before delivery were connected with low birth weights and still births, according to one study that McKibben cited. In another, just a 10-degree increase in temperature during the warm season prompted increases in emergency room visits for mental health disorders, suicide and self injury, and intentional injury and homicide.
Those problems are more apparent in Black and Hispanic patients because they are disproportionately represented in low-income neighborhoods, the article says. There, there are fewer green spaces, more concrete and asphalt that absorb heat, and more fossil-fuel emissions.
Impact on job sites
Carpenters, masons, roofers, landscapers, and others in the construction trades are routinely exposed to the worst that summer has to offer. The recent heat dome in the Pacific Northwest—which pushed temperatures to "an intensity never recorded by modern humans," according to CBS News—was a real test for anyone working outside. How did workers cope?
GBA contacted two builders—one in Washington State and the other in Maine and asked how they are dealing with dangerously high summer temperatures. Bryan J. Uhler, vice president of Pioneer Builders in Port Orchard, WA, offered a few tips:
Choose the right clothing. The list includes Truwerk shirts that have built in UV protection, wide-brimmed hats, and neck gaiters that can be soaked in water for evaporative cooling.
Use sunscreen.
Try a big fan to keep air moving and install a hose bib at the water meter to keep the crew hydrated.
Use a four-sided, open tent to create a shady area where the crew can rest out of the sun (also a good place to keep construction drawings).
In Washington State, heat exposure rules run from May 1 through September, requiring employers to protect their outdoor workers from heat illness. OSHA also maintains a Heat Illness Prevention campaign to educate employers and workers about the dangers of working in the heat.
"Chasing the shade is smart," Uhler said in an email. "Start siding on a wall in the morning that might be exposed to full-on sun later. As the day heats up, go to the shade."
And sometimes it's just plain too hot to work. "Don't be afraid to pull the plug," he added. "Safety is more important than a false sense of production."
Across the country in Maine, cold is often a more pressing problem than high heat, said Portland, Maine, builder Dan Kolbert. "But even here we had three heat advisories in June," he added in an email. "That's unheard of."
If Kolbert's crew is working outside and it's much over 90°F, Kolbert says he focuses on work that can be done under cover, such as interior wall framing, installing hangers, or going into the shop where workers can prep or paint trim. "Lacking that," he added, "we'll do a company meeting, plan review, clean up the shop, or take care of dinky interior jobs."
Kolbert said his crew gets seven weather/sick days a year, normally saved for winter when being on the roads is dangerous but also available for high-heat days if need be.
"We don't have a ton of experience staying safe in the heat but we'll presumably need to get better at it," he said. "We certainly make sure we have plenty of water if there isn't any onsite yet. We keep sunscreen in the job trailer. I tell the crew to pay special attention to how they're feeling: stay off heights, don't push it too hard."
---
Scott Gibson is a contributing writer at Green Building Advisor and Fine Homebuilding magazine.
Weekly Newsletter
Get building science and energy efficiency advice, plus special offers, in your inbox.