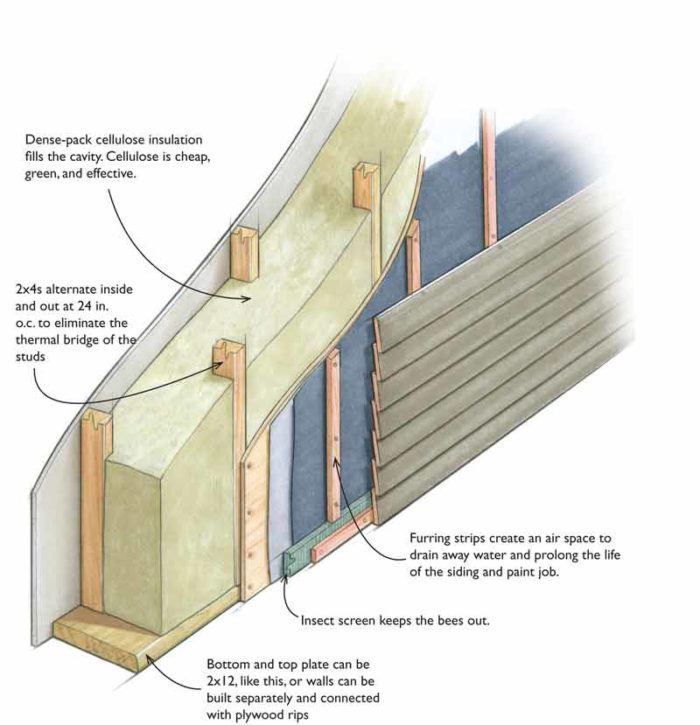 During the winter months, wall sheathing is usually cold. Cold sheathing is risky, since it tends to accumulate moisture during the winter. Unless the sheathing can dry out during the summer months, damp sheathing can rot.
Cold sheathing can get wet from two directions. It can get wet from the exterior, due to leaks through defective flashing or a poorly detailed water-resistive barrier (WRB). It can also get wet on the interior, due to a phenomenon traditionally called "condensation," but more accurately called sorption. (As building scientist William Rose likes to say, "Capillary materials do not exhibit condensation at the dew point.")
Most wood-framed walls are somewhat leaky. Interior air can leak into wall cavities through cracks around electrical boxes and cracks between the drywall and the wall's bottom plate. When the warm air reaches the cold wall sheathing, one of two things usually happens: frost can form on the sheathing, or, at temperatures above freezing, the sheathing (which is hygroscopic or "sorptive") can gain moisture from the air. (The source of the moisture taken on by sorption can be either interior or exterior moisture; for further details on moisture sources, see Bill Rose's posted comment below.)
Why doesn't every cold-climate wall have rotten sheathing?
Most cold-climate homes have wall sheathing that gains moisture every winter. Usually, however, the wall sheathing doesn't rot, because:
wood doesn't rot when it's cold, and
the sheathing dries out every summer.
Building components can survive occasional wetting, as long as the rate of drying exceeds the rate of wetting. If, on an annual basis, the wall dries more than it gets wet, it will probably be okay.
Probably — but not necessarily. In many areas of the U.S., OSB-sheathed walls have failed at an alarming rate. A combination…
Weekly Newsletter
Get building science and energy efficiency advice, plus special offers, in your inbox.
This article is only available to GBA Prime Members
Sign up for a free trial and get instant access to this article as well as GBA's complete library of premium articles and construction details.
Start Free Trial
Already a member? Log in