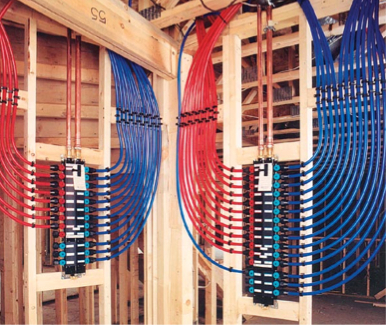 Builders have climbed on the PEX bandwagon in droves. Cross-linked polyethylene tubing is increasingly taking the place of copper in residential plumbing systems for a variety of reasons: ease of installation, resistance to acidic water, and the virtual elimination of leak-prone fittings.
It all adds up to a juggernaut for a building material that's only been available in the U.S. since the 1980s.
But Arlene DiMarino isn't sure about the safety of PEX.
"I am very concerned about using PEX tubing for water supply in my home," she writes in a Q&A post at Green Building Advisor. "I was told that this plastic was BPA [bisphenol A]-free but when I did some reading I found out that there have been some reports of MTBEs and some VOCs [volatile organic compounds] leaching from this plastic." (To read similar Q&A threads, see PEX vs. copper, Water supply: PEX? and Should I consider PEX?)
Her plumber is pushing for PEX. Should she go along?
The evidence either way seems slim
This forum specializes in the sometimes arcane world of wall assemblies, thermal boundaries and moisture management, not plastics, suggests J Chesnut.
"The effects of the many varieties of plastics is not a subject that GBA can offer much insight," he writes. "I think it is an important topic but haven't found a source for information or discourse I feel confident in.
"BPA seems better understood than many other aspects of plastics in that it does enter a body by leaching into water," he adds. "I recently worked on a house for a physician where we had these discussions. The physician decided to take his chances with the copper supply lines instead of PEX, accepting the premium in cost."
Steve El says evidence pointing to…
Weekly Newsletter
Get building science and energy efficiency advice, plus special offers, in your inbox.
This article is only available to GBA Prime Members
Sign up for a free trial and get instant access to this article as well as GBA's complete library of premium articles and construction details.
Start Free Trial
Already a member? Log in