Learn how to enclose the back side of a kneewall with an air barrier and make batt insulation perform better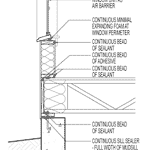 Thermal Bypass Checklist package (50+ details).
---
Video Transcript:
Here we are inside an attic enclosed by a kneewall into a partially finished room and the outside of the house. Behind this insulation is nice conditioned air. In here it's hot and humid. Most houses with this situation, namely Cape style houses and some Colonials, have the problem of air flowing through the insulation that's in the ceiling and underneath the floor of the conditioned area. The air flows through the fiberglass insulation because nothing is blocking it. We want to provide a blocking panel that'll stop the air from moving and improve the performance of the entire room.
There are a couple ways of sealing this up. We could use a solid wood block or a piece of dry wall, but I find it's easiest is to use a piece of rigid foam insulation. It's easy to cut, easy to manipulate and it fits into place. All we have to do is slip it in place and attach it. I'm going to use a screw. And then we seal around the edge of the whole perimeter with some caulking, I'm using acoustical sealant. I could just as well use expanding spray foam or average caulking for painting, as long as it's a flexible kind of caulking. You might be tempted not wear a pair of rubber gloves when it's hot in the attic, but you need to push the bead of sealant all the way around the edge and the gloves keep your hands clean.
The insulation in the kneewalls of an attic is usually uncovered on the attic side. That…
Weekly Newsletter
Get building science and energy efficiency advice, plus special offers, in your inbox.