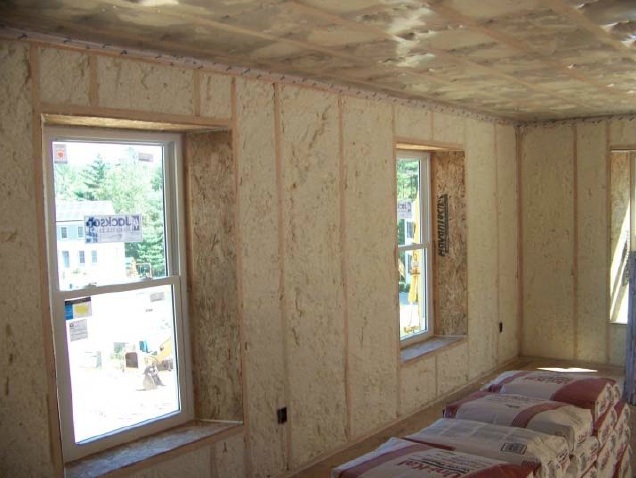 It's no surprise to anyone who knows me that I'm a fan of double-stud wall construction. Over the years, I've built most of the usual suspects in the high-performance wall genre. All have their pluses and minuses in terms of performance, buildability, and cost, but the one I keep coming back to and advocating for time and again is the double-stud wall. The assembly is exactly what the name implies, a double set of stud walls, separated by a space that is filled with a healthy amount of insulation—one of the pluses. Another is the thermal break created by the space between the walls. Construction-wise, the assembly is straightforward, but there is some nuanced building science involved.
The pushback I've heard from building science cognoscenti is: "The walls are going to gather moisture during winter and eventually rot." I've discussed this in other GBA blog posts; the computer models say the risk exists, but real-world monitored data suggests otherwise. But here's the caveat: I, along with crews I trust, built all of the double-stud walls I have monitored or am monitoring now, so I know the critical details were well-executed. This factors heavily into the overall success of those walls. No wall assembly will perform optimally with sloppy detailing, but we should know which details are most critical for the wall type we're building. Below are five aspects of a double-stud wall that should never be overlooked.
Make it airtight
This should go without saying, but the assembly needs to be reasonably airtight. We're not talking NASA clean-room tight, but a good build will deliver reasonable control over air infiltration. I prefer the air control layer at the exterior, using one of these options: taped sheathing with a mechanically fastened WRB, integral…
Weekly Newsletter
Get building science and energy efficiency advice, plus special offers, in your inbox.
This article is only available to GBA Prime Members
Sign up for a free trial and get instant access to this article as well as GBA's complete library of premium articles and construction details.
Start Free Trial
Already a member? Log in