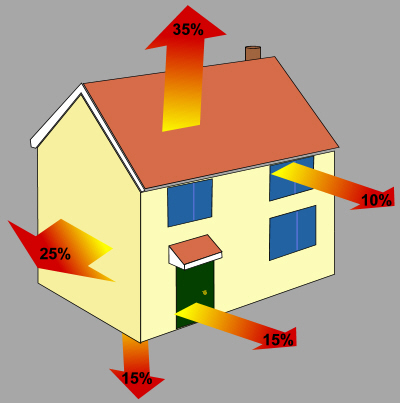 To continue last week's discussion of heat-loss calculation methods, let's consider a simple rectangular building, 20 feet by 30 feet, with 8-foot ceilings. Let's assume it has an 8-foot-high basement with uninsulated concrete walls; the below-grade portion of the basement is 7 feet high, with 1 foot above grade.
To keep things simple, we'll assume that the house has a flat roof, and that each side of the house has two windows (each 3 ft. by 4 ft.) and one door (3 ft. by 7 ft.). The house doesn't have a chimney.
We'll assume that the building is in Boston, Massachusetts, a location with an outdoor design temperature of 9°F. That means we have a ΔT of 61 F°. Let's calculate the expected heat flow rate per hour through the floor, walls, and ceiling at the design temperature. (For the time being, we'll ignore infiltration.)
First, determine the relevant areas and U-factors
The first step is to group all of the envelope components with similar U-factors together and calculate their areas. The second step is to look up or calculate the relevant U-factors.

The listed U-factors for these assemblies are subject to discussion, and some readers may dispute whether the chosen values are appropriate. For the time being, however, let's leave that discussion aside and use these U-factors to illustrate the calculation method.
(Tables listing U-factors for a variety of building assemblies can be found online; here's one of them. The original I=B=R table of building assembly U-factors can be found here. Almost all of these tables are subject to dispute. If you prefer, you can calculate your own building assembly U-factors by adding up the R-values of the relevant layers and converting these R-values to U-factors, using the equation U=1/R. Click here to read more about calculating the U-factor…
Weekly Newsletter
Get building science and energy efficiency advice, plus special offers, in your inbox.
This article is only available to GBA Prime Members
Sign up for a free trial and get instant access to this article as well as GBA's complete library of premium articles and construction details.
Start Free Trial
Already a member? Log in