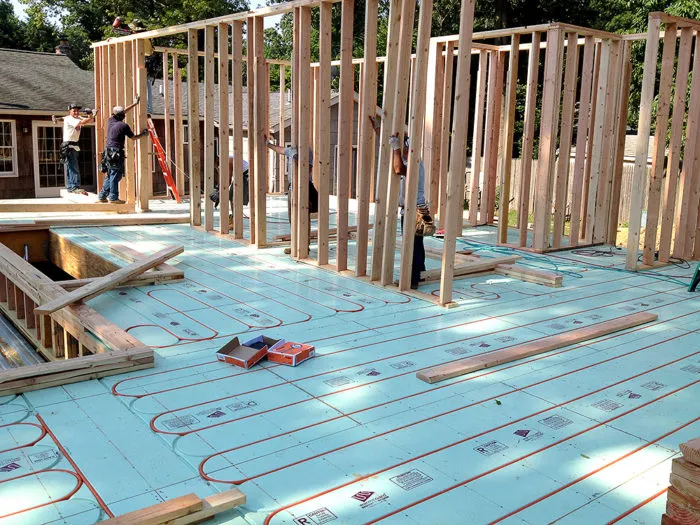 In the Minneapolis-St. Paul area, a GBA reader named jrsevy (let's call him JR) is trying to sort out the HVAC system and other loose ends in  a 4200-sq.-ft. house he will be building in the spring.
Among the construction details he provides in this recent Q&A post are Zip-R12 sheathing over 2×4 walls that have been insulated with closed-cell spray foam; R-10 XPS rigid foam insulation below grade on exterior foundation walls along with R-15 mineral wool batts on the inside; and R-50 of blown-in insulation in the attic over 2 in. of closed- cell foam as an air-seal. The basement slab will be insulated with R-10 of XPS.
The house also will get a ventilated rainscreen, not only to help the sheathing dry if gets wet but also to allow the siding to dry so paint will last longer. Windows on the main level will be on the large size—6 ft. and some 7 ft. high—in a mix of casements and fixed-glass units.
In addition to the single-story main floor, the house will have a lower level walkout basement. JR has been considering radiant-floor heat for the entire lower level and a traditional HVAC system for the main level.
"After reading that radiant heat isn't worth the extra cost for well-insulated, airtight homes, I'd like opinions on whether this might be true for our build," JR writes. "We could delete the radiant (but maybe have the PEX installed under the lower level slab, in case we change our minds later) and spend more on a cold-climate heat pump for heating and cooling."
But the efficiency of radiant-floor heat is only one of several points GBA readers make as JR heads to construction. That's where we start this Q&A Spotlight.
Weekly Newsletter
Get building science and energy efficiency advice, plus special offers, in your inbox.
This article is only available to GBA Prime Members
Sign up for a free trial and get instant access to this article as well as GBA's complete library of premium articles and construction details.
Start Free Trial
Already a member? Log in