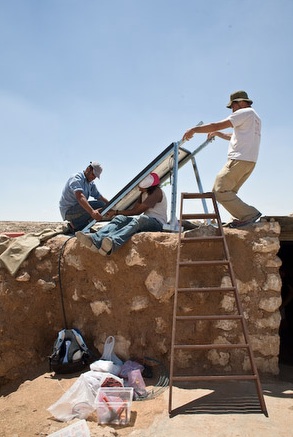 In the U.S., plenty of money, care, and calculation goes into the installation of photovoltaic systems, solar collectors, and wind turbines. People invest in these renewable-energy devices to trim the operating cost of a home or commercial building, draw less from the grid, and reduce their carbon footprint — all worthy goals.
But for some people, reducing energy use doesn't really factor into their interest in renewable-energy systems. The systems do, however, improve their lives in dramatic ways.
Recent articles on renewable-energy installations in the West Bank region of Palestine have highlighted the transformational role such systems can play in the lives of its rural inhabitants. A project called Community, Energy and Technology in the Middle East (otherwise known as Comet ME), funded by Germany and run by two Israelis, installed wind and photovoltaic systems to supply electricity to about 500 people in Area C, a section of the West Bank largely under Israeli control but as yet without grid access in some locations, the Christian Science Monitor notes.
A Catch-22
The mother of one family in the area told the paper that she used to spend five hours a day manually churning butter, a chore that has been reduced to less than an hour with an electric churner powered by the community's renewable-energy system. Her family's clothes are washed in a washing machine rather than by hand, and her home now has its first television.
The renewable-energy installation serving her community, however, is in danger of being dismantled by Israel's Civil Administration because, agency officials say, it was installed without proper plans and permits. Palestinians counter that obtaining permits from the Israeli authorities is extremely difficult, even with backing from members of the European Union, which supports providing basic infrastructure services to Area C to help Palestinians in the region grow their economy.
But the politics of the situation are difficult. "International aid is an important component in improving and promoting the quality of life of the Palestinian population but this does not grant immunity for illegal or uncoordinated activity," Guy Inbar, a spokesperson for the Israeli authorities in the West Bank, told The Guardian.
Civil Administration figures quoted by a group called Peace Now, which advocates providing basic infrastructure services to Area C's rural communities, show 91 permits issued between 2001 and 2007. About 10,000 Israeli settlements have been built in Area C and nearly all are connected to Israel's national water and electricity grids, the paper notes.
The Guardian adds, however, that the PV and turbine installations so far aren't adequate to serve an entire community. And at an average cost of $4,500 per family, they are expensive. The concern among groups such as Comet ME, Peace Now, and Rabbis for Human Rights is that demolition of the installations – which was on hold in March – would discourage donors from offering further assistance.
Weekly Newsletter
Get building science and energy efficiency advice, plus special offers, in your inbox.