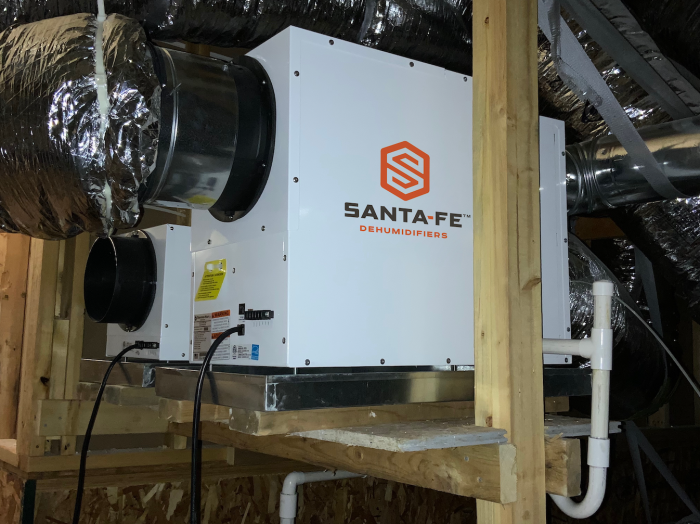 Residential energy efficiency experts have begun to tackle the effects of decreasing a home's heating and cooling needs on the indoor environment. Newly adopted building codes require homes to meet specific airtightness measurements and increased insulation levels. While few in the industry will argue against the need to build tight houses, such energy-saving measures can have unintended consequences. Many homes, especially in mixed-humid and hot-humid climates, experience interior moisture buildup that results in uncomfortable living conditions and, more importantly, indoor air quality (IAQ) issues.
Reasons good indoor air quality matters

Indoor air quality has been ranked among the top five environmental risks to public health by the Environmental Protection Agency. Even more alarming is that according to Underwriters Laboratories, six out of 10 homes are hazardous to the occupant's health.
We spend 90% of our time indoors.
We breathe up to 3000 gal. of air/day.
Adults take approximately 16 breaths/min.
Newborn babies often breathe 30-60 times/min.
Toddlers breathe 20-30 times/min.
The average person breathes approximately 13 million cu. ft. of air during their lifetime.
There are four critical components to achieving good indoor air quality: building a home with a tight envelope, mechanical ventilation, high-efficiency filtration, and dedicated humidity control.
Build tight, ventilate right
Controlling the air that leaks in and out of the home as much as possible is considered the first step when the goal is to improve the home's comfort and IAQ. Unless you know where the air is coming from and what it is bringing with it, you have little chance in controlling the quality of the air. Once the house is made tight, mechanical ventilation and moisture control methods need to be designed to match the upgraded building envelope, or the result could lead to an unhealthy living environment.
Bringing filtered outdoor air…
Weekly Newsletter
Get building science and energy efficiency advice, plus special offers, in your inbox.
This article is only available to GBA Prime Members
Sign up for a free trial and get instant access to this article as well as GBA's complete library of premium articles and construction details.
Start Free Trial
Already a member? Log in