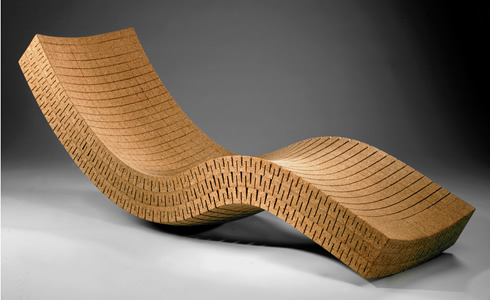 A Breath of Fresh Air from Product Designers
Today, when you walk into most retail furniture stores, you find furnishings that contain formaldehyde and volatile organic compounds (VOC)s and are resource intensive to manufacturer. More than likely, many are also imported with minimal environmental regulations. In recent years, innovative furniture designers have been working hard to change this process of manufacturing, introducing products made with high recycled content, reclaimed materials, and low-emitting adhesives and finishes. Some are even recyclable at the end of their life spans.
Vote with your pocketbook
As consumers, we control what we buy and send loud messages to retailers and manufacturers when we insist on products that are designed toxin free, made from recycled, reclaimed, and renewable resources and simply assembled. Look for furniture made simply, with a minimal amount of materials, and self-locking assembly or mechanical fasteners that use the least adhesive—all of which facilitates end-of-life recycling.
The good news is that using recycled and reclaimed products saves such resources as trees, electricity, and water, and diverts waste from landfills. Making such products promotes "closing the loop" and supports a market for post- and pre-consumer waste.
More good news!
Innovative designers around the country are producing furnishings that meet these strategies. Take a peek at just a few of my favorites:
These designers demonstrate that, by using recycled and reclaimed materials, we save precious resources, like trees. Saving our trees is a good thing, as they take decades to grow, miraculously add oxygen to the atmosphere, and work hard to remove carbon — providing us with clean, fresh air!
Weekly Newsletter
Get building science and energy efficiency advice, plus special offers, in your inbox.