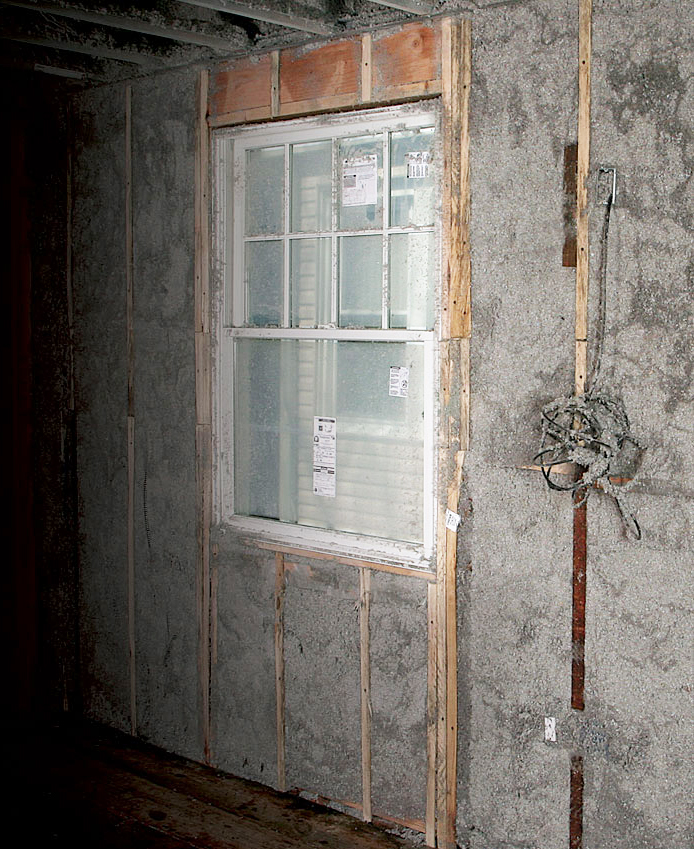 Insulating any building can be a challenge, but the nonprofit energy-efficiency and weatherization company I work for, Community Environmental Center, frequently insulates old houses being rebuilt for residential group homes and elderly housing in New York City. These skilled-care buildings, like the one shown in these photos, are crammed with pipes, ducts, and wires, so they're tough to insulate. They're also located in dense urban neighborhoods that can be busy and loud.
For all these reasons, we use damp-spray cellulose insulation in the majority of our open-wall insulating projects. Damp-spray cellulose fills cavities without voids, and it covers pipes and wires without gaps, creating a house that according to the Cellulose Insulation Manufacturers Association is 30% to 40% more effective at stopping air infiltration than a similar house insulated with fiberglass batts installed in the typical manner. The density and air-sealing qualities of damp-spray cellulose also create an effective sound barrier (STC44) that makes these buildings far quieter inside than their surroundings would lead you to expect.
Treated with borates, cellulose is fire resistant and unattractive to vermin. We often demonstrate its fire resistance to skeptical clients by using a propane torch to heat a penny on a small pile of cellulose insulation. Ultimately, the penny melts, but the cellulose fibers turn black without burning. Cellulose also has low embodied energy and installs quickly. We can spray a 3,000- to 4,000-sq.-ft. house in one day with a three-person crew. Depending on the building's complexity, that can cost from $2.50 to $3.50 per sq. ft. of living space.
Given its attributes, the Natural Resources Defense Council has called cellulose insulation made from recycled paper "the least polluting and most energy-efficient" insulation in use today. Unfortunately, damp spray can't be installed overhead (in cathedral ceilings, for example), so for these areas, we…
Weekly Newsletter
Get building science and energy efficiency advice, plus special offers, in your inbox.
This article is only available to GBA Prime Members
Sign up for a free trial and get instant access to this article as well as GBA's complete library of premium articles and construction details.
Start Free Trial
Already a member? Log in