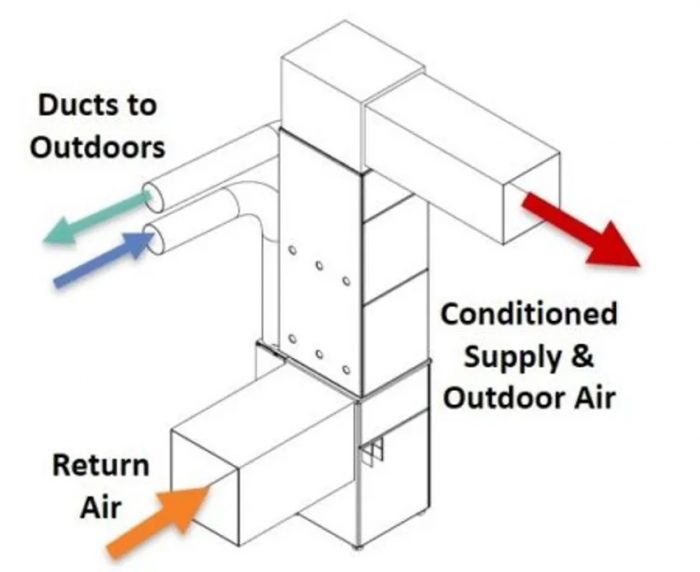 We come at residential design and construction from very different backgrounds—a professor of business and a practicing architect. Our knowledge and experience are complementary when we collaborate on projects to analyze the economic and ecological impacts of competing building methods and materials. Our goal is to apply the analytical tools of economics and finance to uncover practical design solutions for homes. We recently took this approach to a study of balanced ventilation, specifically the use of an energy recovery ventilator (ERV) or heat recovery ventilator (HRV) to provide fresh air.
Our opinion is that the best way to configure a residential ventilation system is integrate an ERV or HRV with the heating and cooling ductwork, assuming the house has a forced-air system. This is the most economical approach. This approach also allows for better filtration than an ERV or HRV can provide on its own because they do not work with fine particulate filters. And finally, a whole-house duct system can better distribute fresh air to all areas of the home, especially bedrooms, where it is needed the most.
In this article we'll discuss the need for ventilation based on the carbon dioxide (CO2) levels found in most homes, the challenge of integrating an ERV or HRV into a common duct system, and some potential solutions that allows us to keep the systems integrated.
CO2 and indoor air quality
All inhabited buildings need ventilation. In addition to historically-known indoor pollutants (CO, VOCs, molds, etc.), CO2 has more recently emerged as a threat in buildings with increasingly tight thermal envelopes. Whereas most indoor pollutants accumulate slowly, CO2 rises rapidly from respirating inhabitants. This places CO2 on the critical path to a solution.
While not the most dangerous of indoor pollutants, if enough air is exchanged to keep CO2 in a healthy range, other indoor pollutants will be kept in check. Air pollutants disperse to all areas of a home, so this requires a whole-house ventilation system. ERVs and HRVs offer balanced ventilation (equal supply and exhaust) while minimizing energy loss. Best practice is to draw the exhaust air from bathrooms, creating negative pressure where desired, while minimizing thermal envelope penetrations from individual bath fan vents.
We prefer that the ERV or HRV is integrated into the homes forced air duct system. This way, all incoming supply air passes through a high-efficiency particulate air (HEPA) filter mounted on the return side of an air handler, and a UV light on the coil—our preferred system design. This avoids diminished cognition from high CO2 levels by exchanging air, reduces vulnerability to breathing problems and disease caused by NO2, O3, and VOCs by flushing indoor air, and it reduces allergies by cleaning the air of pollen and other irritants. With this arrangement, all of the air circulating in the home, both existing and freshly introduced, is effectively filtered and cleaned. However, it requires that the HVAC blower is operating.
Integrating the systems
When ERVs and HRVs are integrated in this way, manufacturers' specify an installation protocol that delivers fresh air into the return side of the ducted forced air system, and upstream from the filter (see illustration from Honeywell installation manual below). That is ostensibly for two reasons: first, it would route outside air through the filter before distribution and, second, the fresh air infusion point will be at negative pressure when the blower fan is operating, and that avoids the potential for air pressure to push against the ERV or HRV fan. That specification works effectively when the air handler blower is on, which then operates in tandem with the ERV or HRV fan and draws the incoming fresh air through the filter before distribution to the house and its occupants.
The problem arises when the ERV or HRV is operating but the blower fan is not, and this commonly occurs in most homes. Whether the ERV or HRV is run continuously or cycles on because of a CO2 sensor or timer, it will operate when needed to exchange air, and that is independent of the blower fan which operates on thermostat conditions.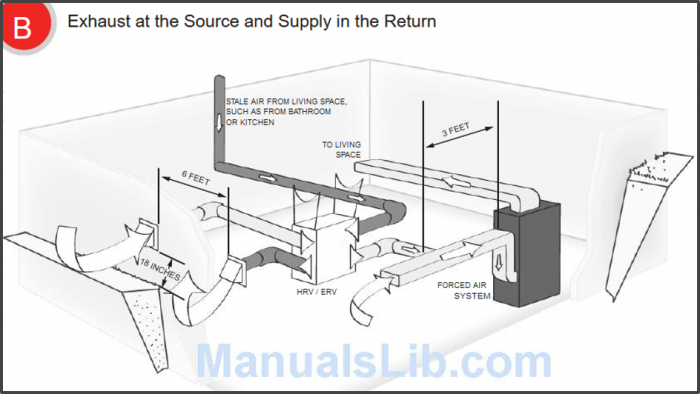 Forced air will flow to the path of least resistance. During conditions when the ERV or HRV is operating but the blower fan is not, the incoming fresh air back-feeds through return air ducts, out through return grilles, and into the house unfiltered. In the absence of an operating blower fan, the filter creates resistance, and the freshly injected air flows out of the return grilles, causing two specific problems. First, the raw outside air is not filtered before entering the home, which in high pollen seasons will aggravate allergy sufferers. Second, the air exchange may not occur in the spaces where it is most needed. The highest need for air exchange is in bedrooms, where occupants spend the largest number of consecutive hours, and often behind closed doors. While some forced-air systems are designed with returns in bedrooms, most installations in the U.S. employ just a few central returns in the large common areas. That design, when an ERV or HRV is integrated and active without the blower fan, does not adequately ventilate bedrooms.
One of our recent projects illustrates this problem. The home had a forced-air system with a MERV 13 filter, and occupants with allergies. When the HVAC blower fan is off, fresh air from the ERV exits return grilles and not supply registers, and the outside air enters the home unfiltered. The HVAC design employed three central returns, and bedrooms received no air exchange when doors were closed, and only minimal and insufficient air exchange with doors open. By installing ERVs to equipment specifications, outside air is injected into the home unfiltered when the blower fan is not operating. This occurs regardless of whether returns are central or distributed. And if there are no returns in bedrooms, the system does not sufficiently exchange air in those spaces where it is most needed.
We engaged the ERV manufacturer about injecting the fresh air into the supply side of the blower, but they responded that it would void the warranty because of concern with opposing fan pressures. Blower fans are typically much stronger than ERV and HRV fans. In addition to possibly damaging the weaker fan, HVAC-conditioned air could back-feed through the ERV or HRV and be wasted to the outside.
We prefer integrated ventilation as opposed to stand-alone systems for two critical reasons. First, ERVs employ a very coarse internal filter that does not scrub pollen and other airborne pollutants, and their fans are not sized sufficiently to push air through heavier HEPA filters that catch small particulate matter. Consequently, a stand-alone ventilation system would create more suffering for occupants with allergies. Second, the supply of fresh air needs to be ducted to all indoor spaces, and especially to bedrooms. A stand-alone system with that much ducted distribution is redundant and wasteful when a forced-air HVAC system could have been employed in complement. An integrated system avoids these concerns, but we need a solution to the back-feeding problem detailed above.
Solutions and tradeoffs
One solution could be to run the blower fan at all times, but that is indiscriminate and energy wasting. We recommend adding a control to automatically operate the blower fan whenever the ERV or HRV runs. This unspecified fix requires a relay switch and wiring, and it solves the problem for less than $100. Unfortunately, ERV and HRV manufacturers do not note this limitation or provide instructions to avert the problem. As we collect data on homes with mechanical ventilation, we have not discovered this remedy elsewhere.
There are scientific reasons for the International Code Council's requirement that buildings employ mechanical ventilation, but it creates several measurable tradeoffs. First, there is additional upfront installation cost. Second, there are higher energy costs for operation. And finally, there are higher energy costs to do more conditioning because while ERVs and HRVs recover some of the energy in exhausted air, it is not full recovery. Still, the comprehensive energy needs of operating an ERV or HRV in a tight house today are lower than trying to condition the leaky buildings of the past. Mechanical ventilation is best integrated with a distributed forced-air system to serve all conditioned spaces, even when doors between rooms are closed. This may be an additional cost, depending on what other conditioning systems are considered.
ERVs and HRVs use energy when they operate, so they should not operate more than is necessary to keep CO2 levels below 950 ppm. Recall that if ventilation successfully caps CO2 levels, other indoor pollutants will also be adequately mitigated. Rather than running an ERV or HRV indiscriminately, it can be designed to operate on a sensor or timer switch. In either case, the ERV could be called into action when the blower fan is not operating, and that creates the dual problems of unfiltered air and inadequate distribution. The tradeoffs of excessive ERV or HRV use are fewer years of operable equipment life, more pollen and other outdoor airborne pollutants pulled inside, more energy wasted in operation of both the ERV or HRV and other HVAC equipment, and possibly contributing to moisture problems in high humidity climates or seasons.
The case house noted above, which is average in size and number of occupants, requires the ERV to run only 30 hours each week, or 18% of the time. A timer was installed with ERV run times skewed heavily toward overnight hours to keep bedroom conditions healthy. Because the exhaust pull is from bathrooms, with booster switches, routine bathroom use adds additional ERV operation beyond the scheduled 30 hours/week.
The bottom line
Any house built with detailed attention to air infiltration must add mechanical ventilation. Most home dwellers in temperate climates would benefit from an ERV or HRV, but they are not required by many local codes and are still too rarely installed. The data indicate that new and recently-built homes in the U.S. have an undiagnosed CO2 problem when not augmented with effective ventilation. For reasons discussed in this article, mechanical ventilation is best integrated with a whole house forced-air ducted HVAC system, but there is a crucial link missing from installation specifications.
The simple but critical solution is to control the HVAC blower to operate whenever the ERV is in action. This protocol effectively filters outside air before distribution to living spaces, and it effectively exchanges air from all supplied rooms. We further argue that continuous and indiscriminate use of mechanical ventilation is inefficient, energy wasting, and introduces net negative returns. Effective and efficient residential ventilation is achievable with either sensor or timer activation, and we've demonstrated the critical importance of linking the operation of the ERV or HRV with the HVAC blower.
---
James Leaman, Ph.D., is associate professor of business at Eastern Mennonite University. Charles Hendericks, AIA, CSI, CGP, LEED AP, is principal at Gaines Group Architects.
Weekly Newsletter
Get building science and energy efficiency advice, plus special offers, in your inbox.