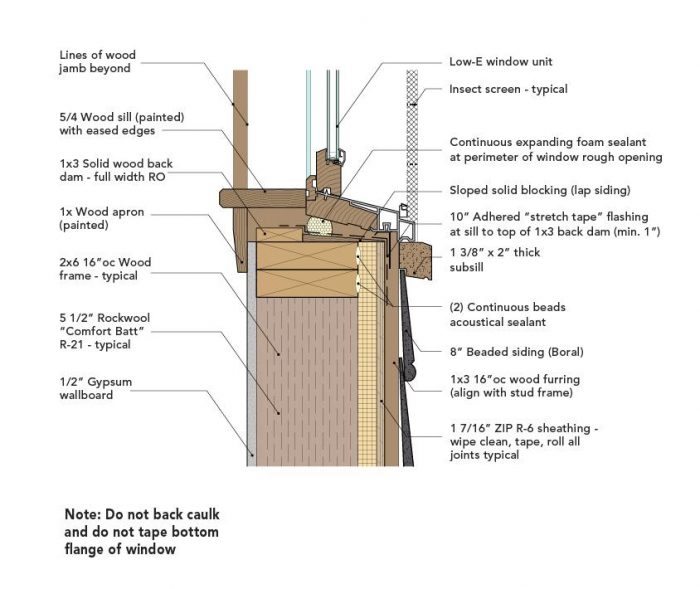 If buildings consisted of only foundations, walls, and roofs, then adding water, air, vapor, and thermal control layers would be straightforward. Doors and windows, of course, complicate matters. They significantly interrupt the continuity of those layers. The question is, how do we handle the interruptions to ensure a building's successful performance?
Windows and their components make up a self-compartmentalized system of control layers, which are installed in a wall assembly's rough openings. To maintain overall continuity of the assembly, the window unit's control layers need to be stitched together with those of the wall. The detail shown is of a flanged double-hung window in a 2×6 16 in. o.c. wood-framed wall sheathed in 1-7/16-in. Zip R-6. In detailing the windowsill, the four control layers are taken into account. 
With respect to water management, the objective is two-fold. The primary goal is to keep water out of the system with a barrier. Secondly, water needs to be managed should it breach that barrier. We use a "down and out" strategy, meaning if water does find its way into the assembly, it has a managed pathway out. In this case, the strategy is a rainscreen made of 1×3 vertical wood furring strips spaced 16 in. o.c. to align with the framing studs. The rainscreen provides free drainage and ventilation for the wall cladding and the window unit. Connecting the rough opening to the rainscreen system maximizes the opening's drying potential.
Note the piece of beveled lap siding placed on top of the rough sill to create a slope to direct water toward the exterior. The siding is accompanied by a 1×3 back dam, the top of which is slightly higher than the high point of the beveled siding. The raised edge of the back dam contains any water at…
Weekly Newsletter
Get building science and energy efficiency advice, plus special offers, in your inbox.
This article is only available to GBA Prime Members
Sign up for a free trial and get instant access to this article as well as GBA's complete library of premium articles and construction details.
Start Free Trial
Already a member? Log in