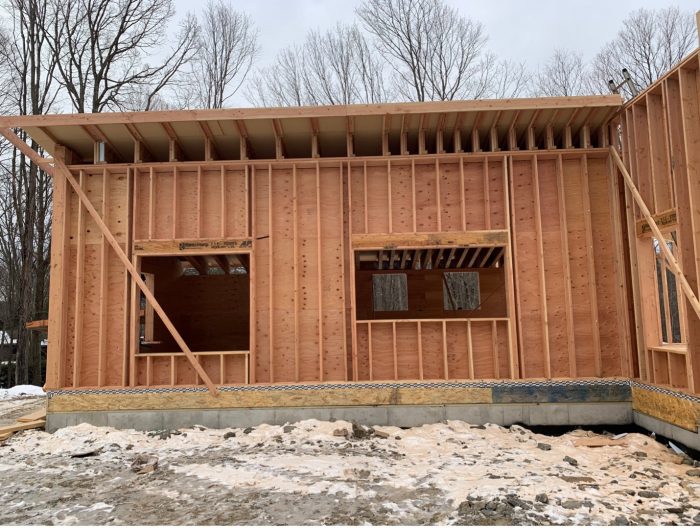 Since moving back to Connecticut 10 months ago, and taking a project manager position with BPC Green Builders, I've been working on a single-family residence in southern New England. It was designed by Pennsylvania architect Richard Pedranti. I carry a certain level of professional pride in the fact that I've been able to build many high-performance envelopes—the ones industry pros are familiar with. This one was something different. I had seen aspects of these assemblies in circles of people who fetishize European methods, as well as in the world of panelization. I'll try to explain what we built and why, as well as share some of what I learned along the way.
The foundation and floor system
The house sits on a combination of full basement and a conditioned crawlspace. Sub-slab insulation is approx 18 in. of Aero Aggregate foamed glass topped with a Stego vapor barrier turned up the wall. The stem walls sit on a fluid-applied capillary break and the exterior is waterproofed with a fluid-applied system. Wall insulation is a combination of 2 in. of HFO-blown closed-cell foam and a 2×4 framed wall with Rockwool. These below-grade details are relatively standard high-performance methods. It's the above-grade detailing that is less conventional.
The trussed floor system sits on a PT plate with Conservation Technology gasket between it and the foundation for air sealing at that critical joint. I've used gaskets on many occasions but in recent years have trended away from them. If conditions are right, they work well but conditions have to be right. If the top of the foundation is too rough or is out of level, which is common, then the gaskets' performance can be compromised. That was the case here—one inside corner of the wall dropped by 3/8 in. to 1/2 in. over…
Weekly Newsletter
Get building science and energy efficiency advice, plus special offers, in your inbox.
This article is only available to GBA Prime Members
Sign up for a free trial and get instant access to this article as well as GBA's complete library of premium articles and construction details.
Start Free Trial
Already a member? Log in