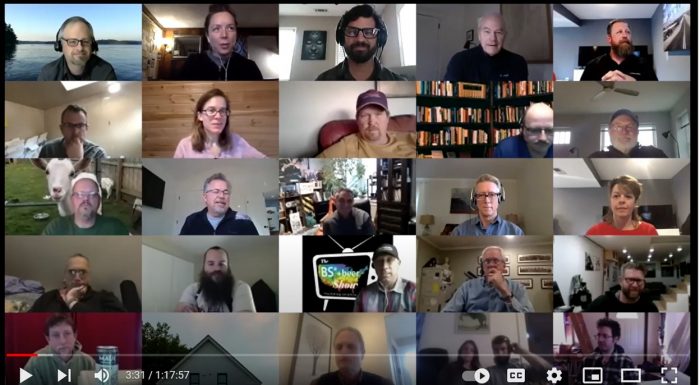 Update: The next episode of  The BS + Beer Show: Making High Performance Affordable will be live Thursday, April 9 at 6pm. Here's how to join the conversation:
Zoom links (no registration required):
https://zoom.us/j/625126364
Meeting ID: 625 126 364
One tap mobile: US +1 301 715 8592
Find your local number: https://zoom.us/u/aj4ZaNq7E
Special guests:
Alan Gibson, G•O Logic
Randy Williams, Northern Built
Claire Betze, Buildingworks
Ben Bogie, Kolbert Building
Dan Hines, Habitat for Humanity and BS + Beer DC
---
I worked at newspapers for only a short time, but long enough to confirm that the pace of making a daily or even bi-weekly newspaper is as furious as it is portrayed in the movies. When I hopped over to Fine Homebuilding, before the internet and it's ravenous appetite for content changed our lives forever, we often had six month or more to conceive, develop, design, and refine feature articles. What a luxury! Unfortunately, that didn't last much longer than my career in the newsroom. For me, the speed at which digital media moves makes even daily publishing seem relaxing. While it's great to have the time to feel super-confident that a piece of content is perfect, today, moving quickly is often unavoidable.
On Tuesday, we sat down (via Zoom, of course) with Michael Maines, Emily Mottram, and Travis Brungardt. Most GBA members are familiar with Mike who has written for GBA and FHB for many years. Emily is a Maine-based architect focused on high-performance, sustainable, and healthy homes. Travis is a Kansas-based builder, a partner at Catalyst Construction, and an advocate for raising the bar in residential building though education, building science, durability, and energy-efficiency—topics near and dear to the mission of GBA and our members.
Mike, Emily, and Travis are the hosts of the new BS + Beer Show (*Building Science). GBA readers will know of BS + Beer, the grass roots effort kicked off, now many years ago, by Dan Kolbert and Steve Konstantinoto to share information and knowledge and elevate the budding green building community in Portland, Maine. Among the group's most successful outputs is the Pretty Good House concept.
More recently, local BS + Beer chapters have been popping up across the country. There's one in Tennessee, one in Connecticut, one in Washington, DC., and Travis leads a group in Kansas City, to name a few. It feels like a movement and we love it. So, when Mike, Emily, and Travis let us know that they were starting a weekly show available online, we moved as fast as we could to join the team. Myself, Scott Gibson, and Allison Bailes joined the panel on Thursday evening with a bunch of smart and interesting industry professional for a discussion of indoor air quality. The video is posted below.
Going forward we'll be announcing the episodes, topics, and panelists through our newsletters and social media channels as far ahead of time as possible and we'll provide you all the information you need to join us live. We're planning on Thursday evenings at 6 PM EST. at this point, but everything is still pretty fluid, so stay tuned for more information. If you can't make the Zoom meeting, you'll be able to watch the episodes here on GBA or on the soon-to-be live BS + Beer website.
This all happened fast, and in this case, I'm just glad it's happening.
Next week, April 9, 2020 the panel will be tackling the question: How do we make high performance homes more affordable? Watch GBA and FHB newsletters and social media for more information on how to tune in live.
---
Brian Pontolilo is a former editor at Fine Homebuilding magazine and Green Building Advisor.
Weekly Newsletter
Get building science and energy efficiency advice, plus special offers, in your inbox.