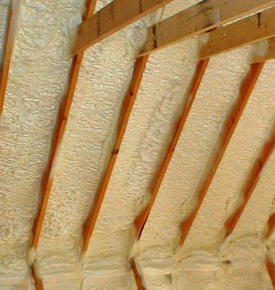 Ted Storm is in the midst of a construction project and at a point where he needs to make a decision about attic insulation. The unvented roof consists of standing-seam metal over synthetic felt and oriented strand board (OSB) sheathing. Both HVAC equipment and air ducts will be located in the attic of this house in Climate Zone 4.
Three insulation contractors are unanimous in their recommendation to spray a 6-in. layer of open-cell foam on the bottom of the roof deck.
While the advice is consistent, Storm is having second thoughts about his decision not to vent the roof.
"I'm beginning (maybe a bit too late) to read about unvented roofs and I'm wondering if this is really the best option," Storm writes in this Q&A post at GreenBuildingAdvisor. "If it isn't ideal, are we too late to take another route, given our current progress?"
That's the subject of this week's Q&A Spotlight.
First, that's not enough insulation
Armando Cobo is the first to point out that 6 in. of open-cell foam is skimpy, even in the moderate temperatures of Climate Zone 4. The prescriptive requirements of the International Energy Conservation Code call for at least R-38 — and that, Cobo says, means at least 11 in. of open-cell foam.
"Your insulation contractors are planning to install only R-20 to R-22," GBA senior editor Martin Holladay adds. "That's not much. In fact, it doesn't even meet the minimum code requirements (2006 IRC) for Climate Zone 4, which calls for at least R-38.
"If you install less than the code minimum insulation," Holladay says, "you will pay higher energy bills for as long as you own the building. Many…
Weekly Newsletter
Get building science and energy efficiency advice, plus special offers, in your inbox.
This article is only available to GBA Prime Members
Sign up for a free trial and get instant access to this article as well as GBA's complete library of premium articles and construction details.
Start Free Trial
Already a member? Log in