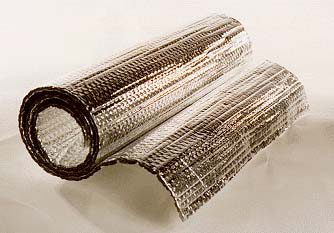 Lora's question seemed innocent enough, but it was enough to touch off a war of words and prove that building science isn't always as dryly academic as you might guess. It can, in fact, get downright cantankerous.
Lora's HVAC installer wanted to insulate the ducts in her house with double-wrapped bubble wrap "as a cheaper way to achieve R-6." Fine, she thought, but does the stuff really work?
It "sort of works," said Green Building Advisor Michael Chandler, but a better option is installing foil-faced duct insulation (not foil-faced bubble wrap) after ducts have been sealed with mastic and checked for air-tightness, preferably by an independent tester. Foil-faced bubble wrap "is not Energy Star or Manual D approved," he wrote, "and is generally viewed as snake oil by reputable builders."

Radiant Barriers
Senior editor Martin Holladay was next, picking up the "snake oil" theme and going on to say any claim that bubble wrap is the equivalent of R-6 duct insulation is a "scam and a fraud." He specifically cited a company called Reflectix, which makes a 5/16-inch thick material consisting of bubble-wrap plastic between layers of reflective material. "According to ASTM C518 tests commissioned by Reflectix, the product has an R-value of 1.04," Holladay wrote. "(Reflectix does not mention this R-value of 1.04 on its Web site; however, it can be found in a laboratory report available from the company on request.)"
Installation is the key to performance
As Holladay points out, the R-6 insulating value is based on the complete assembly, not the material alone. In tests conducted by the ICC Evaluation Service, the bubble wrap was installed over a continuous 3/4-inch air space around the duct. "In fact," he added, "the reported R-6 derives to a large extent from the air space, not the Reflectix."
…
Weekly Newsletter
Get building science and energy efficiency advice, plus special offers, in your inbox.
This article is only available to GBA Prime Members
Sign up for a free trial and get instant access to this article as well as GBA's complete library of premium articles and construction details.
Start Free Trial
Already a member? Log in
Weekly Newsletter
Get building science and energy efficiency advice, plus special offers, in your inbox.
Community
Recent Questions and Replies